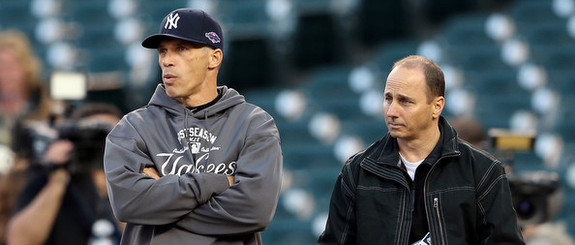 The season has been over for a little more than 12 hours now, but it hasn't completely sunk in yet. It usually takes a day or two until I realize that the routine has been broken, that there is no Yankees game to watch that night. It's always a bummer of a moment but it happens every year, good or bad.
1. One player does not make a baseball team, but how different where the Yankees without Derek Jeter for the final three games of the ALCS? They weren't hitting at all even when he was in the lineup, but something just didn't feel right without him in the lineup, especially in the postseason. I can't really explain it. The Cap'n has been part of the team basically since I came into baseball consciousness — I remember reading the paper while eating a bowl of cereal before school one morning and finding out that Tony Fernandez got hurt in 1996 — and things just didn't seem right with him on the shelf in October. Very few players transcend the game like that.
2. I think there's at least a small chance that Joe Girardi won't return next season, but it would really surprise me. The position players seemed wholly unprepared in the postseason for the second straight year, plus his work didn't exactly stand out in the regular season either (the incident with Joel Sherman, the fan in Chicago, etc.). I suppose there could be some level of distrust in the clubhouse following all this Alex Rodriguez stuff, but who knows. I think he (and all of his coaches) will be back next year, but I'm not 100% confident like I have been the last few years.
3. The natural reaction following a postseason exit is to blow the whole damn thing up, but as usual that shouldn't be the case with the Yankees. They will need to replace Hiroki Kuroda and Andy Pettitte (hopefully they re-sign both, that would be ideal) and fill out the bench/bullpen with miscellaneous pieces, but I don't think the offense needs a total overhaul. They should add another contact-type hitter (preferably two) and maybe focus a little more on the running game, but that's really it. They do have to be cognizant of the fact that Jeter is unlikely to repeat what he did this year and that Mark Teixeira is likely to decline even further, however. Retool, not rebuild.
4. So, with that in mind, here are the players who could potentially not return to the team next year (in no particular order): Russell Martin, Nick Swisher, Raul Ibanez, Eric Chavez, Andruw Jones, Jayson Nix, Ichiro Suzuki, Mariano Rivera, Chris Stewart, Casey McGehee, Freddy Garcia, Rafael Soriano, Clay Rapada, Derek Lowe, A-Rod, Kuroda, and Pettitte. Rapada, Nix, and Stewart are under team control and would have to be non-tendered, though I doubt that happens. Of all the major free agents, I believe Martin and Rivera are the most likely to return. It will take a minor miracle to move Alex. Could be a busy offseason with a lot of turnover, and that's not necessarily a good thing.