For the most part, CC Sabathia had another strong season in 2012. He logged 200 innings and kept runs off the board (3.38 ERA) with peripheral stats to match (3.33 FIP), but it was also the worst of his four years with the Yankees and his worst since 2005 or 2006 with the Indians. Obviously his standards are pretty high, but the step back in performance was both noticeable and a concern going forward given the four (and potentially five) years left on his contract.
The Elbow Injury
For the first time in his big league career, Sabathia spent time on the DL with an arm injury this summer. Elbow inflammation stemming a bone spur was the culprit, though for a while it sounded a lot worse than that …
"After Seattle, I was (nervous)," said Sabathia the other day. "I woke up the next day and my arm was kind of swollen, and I didn't have any range of motion. So I was really nervous, honestly. So we had the test, and once the MRI came back clean, I just knew it was something I'll have to deal with. I know there's nothing structurally wrong with my arm." [source]
Sabathia spend the minimum 15 days on the DL and didn't pitch all that well when he first came back, posting a 4.67 ERA and 4.47 FIP in 27 innings across four late-August and early-September starts. He insisted that his elbow was fine and that he felt "good enough to pitch," but scattered (and unconfirmed) reports indicated that his elbow was still flaring up between starts. A late-season stretch of dominance that carried over into the postseason help assuage some concern.
The Yankees sent Sabathia for more tests after the season, which led to Dr. James Andrews performing arthroscopic surgery to remove the bone spur on October 25th. Tests confirmed the original report that his ligament was fine, but the spur he'd been pitching with since his Cleveland days had to go. Sabathia is expected to be ready in time for Spring Training but he will be on a modified throwing program in camp to help him prepare for Opening Day. I don't know what that means, but any time your 32-year-old ace pitcher with 2,500+ innings on his arm starts having elbow trouble, it's a concern.
The Performance Decline
A 3.38 ERA and 3.33 FIP in 200 innings is nothing to sneeze at, but for Sabathia it represented a step down from both 2011 (3.00 ERA and 2.88 FIP in 237.1 innings) and 2009-2011 (3.18 ERA and 3.27 FIP in an average of 235 innings). The performance decline did not occur in either his strikeout (8.87 K/9 and 23.7 K%) or walk (1.98 BB/9 and 5.3 BB%) rates, which were both his bests as a Yankee. It also didn't show up in his ground ball rate (48.2%), which was his second best as a Yankee. All three rates, the strikeouts and walks and grounders, were the third best of his entire career.
Instead, the decline showed up in two places, the first being his homerun rate. The 22 dingers he surrendered this year were a career-high, as was the 0.99 HR/9 and 12.5% HR/FB. It had been six years since he topped even 0.80 HR/9 and 9.0% HR/FB. It wasn't just a Yankee Stadium issue either, his road rates (1.14 HR/9 and 13.7 HR/FB%) were worse than his home rates (0.84 HR/9 and 11.1% HR/FB). Hit Tracker classified just seven of those 22 homers as "Just Enoughs," meaning the other 15 cleared the wall by more than ten vertical feet. He wasn't giving up cheapies.
Secondly, Sabathia's fastball velocity dropped off noticeably (click to embiggen) …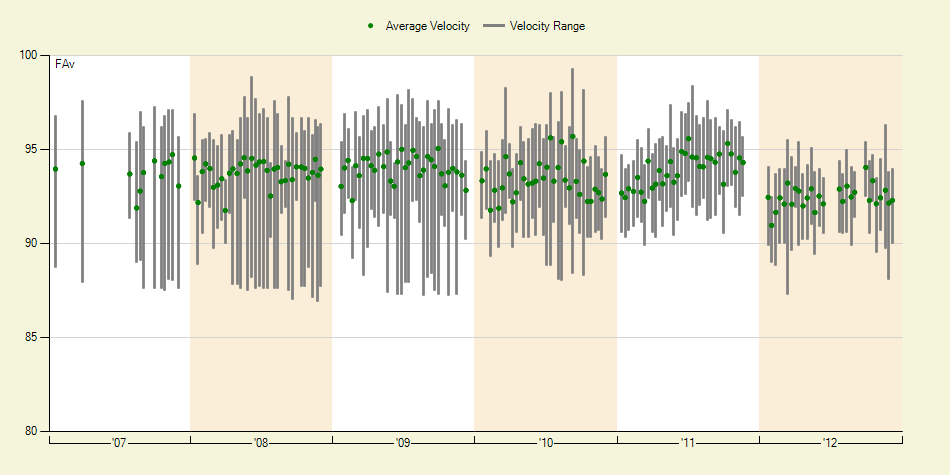 Fastball velocity isn't exactly a measure of performance, so maybe it's unfair to lump this in here, but at the end of the day he wasn't throwing as hard as he had in the past. His average four-seam fastball velocity was 92.4 mph this year, down from 93.9 mph just a year ago. It had never been lower than 93.6 mph (2010) during the PitchFX era. So yeah, losing a mile and a half an hour off the fastball from one year to the next is a considerable drop-off and a concern when again, you're talking about a guy with over 2,500 innings on his arm.
Did the reduced fastball lead to homer problems? Perhaps, he did give up ten homers on four-seamers this year according to Brooks Baseball, down from eleven last year (in 37.1 more innings) and up from eight in 2010 (37.2 more innings) and nine in 2009 (30 more innings). I think it's more noteworthy that he surrendered seven homers off his slider this year after allowing ten total off the pitch in his first three years as a Yankee. Anecdotally, I thought Sabathia hung more sliders this year than at any other point with New York, which could be explained by the elbow problem. The fastball and slider aren't mutually exclusive, one works off the other. A compromised fastball could easily result in reduced effectiveness of the slider.
It's also worth nothing that Sabathia didn't truly dominate left-handed batters like he has in the past. He held them to a .288 wOBA this year after a .248 wOBA last year and a .265 wOBA from 2009-2011, so we are splitting hairs. His strikeout (12.71 K/9 and 35.3 K%), walk (1.24 BB/9 and 3.4 BB%), and ground ball (47.5%) rates against same-side hitters were still off the charts good this season. It could be tied back to the whole fastball-slider thing, because the breaking ball is the pitch he's used to dominate lefties his entire career.
* * *
Sabathia's down season was still excellent in the grand scheme of things, but this year he gave the Yankees and their fans more reasons to be concerned than at any other point in his first three years with the team. The elbow injury is obviously a big concern even though his ligament checked out fine (twice), plus the declining fastball velocity is a red flag as well. The two could be related, though bad elbows usually result in poor command (which we saw out of CC at times this year) while velocity loss is typically attributed to a bad shoulder. The Yankees have already spoken internally about lightening Sabathia's workload going forward, so they are aware of these issues and are looking for ways to address them. Hopefully they can help stave off the inevitable age-related decline.