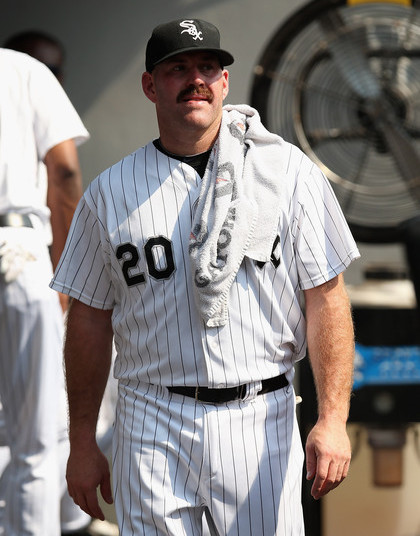 The way I think about baseball has changed quite a bit over the last few years, and I'm not just talking about statistics or analyzing players or stuff like that. My perspective on free agency and arbitration and trades has changed, and a lot of that started once I began contributing to MLB Trade Rumors. Rather than focusing solely on the Yankees, I was exposed to all 30 clubs and I've gotten more familiar with their preferences over time. Billy Beane and the Athletics will ask for your top three prospects in exchange for their good but not great big leaguer, and every so often they get it. The Brewers favor power, both at the plate and on the mound. The Red Sox have a sieve of a front office that can't accomplish anything in secrecy or without weeks of rumors. So on an so forth.
The Yankees, of course, have their own unique tendencies and preferences, plus they're also just different than everyone else. They just are. Their market is different, their payroll is different, their history and tradition is different. They are the most valuable franchise in the sport and their importance to MLB is greater than any other club's. They are the league's villain, so to speak. A revenue-generating, attention-drawing villain. Their prospects are judged differently, their moves are analyzed differently, their wins are downplayed and their losses are overblown. Everything about the Yankees is different compared to the rest of the league. They're in that own little baseball world, separated from everyone else.
The city of New York plays a part in that as well. There's more than 8.2M people living in the five boroughs these days, and that doesn't include Westchester, New Jersey, or the millions of tourists who check in through the year. Shiny new Yankee Stadium is easily accessible via mass transit whether you're coming from Brooklyn or Poughkeepsie. I'm willing to bet that if we ran some polls, the Yankees would also be the most popular team in Florida given their Tampa roots. Probably a few other states as well. Few teams have that kind of reach in one community, nevermind multiple.
Anyway, I'm going off on a tangent here and I want to get back to the point I originally wanted to make. Bryan Hoch recently published an article with some quotes from Brian Cashman that caught my eye. To the blocked quotes…
"I think we've improved our pro scouting network, and I think we've improved our evaluation of statistical data streams," Cashman said. "It puts us in a position to make informed decisions and much more comfortable knowing what is really available, and what you can expect from those players if you sign them and what you'd be comfortable paying them."

[snip]

"I don't think we see things that others don't," Cashman said. "A lot of people have access to the same types of information and are organized the same way. I think we're in position to make better and informed decisions. We have a circumstance where we have a city that's a wonderful place to play, with huge fan support, with great players that we can surround ourselves with."

[snip]

"It's worked to our advantage," Cashman said. "A lot of teams see similar stuff that we see. We've been able to benefit because we are the Yankees and this an exceptional place to play."
Just this offseason, at least three free agents have taken a smaller offer to join the Yankees. Hiroki Kuroda turned down more dollars and years to return to New York back in November. Kevin Youkilis spurned a multi-year offer (and an extra $6M) from the Indians to take a one-year pact with the Yankees last month. A few weeks after that, Ichiro Suzuki rejected multiple multi-year offers and took a lower annual salary to return to the team after enjoying his two months in pinstripes at the end of the season. Other players like Eric Chavez, David Aardsma, and Raul Ibanez have joined the club on team-friendly terms in recent years.
We're never going to know these guys' true motives, but it's obvious there is something about the Yankees drawing them away from bigger paydays. It helps that they're all multi-millionaires who don't have to worry about their kids or their kids' kids financially, but this does extend beyond money. Youkilis, for example, already has a World Series ring and turned down the opportunity to play closer to home. The Yankees do have a veteran clubhouse but it's not just any veteran clubhouse. Players like Derek Jeter, Mariano Rivera, and CC Sabathia (among others) are highly respected within the game and that is a draw for fellow established veterans. Perhaps it's the need to not be "The Guy." Maybe it's the city itself. I'm guessing all of these things and more contribute.
I'm not really sure where I'm going with this, and in fact I think I may have written about guys taking less money to come to New York once before (eh, kinda). It's a nice skill (?) for a team to have, especially since the Yankees plan to trim payroll in 2014 and will need to find bargains to fill out the roster. Last year it was Chavez and Ibanez, this year it's Youkilis and Ichiro, and who knows who it will be in 2014. The Yankees just need to be careful about diversifying their roster, because these guys are complementary players at this point of their careers, not cornerstones. That phase of their careers is long gone.