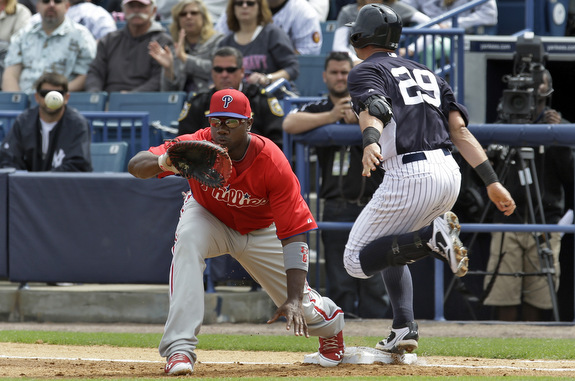 Seven, seven Grapefruit League losses in a row! Ah ah ah! [/The Count]
The Yankees dropped another error-filled laugher on Friday afternoon, with four total errors leading to six unearned runs. Kevin Youkilis was the only big leaguer to screw something up, getting caught on an in-between hop at third. Frankie Cervelli continued his strong spring with a single, a double, a walk, and another base-runner thrown out trying to steal. He's now 5-for-6 when it comes to throwing out runners. Juan Rivera also had a pair of knocks while Melky Mesa and Ronnie Mustelier each hit a solo homer.
Hiroki Kuroda made his Spring Training debut and allowed four runs (one earned) in 1.2 innings. David Robertson struck out the only batter he faced, Joba Chamberlain allowed two runs in one inning (after retiring the first two men he faced), and Cody Eppley was charged with four runs (one earned). Vidal Nuno had the best day on the mound for either team, striking out four in three hitless and scoreless innings. Here's the box score and here's the rest from Tampa…
Unsurprisingly, Robinson Cano did not want to talk about the "significant offer" he received from the Yankees. He did acknowledge that his contract situation is on his mind though, saying it's "never going to (be) out of your head." [Bryan Hoch & George King]
Phil Hughes (bulging disk) could pick up a baseball as soon as Sunday if his workouts go well today and tomorrow. He's been sidelined for a little less than two weeks now. [Mark Feinsand & Meredith Marakovits]
Michael Pineda (shoulder) and Cesar Cabral (elbow) both threw fastballs and changeups during the 30-pitch bullpen session this morning. It was the second such session for each. We heard Pineda was going to begin stretching out his rehab work last week. [Chad Jennings]
David Adams (back) began swinging a bat earlier this week and he could begin to start working out on the field relatively soon, as in this weekend. [Jennings]
Within that same link, Jennings reports Boone Logan faced hitters in live batting practice for the first time this morning. The Yankees have been taking it slow on their primary left-hander this winter.
Brian Cashman is going to jump out of a plane with the Army Golden Knights on Monday to help raise awareness for The Wounded Warrior Project. [Dan Barbarisi & Sweeny Murti]
Ivan Nova will make his Grapefruit League debut against the Tigers tomorrow afternoon. That game will be televised on YES.
Here is your open thread for the evening. The Knicks and Nets are both playing, plus MLB Network will air a Spring Training game as well. Talk about any of those games or anything else you want right here. Enjoy.