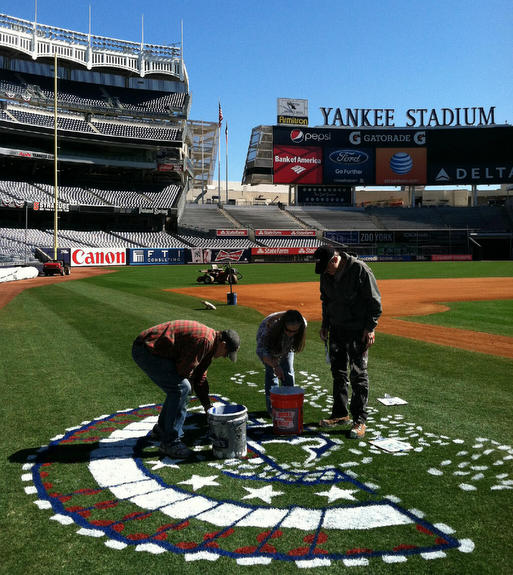 The Yankees made relatively quick work of the Nationals in Nationals Park this afternoon, winning the game behind strong work from Andy Pettitte (two runs in six innings) and the bullpen (scoreless innings from Joba Chamberlain, David Robertson and Mariano Rivera). Kevin Youkilis hit a solo homer while Eduardo Nunez plated two with a single. Nunez, Robinson Cano, and Vernon Wells each had two hits, including doubles for Cano and Wells. Here's the box score and here's the rest on the team…
Vidal Nuno, Dan Johnson, Thomas Neal, Melky Mesa, Jim Miller, Preston Claiborne, Branden Pinder, Juan Cedeno, Bobby Wilson, Josh Spence, Jose Pirela, and Gil Velazquez were all sent to minor league camp. Nuno had an outside chance to grab a bullpen spot in the wake of Clay Rapada's injury. Sure seems like Adam Warren and Cody Eppley will open the season in the bullpen.
The Rivera farewell tour (unexpectedly) kicked off on Friday. The Nationals congratulated him on his career before today's game and former bullpen-mate Rafael Soriano presented him with a signed Nationals #42 jersey. Neat. [James Wagner]
Mark Teixeira was taking ground balls with the team in D.C. today and hopes to begin swinging a bat two-handed in two weeks. He's been swinging one-handed since Sunday and will have a checkup on his wrist on Monday. Teixeira says he expects to be back in a big league game by May 1st, which is … optimistic. [Andy McCullough & David Waldstein]
Derek Jeter will not do anything until Monday, Brian Cashman confirmed. They want to make sure he's 100% with no lingering soreness before returning to baseball activities. [Dan Barbarisi]
Brennan Boesch took some ground balls at first base this afternoon — he played the position in high school and college — with some coaching tips from Teixeira. Looks like the Yankees are preparing him as an emergency first base option. [Barbarisi & McCullough]
Right-hander Diego Moreno is still rehabbing from Tommy John surgery but is expected to get into games soon. He was acquired from the Pirates in the A.J. Burnett trade last year. [Tim Williams]
Remember that Jose Mojica trade from earlier in the week? As it turns out, he was dealt to the Phillies for no compensation. Not surprising. [Josh Norris]
The Yankees will be in West Point for an exhibition game against Army on Saturday, their last meaningless game of 2013. Adam Warren gets the start and the game will be broadcast on YES.
Here is your open thread for the evening. The Devils, Knicks, and Nets are all playing, plus MLB Network will air some Spring Training game as well. Talk about any of that stuff and more. Enjoy.