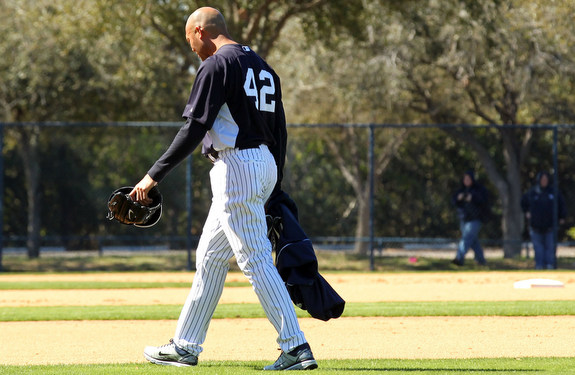 An era is ending in the Bronx. Joel Sherman reports Mariano Rivera will hold a press conference on Saturday morning to announce his retirement from baseball following the 2013 season. He could always change his mind between now and then, but I wouldn't count on it. The press conference is scheduled for 10am ET at George M. Steinbrenner Field in Tampa.
Rivera, 43, said he made up his mind about his future when camp opened, but he wasn't ready to tell anyone anything yet. News of Saturday's announcement is no surprise, as I think most of us expected Mo to retire following last season. The season-ending knee injury in early-May changed those plans. In fact, Rivera said himself there was a "good chance" he would have retired in the offseason had the knee gotten healthy in time to allow him to pitch in the playoffs.
The Yankees signed Rivera for just $2,000 as a 20-year-old out of Panama back in February 1990. He spent the early part of his career as a starter, gradually working his way to the big leagues and making his debut on May 23rd, 1995 against the California Angels. They clobbered him, hanging five runs on eight hits and three walks against Rivera in 3.1 innings. He remained in the rotation for another three starts and resurfaced later that season, most notably striking out eleven White Sox in eight two-hit, shutout innings on Independence Day. It was, by far, the best of his ten career starts.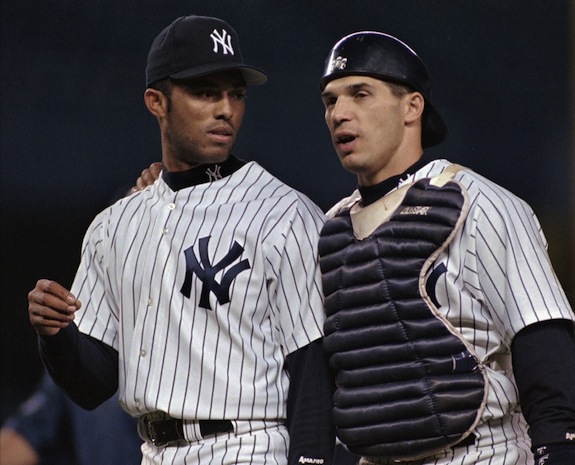 The club moved Rivera to the bullpen to open the 1996 season and the rest, as they say, is history. He pitched to a 2.09 ERA with 130 strikeouts in 107.2 relief innings that year, serving as a super-setup man to closer John Wetteland. Rivera allowed one run in 14.1 postseason innings that fall to help the Yankees to their first World Championship in almost 20 years. All of that happened before Mo learned his trademark cutter.
As the story goes, Rivera was playing catch with fellow Panamanian Ramiro Mendoza in 1997 when the ball just started cutting. That was it, he didn't alter his grip or anything. Rivera rode that pitch to become the most dominant reliever in baseball history. He took over as closer for Wetteland in 1997 and hasn't looked back, pitching in that same capacity for the last 17 years now. Mo has helped the Yankees to five World Championships and 18 postseason berths during his 19 seasons.
Along the way, Rivera has become baseball's all-time leader in saves (608), games finished (892), and ERA+ (206). His postseason record in beyond belief, with a 0.70 ERA and 0.76 WHIP in 141 total innings. That is ridiculous. Rivera has never won a major award but he owns five top-five finishes in the AL Cy Young voting and has received AL MVP votes in nine different years. He will also be the final player in baseball history to wear #42. Mo is a 12-time All-Star and one of the greatest Yankees to ever live. An icon.
Off the field, Rivera is well-known as a kind and caring person who is a true class act. He's everything anyone could ever want in a baseball player and person. Mo has been my favorite Yankee for a long time and this is a bittersweet day. I'm sad he's leaving and I'm glad he'll leave under his own terms. Getting carted off the field following a pregame accident in Kansas City is no way to go out. Teams will give Rivera a grand Chipper Jones-esque send-off this summer and it will be glorious.