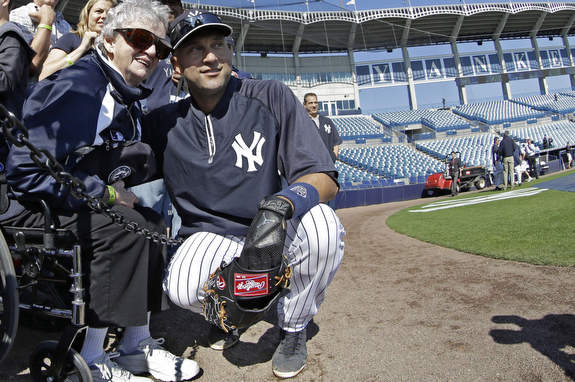 The Yankees had a scheduled day off on Monday but are back at it this afternoon. They're in nearby Clearwater to face the Phillies, so most of the regulars made the trip. Outside of Robinson Cano, there's a pretty good chance the lineup the team is running out there this afternoon is the lineup we will see come Opening Day. Maybe the order is different, the collection of players figures to be pretty much the same. Here's the starting nine…
CF Brett Gardner
SS Derek Jeter Gil Velazquez — Jeter was scratched due to a "cranky" ankle
LF Ichiro Suzuki
1B Kevin Youkilis
DH Travis Hafner
RF Brennan Boesch
C Chris Stewart
3B Ronnie Mustelier
2B Corban Joseph
And on the mound is the right-hander from North Carolina, Adam Warren. Here is the day's second string, courtesy of Chad Jennings:
Available Pitchers: Not sure who is scheduled to pitch after Warren, but RHP Chase Whitley, RHP Ryan Pope, and RHP Graham Stoneburner are all available in relief.
Available Position Players: C Bobby Wilson, 1B Dan Johnson, 2B Walter Ibarra, SS Gil Velazquez, 3B Addison Maruszak, LF Ben Francisco, CF Melky Mesa, and RF Thomas Neal are all coming off the bench. C Kyle Higashioka, INF Casey Stevenson, and OF Ramon Flores are available if needed.
This afternoon's game is scheduled to start at 1:05pm ET and can be seen on ESPN and MLB.tv (no local blackouts), but not YES. Enjoy the game.