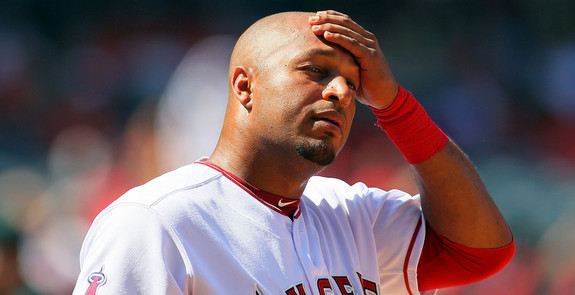 5:27pm: Despite their attempt at some fancy accounting, Ken Rosenthal has confirmed the Yankees will not receive any kind of "credit" towards the $189M luxury tax threshold in 2014. Wells will simply count as zero dollars for the luxury tax. At least that makes him easy to designate for assignment.
3:21pm: The Yankees have gone from dumpster diving to desperation in their search for outfield help. The Bombers have (finally) acquired Vernon Wells from the Angels in exchange for minor leaguers Exicardo Cayones and Kramer Sneed, the team announced. The Halos will pay $28.1M of the $42M left on his contract according to Mike DiGiovanna, and Jeff Fletcher says New York will pay him $11.5M this year and $2.4M in 2014. The club will have to make a 40-man roster move to accommodate their new outfielder, but they say that will announced at a later time. Okay then.
Wells, 34, has hit .222/.258/.409 (82 wRC+) in 791 plate appearances with the Angels over the last two seasons. Perhaps his poor 2012 campaign (88 wRC+) was the result of the torn right thumb ligament that required surgery and cost him more than two months, but there's no real excuse for the even-worse 2011 effort (79 wRC+). Wells has hit lefties well over the last two years (119 wRC+) but poorly over the last four years (87 wRC+), with 2010 being his only above-average season (134 wRC+). He's a dead-pull right-handed hitter, which usually doesn't mix well with Yankee Stadium. Despite his reputation, the various metrics have rated him as below-average defensively over the last few years.
The Yankees are getting a bunch of intangible qualities in Wells, who has long been regarded as a strong clubhouse presence and is familiar with the AL East given his time with the Blue Jays. They are very clearly banking on his strong Cactus League performance — 13-for-36 (.361) with a double and four homers — being an indication he's getting back to being his pre-2011 self as he gets further away from thumb surgery. To their credit, the Yankees have had a lot of success getting unexpected production from declining players in recent years. They squeeze water out of washed up veteran rocks better than anyone.
"He looks good … He could be a good pickup. (The Angels) were not asking for much money," said one exec to Andy Martino while a scout added: "He is a legitimate Major League hitter. He is a professional hitter. Everybody downgraded his abilities because of the contract, (but) he's still a good player."
Cayones, a 21-year-old outfielder, was acquired from the Pirates as part of the A.J. Burnett trade last year. He hit .228/.374/.291 (111 wRC+) with seven steals in 200 plate appearances for Short Season Staten Island last year. Sneed, 24, pitched to a 5.37 ERA (4.66 FIP) with nearly as many walks (38) as strikeouts (40) in 63.2 innings for High-A Tampa last summer. The left-hander was New York's 32nd round pick in the 2010 draft. Neither Cayones nor Sneed was much of a prospect, so it's a pure salary dump trade.
It's obvious Wells will be on the roster come Opening Day, especially since New York committed precious 2014 payroll space (even just a small amount) to the three-time All-Star and gave up two real live players to acquire him. Maybe he'll just serve as a platoon partner for the various left-handed outfielders (and Travis Hafner at DH), or maybe he'll play everyday thanks to his reputation. I guess we'll find out. The trade is not good news for Ben Francisco, Thomas Neal, and Melky Mesa, who had been in the running for the righty-hitting outfield job. Juan Rivera is presumably safe given his ability to play first.
The trade doesn't make much sense overall, so much so that it's one of the most confusing deals of the Brian Cashman era. The Yankees are now paying $26M over the next two years for two outfielders — Wells and Ichiro Suzuki — who could very easily be replacement level given their 2011-2012 performances. It's one thing to try out these veteran retreads on minor league contracts or low-base salary one-year deals, but it's another to guarantee them multiple years and eight figures. Given the players they allowed to walk this winter and their unwillingness to sign free agents to multi-year contracts, this is a very questionable move (at best) that is unlikely to improve team appreciably or answer a roster question. Truly baffling.
Fun (but useless!) Fact: No active player has played in more regular season games without appearing in the postseason than Wells (1,601).