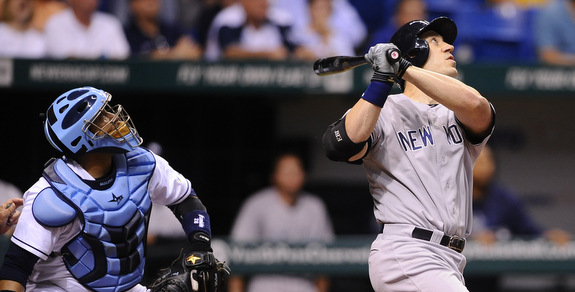 The Yankees were flat-out dominated by Rays right-hander Alex Cobb last night, who held them to three singles and a walk in 8.1 scoreless innings. The loss capped off six-game road trip that saw the Yankees score five total runs with one extra-base hit in the final three games. Stuff like that happens, every team will have a few ugly series throughout the year, but the road trip as a whole featured some warning signs on the offensive side of the ball. Not full blown reasons to panic, but cracks in the dam.
The Schedule Isn't So Favorable Anymore
After facing Jon Lester on Opening Day, the Yankees saw nine right-handed starters in the next nine games. It would have been eleven righty starters in eleven games had the two games against the Indians not be rained out. That was a pretty awesome coincidence because it allowed the team to trot out its very best lineup day after day for close to two weeks. It was a very nice early season routine.
Since that stretch of nine straight games with right-handed opposing starter, the Yankees have seen six left-handed starters in their last ten games. They're scheduled to see two more lefties during the upcoming four-game series against the Blue Jays, then after that they will see the Astros (one lefty starter in the rotation), the Athletics (two lefties), and Rockies (two lefties). Those nine straight games against a righty was an anomaly, the product of some fortunate roster building (by the other teams) and scheduling. The Yankees don't hit southpaws at all and they're going to start seeing them a lot more regularly in the coming weeks.
Early Overachievers Coming Back To Earth
The Yankees have one of, if not the best pro scouting department in baseball. They constantly unearth productive players from the scrap heap, particularly when it comes to veteran retreads. This year they've struck gold with Hafner (192 wRC+) and especially Vernon Wells (156 wRC+), the latter of whom has resurrected his career after two amazingly awful seasons with the Angels. His production so far is like, 95th percentile stuff. He's exceed expectations that much.
As great as two have been, it's unreasonable to expect them to hit like that in the long-term. You could count the number of true-talent 150+ wRC+ guys in the league on one hand, and those two don't belong to that club. That isn't to say they'll hit Quad-A players going forward, but there will be some performance decline. It's inevitable. Frankie Cervelli (129 wRC+) belongs in that mix as well, though I don't think Kevin Youkilis (119 wRC+) is playing way over his head. It's tough to count on Hafner, Wells, and Cervelli continuing what they've done during the first 20 team games.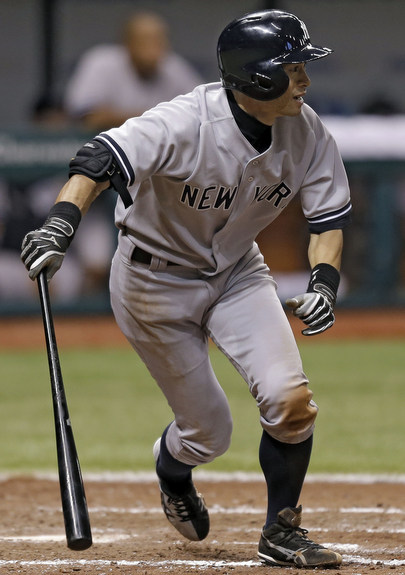 The Underachievers Aren't All that Great
Regression to the mean works two ways — while guys like the three I just mentioned cool off and return to Earth, the guys who are underperforming will heat up to replace some of that lost production. The only problem is that the guys who are underachieving so far just aren't all that good to begin win.
Ichiro Suzuki (49 wRC+) was a sub-90 wRC+ guy in his last 1,400 plate appearances or so coming into 2013. Eduardo Nunez (35 wRC+) came into the year with a career 88 wRC+ in parts of three seasons. Jayson Nix (51 wRC+) … Ben Francisco (-25 wRC+) … Lyle Overbay (75 wRC+) … those guys haven't been productive offensive players for years now. Maybe one or two of them will get super duper hot and replace whatever the Yankees lose from Wells & Co., but we're not talking about offensive dynamos having a few bad weeks here. They're poor hitters hitting poorly.
The Calvary Is Coming … But Who Knows What To Expect
If things go according to plan, Curtis Granderson (forearm) will return to the lineup in mid-May, Mark Teixeira (wrist) will return in late-May, Derek Jeter (ankle) will return right after the All-Star break, and Alex Rodriguez (hip) will return shortly after that. Those are four pretty significant bats the team could be welcoming back to the lineup in the coming weeks, but there's no way of knowing how they will perform once they return.
Wrist injuries are known to both linger and sap power, so Teixeira is very much a question mark. Maybe he'll be fully healed, maybe he'll struggle to put together quality swings. A-Rod now has two bad hips and who knows what that means going forward — will he be able to use his lower half in his swing? Jeter's ankle is a concern because he's already suffered one significant setback, plus he's a 38-year-old shortstop who needs to be able to make quick side-to-side movements. Players like Jason Kendall and Stephen Drew have suffered significant ankle breaks in the not-too-distant past and it took both guys weeks before finding balance at the plate and returning to their previous levels of production. It's great these guys are coming, but we won't know how much they can contribute until they actually get out on the field and back in the lineup. Don't get me wrong, I'd rather have them than not have them, but I don't think they should be counted on as offense saviors. There are just too many unknowns.