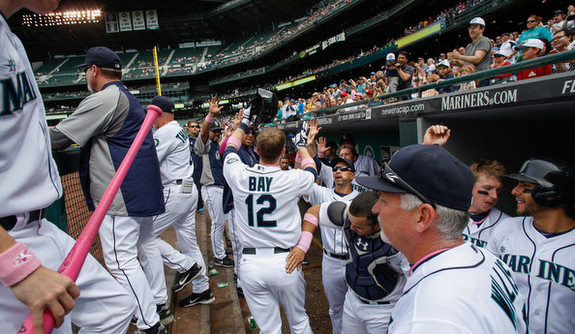 Am I the only Yankees fan with an irrational dislike of the Mariners? I guess it dates back to the 1995 ALDS, but it's really ramped up in recent years with the Cliff Lee non-trade and Michael Pineda's shoulder injury. On the bright side, Seattle has won just seven of 18 games at the new Yankee Stadium.
What Have They Done Lately?
The Mariners have actually been playing pretty well of late. They just took two of three from the free-falling Athletics and have won three of their last four games. They've also won six of their last nine and nine of their last 13 to bring their season record to 18-20 with a -20 run differential.
Offense
To no one's surprise, the Mariners are a below-average offensive club. They've scored just 3.6 runs per game this year, and their team 94 wRC+ is a bottom ten mark in the game. Seattle's only injured position player is CF Franklin Gutierrez (127 wRC+), who visits the DL on an annual basis these days. He's out with a hamstring problem.
Manager Eric Wedge's two best offensive players are CF Michael Saunders (144 wRC+) and 3B Kyle Seager (129 wRC+), and they usually bat first and second. Wedge doesn't mess around. Offseason additions DH Kendrys Morales (118 wRC+) and OF Mike Morse (110 wRC+) anchor the middle of the lineup, but OF Jason Bay (131 wRC+) will get a prime batting order spot against southpaws.
Seattle's trio of disappointing young positions players includes former Yankee C Jesus Montero (64 wRC+), who splits time behind the plate with C Kelly Shoppach (139 wRC+ in limited time). 1B Justin Smoak (99 wRC+) has been less awful than usual, but 2B Dustin Ackley (55 wRC+) has made up for it. SS Robert Andino (22 wRC+) is playing everyday over defensive whiz SS Brendan Ryan (-5 wRC+). OF Endy Chavez (71 wRC+) and former Yankee OF Raul Ibanez (80 wRC+) round out the everyday roster.
Starting Pitching Matchups
Tuesday: LHP CC Sabathia vs. RHP Felix Hernandez
Did you know the Yankees haven't played a series against the Mariners without seeing King Felix since 2009? That's a span of ten series, and they've face him in every single one. That's kinda annoying. The 27-year-old Hernandez has been as good as ever this year, pitching to a 1.53 ERA and 2.16 FIP through eight starts. His strikeout (8.59 K/9 and 25.3 K%), walk (1.23 BB/9 and 3.6 BB%), and ground ball (50.6%) rates are all outstanding. It seems silly to say, but as Jeff Sullivan wrote recently, Felix has made the jump from thrower to pitcher. His three fastballs — four-seamer, cutter, sinker — all sit in the low-90s, and his all-world array of offspeed pitches include an upper-80s changeup, a mid-80s slider, and a low-80s curveball. The Yankees have seen Hernandez plenty over the years, but as you know, he usually dominates them.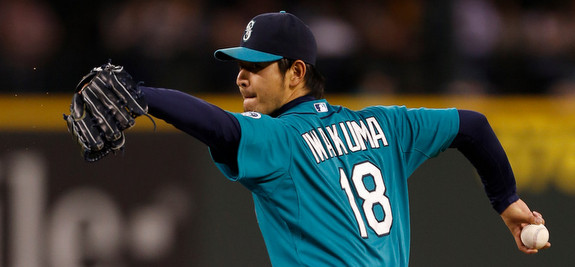 Wednesday: RHP Phil Hughes vs. RHP Hisashi Iwakuma
Believe it or not, the Mariners actually have two aces this year. Iwakuma, 32, has pitched almost as well as Felix this year (1.74 ERA and 2.80 FIP), his second in MLB after spending last season as a swingman. His peripheral stats are excellent as well — 8.88 K/9 (26.7 K%), 1.39 BB/9 (4.2 BB%), and 41.5% grounders — so it's not all smoke and mirrors. That said, his .198 BABIP won't last forever. Iwakuma's four-seamer and sinker sit in the upper-80s, and his top offspeed offering is a mid-80s splitter that falls off the table. He'll also throw low-80s sliders and slow-70s curveballs. The Yankees saw Iwakuma twice last year, both times as a starter. He held them to one run in five innings the first time, then got tagged for four runs in five innings the second time.
Thursday: LHP Andy Pettitte vs. RHP Aaron Harang
Harang, 35, is no longer the strikeout heavy workhorse he was during his prime with the Reds. He's bounced from the Dodgers to the Rockies to the Mariners these last six weeks or so, but he's only thrown a pitch for Seattle in 2013. Harang has been awful so far, putting up a 7.30 ERA (5.14 FIP) in five starts despite strong strikeout (8.39 K/9 and 20.7 K%) and walk (1.82 BB/9 and 4.5 BB%) numbers. The problem is his 35.8% ground ball rate and 2.19 HR/9 (15.8% HR/FB). These days Harang will sit in the upper-80s with his two- and four-seamer, and he throws the former roughly twice as often as the latter. A low-80s slider is his top secondary pitch, but he'll also throw the occasional low-80s changeup and mid-70s curveball. Believe it or not, Harang has never faced the Yankees. I get that he was a career NL guy prior to being traded to the Mariners, but he's been in the show for 12 years now. You'd think he would have run into them during interleague play at some point.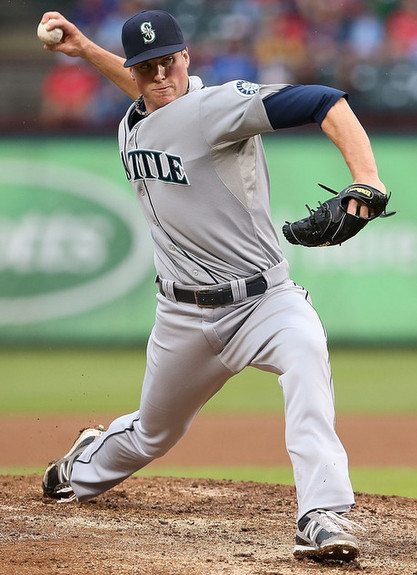 Bullpen Status
The Mariners were off on Monday for travel, so their bullpen is as fresh as can be this time of year. Closer RHP Tom Wilhelmsen (2.56 FIP) is one of the best least talked about relievers in the game, and setup men LHP Oliver Perez (3.76 FIP), RHP Carter Capps (4.72 FIP), and LHP Charlie Furbush (4.05 FIP) all rack up a ton of strikeouts. RHP Yoervis Medina (1.44 FIP in limited time) and LHP Lucas Luetge (2.64 FIP in limited time) handle the middle innings while former Yankee RHP Hector Noesi (2.67 FIP) is saddled with long relief duty.
Despite yesterday's doubleheader, the Yankees are in pretty good shape bullpen-wise. Both David Robertson and Mariano Rivera had the day off, but they've also pitched in four of the last six days. Giving them the proverbial one extra day would be neat. If the Yankees send down one of their extra arms to clear a roster spot for Curtis Granderson, I'm guessing they would keep the fresh and available Brett Marshall and demote Vidal Nuno. I guess we'll find out. Check out our Bullpen Workload page for recent reliever usage. For the latest and greatest on the Mariners, I recommend Lookout Landing and U.S.S. Mariner.