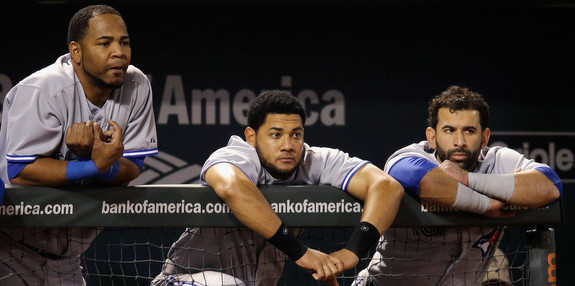 The Yankees and Blue Jays have seen quite a bit of each other so far this season. This will be their third series of 2013 already; New York won the previous two. They took two of three in Toronto last month, then all four in the Bronx a week later.
What Have They Done Lately?
The Jays have played much, much better of late. They just clobbered the Giants in a two-game series and have won four straight games overall, scoring double-digit runs in each of their last three games. Toronto has won seven of their last ten games overall, raising their season record to 17-24 with a -35 run differential. They remain in last place in the AL East by a decent margin.
Offense
Toronto is not far off from a perfectly league-average offense with a team 96 wRC+ and a 4.3 runs per game average. Like I said though, they've scored 10+ runs in each of their last three games. They're swinging the bat well. SS Jose Reyes (175 wRC+) remains on the DL with his ankle injury, and OF Rajai Davis (96 wRC+) joined him on the shelf since the last time these clubs met. He's dealing with an oblique problem.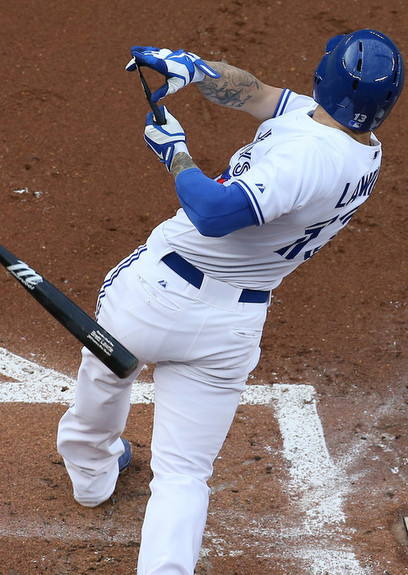 OF Jose Bautista (146 wRC+) and 1B Edwin Encarnacion (115 wRC+) anchor the middle of the order and, as you know, are threats to drive in a run even when the bases are empty. They can mash. OF Melky Cabrera (84 wRC+) has poor overall numbers, but he's figuring things out lately and has been tearing the cover off the ball for about two weeks now. Those three are batting 1-2-3 these days, so the top of the lineup is no joke. They can put up a crooked number all by themselves.
DH Adam Lind (140 wRC+) and CF Colby Rasmus (102 wRC+) have been surprisingly not useless, plus C J.P. Arencibia (96 wRC+) has been useful as well. He's all power (.256 ISO) and nothing else (.236 AVG, .252 OBP, 1.4 BB%). 3B Brett Lawrie (72 wRC+) and Reyes replacement SS Munenori Kawasaki (84 wRC+) haven't been anything special. Backup C Henry Blanco (-15 wRC+) has been awful, ditto UTIL Emilio Bonifacio (47 wRC+) and UTIL Maicer Izturis (52 wRC+). UTIL Mark DeRosa (102 wRC+) has fared well in limited time. The lineup revolves around those top three guys, they're the ones who do the most damage.
Starting Pitching Matchups
Friday: RHP Hiroki Kuroda vs. LHP Mark Buehrle
The AL East has not been kind to the 34-year-old Buehrle, who owns a 6.19 ERA and 5.81 FIP through his first eight starts of the year. His strikeout rate (5.63 K/9 and 14.0 K%) is right in line with his career norms, but the walk (2.44 BB/9 and 6.1 BB%) and ground ball (39.2%) totals are the worst of his career. Same goes for his homer rate (2.06 HR/9 and 16.4% HR/FB). Buehrle sits in the mid-80s with his two- and four-seamer, and a bit below that with the cutter. An upper-70s changeup is his top secondary pitch, though he'll also throw a low-70s curveball. The Yankees have seen the long-time White Sox twice already this year, scoring three runs in seven innings the first time and five runs in 5.1 innings the second time.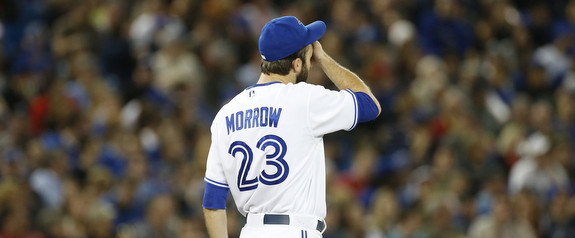 Saturday: RHP David Phelps vs. RHP Brandon Morrow
Like most of his rotation-mates, Morrow is off to a poor start (4.69 ERA and 4.61 FIP) this season. The 28-year-old has his worst peripheral stats in years — 7.59 K/9 (19.1 K%), 3.79 BB/9 (9.6 BB%), and 35.7% — so it's not just bad luck. That first number isn't good enough to compensate for the second two. Morrow still lives in the mid-90s with his four-seamer, and he backs it up with upper-80s sliders and low-80s splitters. He'll also throw the occasional curveball right around 80, but only three or four a start. The Yankees roughed him up a few weeks ago (seven runs in 5.1 innings), and Morrow's track record at the new Yankee Stadium is pretty poor (6.84 ERA and ~4.30 FIP). He's always pitched well against the Bombers in Toronto, but not so much in the Bronx for whatever reason.
Sunday: LHP CC Sabathia vs. RHP R.A. Dickey
I can't imagine the Blue Jays were expected to see Dickey, 38, sitting on a 4.83 ERA (4.80 FIP) nine starts in the season. He is coming off two straight quality starts and three in his last four games, so the reigning NL Cy Young Award winner is trending in the right direction. Dickey is missing plenty of bats (8.00 K/9 and 20.9 K%), but his walk (4.00 BB/9 and 10.4 BB%) and ground ball (41.4%) numbers are way off from where they've been in recent years, even the non-Cy Young years. The trademark knuckleball is sitting in the low-to-mid-70s this season, which is down a bit from the last few years with the Mets. It's unclear a) why, and b) if that is the root cause of his struggles. Nine out of every ten pitches is the knuckler, with the one exception being a low-80s get-me-over fastball. The Yankees scored three runs off Dickey in seven innings a few weeks ago, but remember, he shut them down until hitting the wall in the later innings.
Bullpen Status
Manager John Gibbons and his Toronto team had Thursday off — doesn't it seem like everyone has the day off before facing the Yankees lately? — so the bullpen is rested. RHP Casey Janssen (1.02 FIP) does the closing while RHP Steve Delabar (3.29 FIP) and LHP Darren Oliver (3.83 FIP) do the setting up. RHP Esmil Rogers (4.89 FIP) has been demoted to middle relief, where he now hangs with RHP Brad Lincoln (5.09 FIP) and LHP Aaron Loup (4.02 FIP). LHP Brett Cecil (2.45 FIP) is the multi-inning guy and former Yankees property RHP Mickey Storey (1.11 FIP in very limited time) is their eighth reliever. They've been carrying a 13-man staff all year because of the rotation issues.
Thanks to Phil Hughes' two-out start and Andy Pettitte's trap injury, the Yankees have taxed their bullpen quite a bit these last few days. David Robertson and Mariano Rivera have both had two straight days off, so they should be good to go tonight. Kuroda will need to provide some length though. You can check out the Bullpen Workload page for the recent reliever usage details. For the latest and greatest on the Blue Jays, check out Drunk Jays Fans and Tao of Stieb.