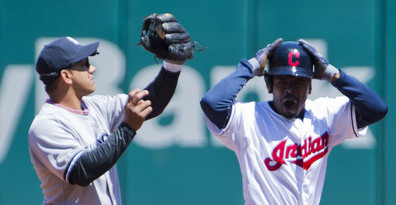 The Yankees and Indians are playing a traditional single-admission doubleheader today, which means Game Two will start not long after Game One ended. The starting pitchers get enough time to warm up, that's basically it. New York was shutout by Justin Masterson in the first game, and I guess the good news is they are 3-0 following shutout losses so far this season. They need a win this afternoon to leave Cleveland with a split. Here's the lineup that will face right-hander Trevor Bauer, who is making the spot start as the Tribe's 26th man for doubleheader…
CF Brett Gardner
3B Jayson Nix
DH Robinson Cano
LF Vernon Wells
1B Lyle Overbay
RF Ben Francisco
2B Corban Joseph
SS Alberto Gonzalez
C Austin Romine
And on the mound is the former Washington Wild Thing, left-hander Vidal Nuno. This will be his first career big league start, first game action in two weeks, and first start in three weeks.
This game is scheduled to start … soon. It was tentatively set for 3:35pm ET, but it'll start before that. You can watch on YES. Enjoy.
Roster Update: The Yankees have indeed recalled right-hander Brett Marshall between games. Brennan Boesch was optioned to Triple-A to clear a roster spot. Hard not to think that means Curtis Granderson will be activated off the DL tomorrow.