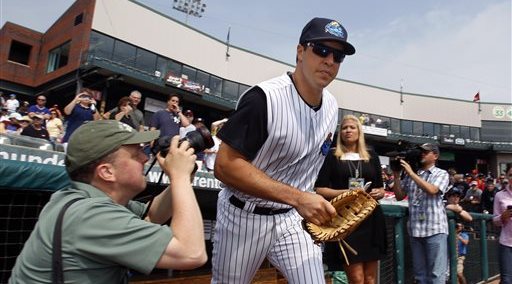 First, some notes:
Baseball America's J.J. Cooper put together a list of one disappointing prospect from each organization, selecting RHP Brett Marshall for the Yankees. Hard to blame him, Marshall owns a 6.81 ERA (5.59 FIP) with nearly as many walks (28) as strikeouts (35) in 39.2 innings for Triple-A Scranton.
Apparently LHP Josh Romanski has been traded to the White Sox, according to Josh Norris. Sounds like they're getting a player to be named later in return. Romanski had a 2.00 ERA (1.45 FIP) in nine innings at Double-A Trenton this year (his third at the level) while frequenting the phantom DL to clear roster spots.
Forgot to mention this yesterday, but LHP Dietrich Enns was named the Low-A South Atlantic League Pitcher of the Week. He's got a 0.64 ERA (1.19 FIP) with a 48/11 K/BB in 28.1 innings for the River Dogs this year.
Second, the stats:
Triple-A Scranton (5-2 win over Norfolk)
2B Corban Joseph: 2-4, 1 R
RF Thomas Neal: 0-2, 1 R, 2 BB, 1 K — nine walks in his last ten games
CF Zoilo Almonte: 0-3, 1 BB
LF Ronnie Mustelier: 1-3, 2 RBI, 1 BB
RHP Dellin Betances: 2.1 IP, 2 H, 1 R, 1 ER, 0 BB, 3 K, 1 WP, 2/1 GB/FB — 23 of 31 pitches were strikes (74%)
Double-A Trenton (3-1 win over Erie)
LF Ramon Flores: 1-4, 1 K
CF Slade Heathcott: 1-4, 1 R, 1 HR, 1 RBI — the homer was an opposite field shot and fourth of the year, one shy of his career-high … of course, he's never played more than 76 games in the season, and this was game number 43 of 2013
3B Kevin Youkilis & 1B Mark Teixeira: both 0-2, 1 BB — Teixeira struck out … Brian Cashman confirmed the plan is to have both back on Friday
RF Tyler Austin: 2-4, 1 R, 1 HR, 2 RBI — ten hits in his last 20 at-bats with three doubles and three homers, two walks, and zero strikeouts
C J.R. Murphy: 0-3
RHP Zach Nuding: 6 IP, 4 H, 1 R, 1 ER, 0 BB, 4 K, 1 HB, 7/3 GB/FB — 50 of 74 pitches were strikes (68%) … quietly having a nice year
RHP Branden Pinder: 1 IP, 1 H, 0 R, 0 ER, 2 BB, 2 K, 1/0 GB/FB — 14 of 26 pitches were strikes (54%)
RHP Tommy Kahnle: 1 IP, 0 H, 0 R, 0 ER, 1 BB, 0 K, 2/0 GB/FB — only five of eleven pitches were strikes
High-A Tampa (3-0 loss to Daytona)
CF Mason Williams: 0-2, 1 BB, 1 K — left the game after being picked off first in the sixth, so maybe he jammed some fingers or something
2B Angelo Gumbs: 1-4, 1 2B, 1 K — got picked off first
DH Rob Refsnyder: 0-4, 2 K — remember when all he did was put up multi-hit games? he's got ten hits in his last 69 at-bats (.145)
C Gary Sanchez: 2-4 — 15 hits in his last 49 at-bats (.306)
LF-CF Ben Gamel: 1-4, 1 K, 1 CS
RHP Bryan Mitchell: 7 IP, 8 H, 3 R, 3 ER, 0 BB, 6 K, 6/6 GB/FB — good Bryan showed up to the park today
Low-A Charleston (3-0 loss to Rome) they faced a rehabbing RHP Brandon Beachy
CF Jake Cave: 0-4, 1 K — stuck in an 0-for-18 rut
3B Dante Bichette Jr.: 1-3, 1 K, 1 E (fielding)
LHP Dan Camarena: 3 IP, zeroes, 3 K, 2/3 GB/FB — can't do much better than that