What is this, a winning streak? Three counts as a streak, right? Yes, yes it does. The Yankees beat the Twins for the third consecutive game on Wednesday afternoon, coming from behind for the sweet 3-2 victory.

Why Are They Pitching To Him?
Boy did the Yankees get a gift in this one. Journeyman right-hander P.J. Walters completely shut them down over the first five innings, but that third time through the order proved to be his undoing. The sixth inning started with a four-pitch walk to Brett Gardner and a booming double off the right field wall — it was fair by about a foot or so — by Ichiro Suzuki, putting men at second and third with no outs. New York was down 2-0 at the time.
That brought Robinson Cano to the plate, and at this point you have to think the Twins would pitch around him. Maybe not outright intentionally walk him with no outs, but tease him with stuff off the plate since you know Robbie is very willing to expand the zone. Maybe get a weak ground ball that forces the runner at third to hold or something. That's the right move, right? Maybe, but it's not the move the Twins made. They pitched to Cano and paid for it when Walters hung a breaking ball, which was lined it into right-center for a two-run double. Just like that, the game was tied and the go-ahead run was in scoring position.
Robbie advanced to third on Travis Hafner's single then came in to score what proved to be the game-winning run on Lyle Overbay's sac fly later in the inning. Remember what I wrote the other day about the Yankees only scoring when the other team makes a mistake? That's confirmation bias more than anything, but Minnesota royally screwed up by going after Cano with two men on-base and they paid dearly. Robbie is locked in.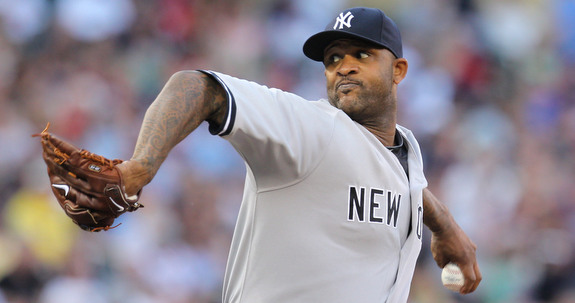 Sabathia Bends But Does Not Break
This was the classic "oh my goodness he looks like crap this is bad they have no chance oh look there he is in the seventh inning hey this start was pretty good" game from CC Sabathia. We've seen him do this plenty of times over the last few years and that ability to avoid a total meltdown is one of the things that separates good pitchers from great pitchers. Sabathia needed 80 pitches to complete the first four frames, but in the end he held the Twins to two runs in seven innings. I'll take that every day of the week.
According to Brooks Baseball, Sabathia averaged 93.1 mph and topped out at 94.3 mph with his fastball. That is quite a bit better than where he was earlier this year and is a continuation of his last three or four starts. As the weather warmed up, so has CC's fastball. That's the good news. The bad news is that his command is still not where it needs to be, which is a problem because we're in July already. Sabathia walked three and struck out nine in those seven innings, so he made it work. Grind-it-out starts like this have become the norm, which is unfortunate even if it's good enough to win. One of these days he'll put together a nice and easy outing … I think. Until that happens, starts like this will have to do.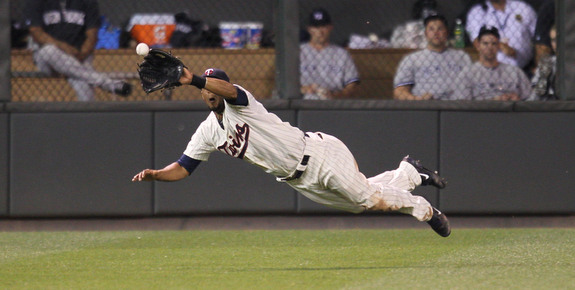 Leftovers
Aside from a broken bat bloop over Cano's head, David Robertson and Mariano Rivera finished off the final two innings without much of a problem. Rivera probably won't be available for the series finale after appearing in each of the last three games, but so be it. The Yankees need every win and today's game is more important than tomorrow's.
New York only had four total hits and three came in the span of three batters in that sixth inning — Ichiro's double, Cano's double, and Hafner's single. Robbie chipped in a single in the first inning and that's all. The final 12 Yankees to bat made outs, and the bottom five hitters in the lineup went a combined 0-for-16 with a walk (David Adams).
Luis Cruz had an eventful debut in pinstripes, airmailing a throw from shortstop for an error and having a no-doubt extra-base hit robbed by Oswaldo Arcia at the wall in the left field corner. Otherwise he made every play at short look rather routine, probably because they were.
Finally, congrats to Sabathia for his 200th career win. Eighty-three of those wins have come with the Yankees. One or even a season's worth of pitcher wins mean nothing, but a number like 200 symbolizes longevity and effectiveness. You don't stick around for 200 wins if you aren't good. Congrats to CC and here's to another hundred wins.
Box Score, WPA Graph & Standings
For the box score and video highlights, go to MLB.com. For some other stats and neat-looking graphs, go to FanGraphs. For the updated standings, go to ESPN. The Bombers are five back of first place and four up on last place in the AL East in the loss column. They're two back of a wildcard spot.

Source: FanGraphs
Up Next
The Yankees will go for the rare four-game sweep on Thursday afternoon, in an Independence Day matinee. David Phelps and the just called up Kyle Gibson is your pitching matchup.