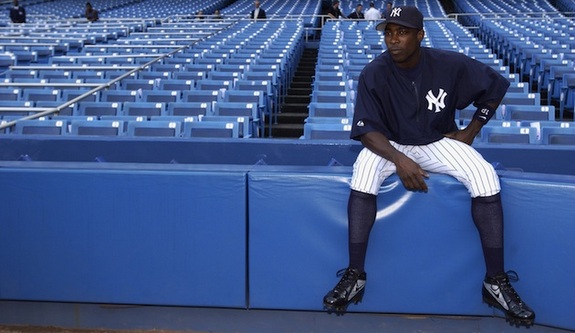 After days of rumors and weeks of desperation, the Yankees are finally adding some right-handed power to the lineup. New York has agreed to acquire Alfonso Soriano from the Cubs for minor league right-hander Corey Black, reports Bob Nightengale and Joel Sherman. Jon Heyman says righty Tommy Kahnle was on the table as well. The trade has not yet been announced by either team.
Soriano, 37, had full no-trade protection through his ten-and-five rights and had to agree to return to the Bronx. Nick Cafardo says the only team he was willing to accept a trade to was the Yankees. Soriano took a red-eye flight to New York last night and is expected to be with the team in time for tonight's series opener against the Rays. I assume he'll step right into the lineup on a full-time basis and not platoon. The Yankees have an open 40-man roster spot and will likely demote either Melky Mesa or Thomas Neal to Triple-A Scranton to clear a 25-man roster spot.
According to Buster Olney, the Bombers will pay $6.8M of the roughly $24.5M owed to Soriano through next season. They will pay $5M of that $6.8M in 2014. Soriano's eight-year, $136M contract comes with a $17M average annual value and an $18M salary next season. This luxury tax stuff is complicated, but by my unofficial calculation, Soriano will carry a $4M "tax hit" next year. Hopefully we get some confirmation on this at some point.
In 383 plate appearances this season, Soriano has hit .254/.287/.467 (100 wRC+) with 17 homers and ten stolen bases. That includes a .273/.310/.496 (112 wRC+) line against left-handers. After hitting just .250/.288/.302 with one homer in his first 30 games of 2012, Soriano switched to a lighter bat and hit .265/.331/.551 with 32 homers in his final 121 games. Over the last 30 days of this season, he's put up a .286/.330/.714 (178 wRC+) line with ten homers.
To give you an idea of how power-starved the Yankees are these days, Soriano has out-homered them 8-7 in July. He's hit ten homers since the Bombers last got a homerun from a right-handed batter — Jayson Nix took Yu Darvish deep on June 25th — and overall he has 17 homers this season compared to 24 for New York's righty bats. As a team, the Yankees are hitting just .235/.306/.341 (77 wRC+) with 20 homers against left-handed pitchers in 2013. They were desperate for a right-handed power bat.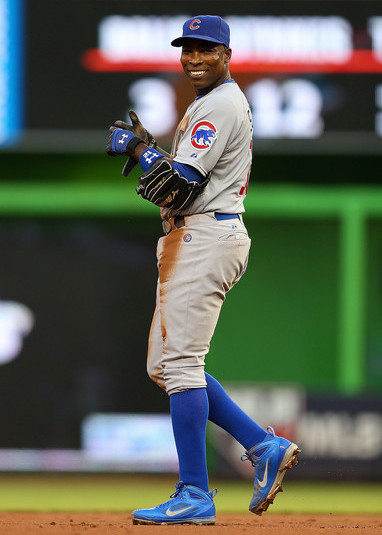 Soriano is not without his warts, obviously. He doesn't walk (3.9%) and will strike out a fair amount (23.2%), though his strikeout rate isn't as bad as generally believed. It's more Nick Swisher and Evan Longoria than Curtis Granderson and Mark Reynolds. Soriano also doesn't steal bases like he once did — his ten steals this year are already his most since 2008. From 2009-2012, he stole just 22 bases in 28 attempts (79%). Soriano has worked hard to both improve his defense (though he's still no better than average in left) and his reputation in recent years. He gets rave reviews for his work ethic and clubhouse skills nowadays, especially when it came to mentoring the young players in Chicago. The Yankees love that stuff.
As you know, Soriano broke into the big leagues with the Yankees in 1999 before sticking for good in 2001. He signed with the Hiroshima Carp as a 16-year-old in 1992 and played them through 1997, at which point he "retired" from the Japanese leagues so he could sign with the Yankees for $3.1M. Soriano hit .284/.322/.502 (115 wRC+) with 98 homers and 121 steals with New York from 1999-2003, including .295/.335/.536 (128 wRC+) with 77 homers and 76 steals from 2002-2003. He finished third in the 2001 AL Rookie of the Year voting and third in the 2002 AL MVP voting, when he nearly went 40/40 (39/41). Soriano was traded with Joaquin Arias to the Rangers for Alex Rodriguez in February 2014.
Black, 21, signed for a below-slot $215k as the team's fourth round pick in last year's draft. I ranked him as the 24th best prospect in the organization before the season and the 18th best after last month's draft. Black has a 4.25 ERA (3.27 FIP) with an excellent strikeout rate (9.58 K/9 and 23.0 K%) but a poor walk rate (4.90 BB/9 and 11.8 BB%) in 82.2 innings spread across 19 starts for High-A Tampa this season, though he did spend time on the DL with an unknown injury. He's undersized — listed at 5-foot-11 and 175 lbs. — but he has a big fastball, showing 100 in the past and sitting in the mid-90s now. His secondary pitches all need work and he's likely headed for the bullpen down the road, though he has been impressive as a starter in 2013. Here are some .GIFs.
The Yankees have a ton of hard-throwing right-handed relievers in the organization, making it the one of the only areas the team has plenty of depth to use in trades. They are desperate for power at the big league level and Soriano will provide that even though his game is limited. The Cubs took Black over Kahnle because he's the better prospect, and trading a High-A pitcher likely destined for the bullpen for an upgrade to the big league lineup for a potential second half push is a move the Yankees should make all day, every day. New York still needs more offense, at least one and probably more like two or three bats, but Soriano is a start and he came at a reasonable cost.