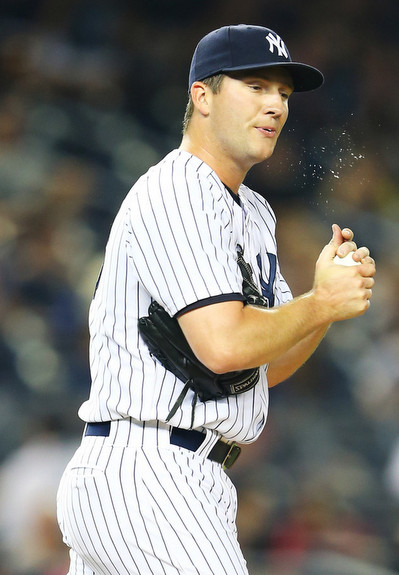 Two weeks and one day ago, the Yankees and Dodgers were rained out at Yankee Stadium. They played a doubleheader the next day and that forced New York to call up Ivan Nova for a spot start four days later. Nova has remained with the team ever since that spot start ten days ago, meaning they've been playing with an eight-man bullpen and a three-man bench for more than a week. That's no big deal for a day or two, but ten is pushing it.
The three-man bench has come back to bite them in just one painfully obvious way so far, in the ninth inning of Sunday's loss to the Orioles. Lyle Overbay started the inning with a double, but the next three batters were Jayson Nix, Chris Stewart, and David Adams. The only hitters on the bench were Alberto Gonzalez and Austin Romine — Vernon Wells was used off the bench in the eighth — so Joe Girardi had no real option to pitch-hit and the rally was soon snuffed out. Having that one extra bat would have been a help.
While the bench has been a man short, the bullpen has been a man heavy. Girardi opted to use Nova over Adam Warren in long relief of an ineffective David Phelps this past Saturday, which is fine except that Warren has now appeared in just four (!) games in the last 33 days. One of those outings last one batter (last night). I get that long relievers work on irregular schedules and could go a week or so between appearances, but that's just ridiculous. There's no need to carry two long men, not when the offense has trouble scoring runs and you're playing a position player short.
Now, the elephant in the room here is that there are no obvious call-up candidates in Triple-A to help the bench. Outfielder Brennan Boesch, infielder Corban Joseph, and utility man Ronnie Mustelier are all on the minor league DL, so they aren't options. Thomas Neal, who was sent down to make room for Nova ten days ago, is eligible to come back up today, so he's an option. Then again, adding another right-handed bat to a three-righty bench is less than ideal.
That leaves a bunch of Quad-A types as call-up candidates: outfielder and former top prospect Fernando Martinez, corner infielder Dan Johnson, first baseman/DH Randy Ruiz, outfielder Corey Patterson, and utility man Brent Lillibridge. Johnson is the only one of those four who has been with the organization all year — the rest were acquired in the last two weeks or so. Martinez (177 wRC+) has been hitting the best with Triple-A Scranton, though Lillibridge has a strong big league season to his credit in the not too distant past (125 wRC+ in 2011) and can play almost everywhere. Martinez, Johnson, and Patterson are lefty hitters.
The 40-man roster is not a problem at the moment. The Yankees currently have one open 40-man spot, plus both Mark Teixeira and Kevin Youkilis can be transferred over to the 60-day DL at any time given their injuries. We're not talking about clogging up the 40-man with another prospect, it'll be a spare part who can be designated for assignment at a moment's notice. The only thing standing in the way is the decision to demote either Warren or Nova. Frankly, I don't care which one goes, but one should.
Hiroki Kuroda's minor hip problem means both Nova and Warren will stick around for another few days, but as soon as Kuroda is ready to rejoin the rotation, I'd send one of the two long men down in favor of an extra bat. I'd probably go with Johnson myself, just because he'd add a lefty bat who can actually hit the ball out of the park on occasion to the bench. The Yankees need some more homerun power. He could also spot start at first base and DH, which would help given the suddenly long-standing struggles of Lyle Overbay and Travis Hafner.
Two long men and three-man bench doesn't do this team much good as presently constructed. Adding an extra position player is something they should consider doing as soon as Kuroda is healthy enough to make one of Nova and Warren unnecessary.