So it turns out the plan to become a pitching and defense team in a tiny ballpark in the AL East was a bad one. The Yankees were held to exactly one run for the third consecutive game on Tuesday, falling to the Royals 3-1.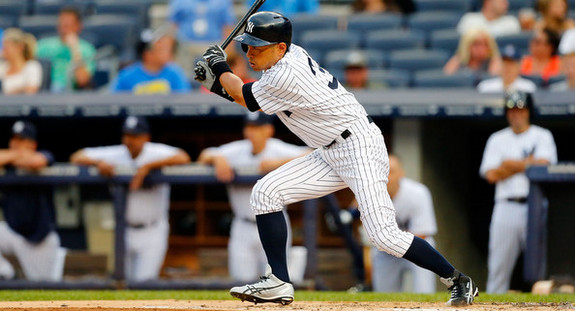 Four Hits, One Run
Even when the Yankees are able to string together some hits, they still manage to make the least out of it. Four of the first five Yankees to bat against Jamie Shields singled, yet the result was only one run. For whatever reason, third base coach Robbie Thomson held Ichiro Suzuki up at third on Zoilo Almonte's ground ball single to right with one out. Why? Who knows. Speed is Ichiro's thing, scoring from second on singles is what he does. Gotta force the issue with a tough pitcher on the mound, especially considering the ineptitude of the offense.
To no one's surprise, Lyle Overbay and Eduardo Nunez were unable to drive in any more runs and Shields settled down — he retired 16 of the next 19 men he faced and the final 13 overall. The Yankees need to capitalize on every opportunity they get these days because they have no margin for error whatsoever. Holding up a fast runner at third base against a good pitcher to put things in the hands of Overbay and Nunez is the kind of error they can't afford to make.
Tight Rope
Could you imagine having to pitch — in a big-time hitter's park, no less — knowing that you'll be lucky if the lineup scores three runs behind you? That's what the Yankees' rotation is going through every single night these days.
It was CC Sabathia's turn to walk the tight rope on Tuesday, and he took the loss despite allowing just three runs in nine innings on 113 pitches. Two of those runs came on solo homers, one by David Lough and one by Billy Butler. They were the 19th and 20th homers he's allowed this year, just two short of his career high with more than one-third of the season left to play. Sabathia struck out six and walked just two. Another wasted quality starting pitching performance.
Leftovers
The Yankees hit three balls out of the infield (on the fly) after the third inning. Brett Gardner had two singles while Ichiro, Robinson Cano, Zoilo, and Chris Stewart had one apiece. Cano and Travis Hafner drew walks. That's all she wrote. Non-competitive lineup.
Lorenzo Cain had a really nice game for the Royals in center field. He took a bases-clearing double away from Nunez with a running grab in the right-center field gap in the first, robbed Luis Cruz of an extra-base hit with another running grab in the left-center field gap in the second, then stole singles away from Nunez and Stewart with sliding catches coming in on the ball. He legitimately took four hits away from New York.
Because the Yankees aren't unwatchable enough, Adam Sandler spent an inning in the YES booth promoting whatever movie he's in these days. They're doing more of these in-booth promos this year, right? It isn't just me? At least it distracted me from the offense for a few minutes.
This was the 18th time this year the Yankees were held to no more than one run. That equals last year's total for the entire season.
Box Score, WPA Graph & Standings
MLB.com has the box score and video highlights while FanGraphs has some other stats. ESPN has the standings. The Rays won their sixth straight game while the Orioles lost for the fifth time in their last six games, so the Yankees are two back of Tampa for the final wildcard spot and tied with Baltimore in the loss column.

Source: FanGraphs
Up Next
Same two teams again on Wednesday night, when Ivan Nova gets the ball against Wade Davis in game three of this four-game series. RAB Tickets is the place to go for last minute ticket deals.