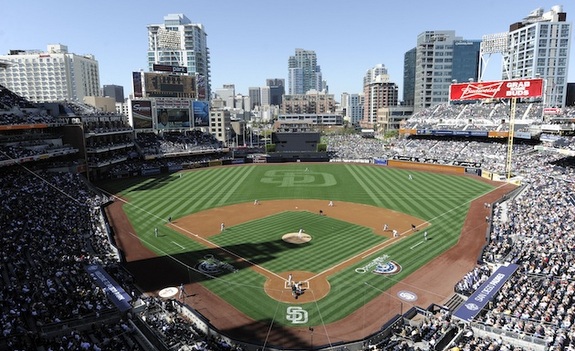 For the first time since the place opened in 2004, the Yankees are heading to Petco Park for an interleague series against the Padres. They never even got to play there before the walls were brought in. New ballparks are always fun, so this weekend will be pretty neat. New York wraps up the West Coast leg of the road trip with three games against their 1998 World Series opponent this weekend.
What Have They Done Lately?
At one point in late-June, the Padres got to two games over .500 for the first time since April 2011. No, really. They've gone 13-23 since, though they did win four straight before losing their last game. At 50-59 with a -57 run differential, the Friars sit in fourth place in the NL West and are nine games back of a playoff spot.
Offense
For about a decade, the Padres were a pitching and defense team that really struggled to score runs. That's not the case anymore. Quite the opposite, really. They average 4.0 runs per game with a team 95 wRC+, slightly below-average marks that rank better than the Yankees (3.9/82). San Diego is currently without OF Cameron Maybin (29 wRC+ in limited time), C Yasmani Grandal (99 wRC+), and 1B/OF Kyle Blanks (109 wRC+), all of whom are on the DL and won't return this series. OF Carlos Quentin (142 wRC+) is day-to-day with a knee problem but could be back in the lineup as soon as tonight.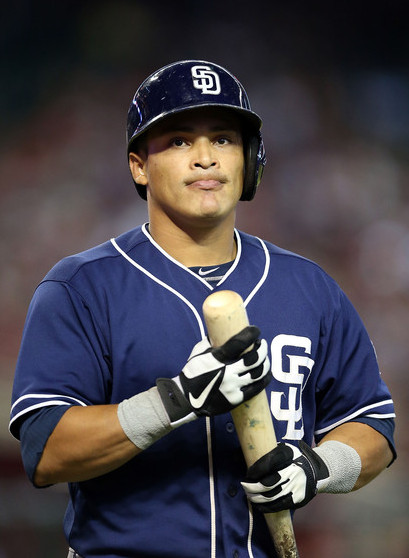 Former Rule 5 Draft pick and current leadoff man SS Everth Cabrera (109 wRC+) quietly leads the NL in stolen bases (37) and is having a great year, but he's reportedly about to be suspended for his ties to Biogenesis. Sucks. The under-rated OF Chris Denorfia (104 wRC+) bats second ahead of 3B Chase Headley (103 wRC+), who has been battling injuries all year. 1B Yonder Alonso (111 wRC+) cleans up with Quentin out, then they've got OF Will Venable (101 wRC+) and 2B Jeff Gyorko (97 wRC+). It's pronounced Jerk-o. Seriously. C Nick Hundley (96 wRC+) catches full-time with Grandal out.
The Padres have a decent bench by NL standards. 1B/OF Jesus Guzman (102 wRC+ vs. LHP) hits lefties well, but 1B/OF Mark Kotsay (54 wRC+ vs. RHP) doesn't do much against righties. Yes, Kotsay is still playing. UTIL Alexi Amarista (97 wRC+) can play anywhere and play it well. IF Logan Forsythe (70 wRC+) is more potential than production at the moment. Former Yankees farmhand C Rene Rivera (31 wRC+ in very limited time) backs up Hundley. San Diego doesn't hit many homers, but they have stolen the third most bases in the game (82). It's not just Cabrera.
Starting Pitching Matchups
Friday: LHP CC Sabathia vs. RHP Andrew Cashner
Cashner, 26, is one of those guys with ace stuff but not ace results or ace durability. The right-hander has been on the DL three times in three full big league seasons, each time with a shoulder issue. He also sliced a tendon in his thumb with a hunting knife over the winter. Cashner has a 3.88 ERA (3.86 FIP) in 17 starts (and five relief appearances), plus his walk (2.91 BB/9 and 7.8 BB%), homer (0.81 HR/9 and 9.8% HR/FB), and ground ball (53.4%) rates are all strong. His strikeout rate (6.31 K/9 and 16.9 K%) leaves something to be desired. Cashner lives in the mid-90s with his four-seam fastball and he'll run it up to 98-99 on occasion, but his low-80s slider and mid-80s changeup are nasty secondary offerings. Many think he's a reliever long-term because of he can't stay healthy, but the Padres are giving him a chance to show he can start. The Yankees have never faced Cashner before.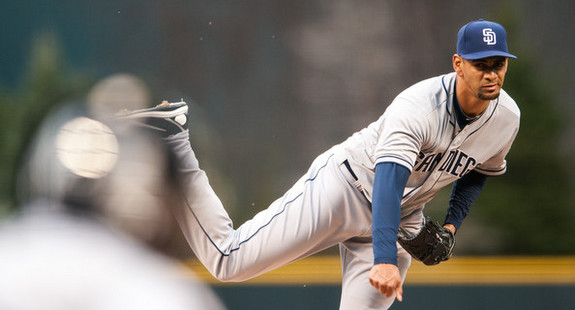 Saturday: RHP Ivan Nova vs. RHP Tyson Ross
How often does a pitcher leave the Athletics and actually get better? Not often, but the 26-year-old Ross is the rare exception. He's got a 2.90 ERA (3.65 FIP) in five starts and 19 relief appearances for San Diego, pitching so well in relief that they moved him into the rotation. Ross walks a few too many (3.66 BB/9 and 9.9 BB%), but he has a decent strikeout rate (7.17 K/9 and 19.3 K%) and very good homer (0.61 HR/9 and 7.0% HR/FB) and ground ball (51.8%) numbers. Ross has five pitches but only really uses two, his low-to-mid-90s four-seamer and mid-80s slider. He'll use those two pitches a combined 83% of the time or so. Low-to-mid-90s two-seamers and cutters as well as a mid-80s changeup round out his repertoire. The Yankees have seen Ross a few times over the years while he was with Oakland, and they roughed him up nearly every time.
Sunday: RHP Phil Hughes vs. RHP Ian Kennedy
All we need is Joba Chamberlain to appear in this game and we can have a Save the Big Three! reunion party. The Padres made a nifty little move to buy low on IPK at the trade deadline, snagging him for two relievers (one in Double-A) and a draft pick. Of course, Kennedy was acquired so cheaply because he has been awful this year. The 28-year-old had a 5.23 ERA (4.59 FIP) in 21 starts before the trade — this will be his first start with San Diego — and his peripherals weren't anything special: 7.84 K/9 (19.7 K%), 3.48 BB/9 (8.7 BB%), 1.31 HR/9 (12.5% HR/FB), and 36.1%. Kennedy is a true six-pitch pitcher with three fastballs (low-90s two and four-seamer, mid-80s cutter) and three offspeed pitches (mid-80s slider, low-80s changeup, mid-70s curveball). He rarely uses the slider nowadays and the changeup is his bread-and-butter. It's why he hasn't had much a platoon split over the years. Kennedy has never faced the team that originally drafted him.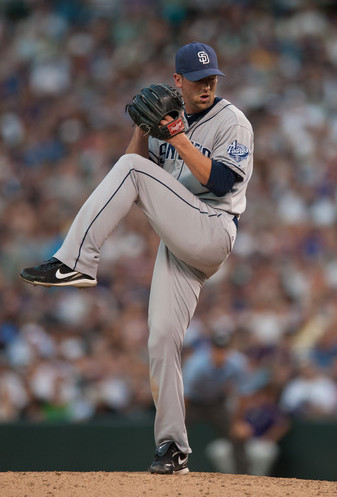 Bullpen Status
San Diego's bullpen isn't as strong as we're used to seeing. In fact, the entire pitching staff isn't all that good. RHP Huston Street (6.13 FIP) is a cardiac closer who gives up a freaking ton of homers. I'm talking ten homers in 35.1 innings this year (2.55 HR/9). Even Hughes is embarrassed for him. Setup man RHP Luke Gregerson (2.90 FIP) continues to be excellent, and RHP Nick Vincent (2.38 FIP) has impressed in his limited opportunities.
The Padres shipped primary lefty Joe Thatcher to Arizona for Kennedy, so their only southpaw right now is LHP Colt Hynes (6.98 FIP in very limited time). RHP Sean O'Sullivan (3.54 FIP in limited time) and RHP Tim Stauffer (3.60 FIP) round out what is currently a six-man bullpen. That will probably change at some point. It's worth noting that manager Bud Black is a Showalter-level strategic manager who always seems to make the right pitching change and whatnot. There's only so much he can do with this group, however.
Both the Yankees and Padres were off yesterday, so their bullpens are relatively fresh. David Robertson was unavailable on Wednesday because of a tired arm and it's unclear if he'll be available tonight or at all this weekend. We'll find out soon enough. Check out our Bullpen Workload page for recent reliever usage, then check out Gaslamp Ball for the latest and greatest on the Friars.