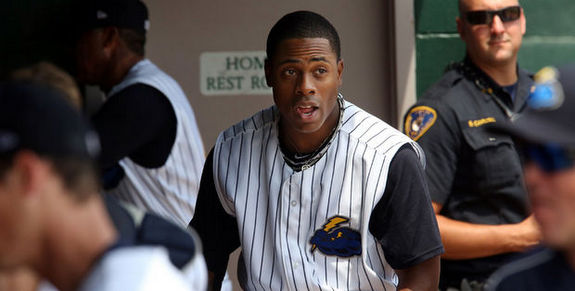 To date, this has been a lost season for Curtis Granderson. Two long-ish term fluke injuries have limited him to just eight (!) of the team's first 107 games, and the Yankees have sorely missed his power production in the middle of the lineup. The injuries also came at a bad time for Curtis personally, since he's due to become a free agent for the first time this winter. That's unfortunate.
The good news is that Granderson's time on the DL is about to come to an end. He wrapped up his six-game minor league rehab assignment yesterday, going 4-for-19 (.211) with four walks and five strikeouts with High-A Tampa and Double-A Trenton. Granderson played left field in four of the six games — he was the DH in the other two, once because he had a stomach bug and couldn't play the field as scheduled — and reported no problems with his left hand.
"Curtis has been a vital part of our offense," said Derek Jeter to Wally Matthews. "He's a guy that can change the game with one swing. We're looking forward to him coming back, but just because Curtis is back doesn't mean we can sit back and relax. Everybody has a job to do and everyone needs to do it."
As a team, the Yankees have hit just 28 homers in 53 games since the calendar flipped to June, including a recent eight-game homer-less streak that was their longest since going ten straight in April 1984. That's where Granderson, a flawed hitter who won't hit for much average and will strike out a bunch, figures to give the team a big boost. They need someone who can put a run(s) on the board with one swing, and few hitters in the world can do that as well as Curtis. That his left hand was broken and not the right (front hand) bodes well for retaining that power after the injury.
There's also this: the Yankees have become a very impatient team. They rank 19th in baseball with a 7.5% walk rate, their lowest since 1990 and their first time below 8.5% since 2001. Outside of Brett Gardner, who is seventh in baseball with an average of 4.24 pitches per plate appearance, not a single regular sees more than 3.75 pitches per plate appearance. That's awful and leads to a lot of quick outs, as you may have noticed. In addition to hitting for power, one of Granderson's strengths is drawing walks (11.0% in 2012, 10.1 % career) and seeing pitches (4.27 P/PA in 2012, 4.16 career). That will be a welcome addition to the offense.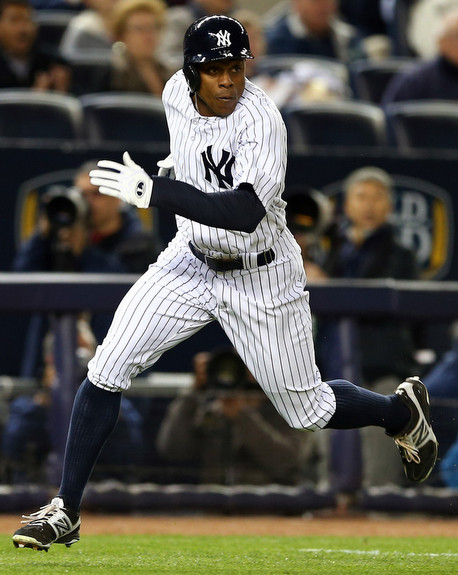 Although the Yankees are lefty-heavy, it won't be tough to squeeze Granderson's bat back into the lineup. I assume Melky Mesa will be sent to Triple-A to clear a 25-man roster spot and either Luis Cruz or Zoilo Almonte will be transferred to the 60-day DL to clear a 40-man spot, but that's the easy part. Granderson should play left field every day, pushing Alfonso Soriano into the DH role. Ichiro Suzuki and Vernon Wells will have to duke it out for playing time in right. The regular lineup could look something like this:
CF Gardner
SS Jeter
2B Robinson Cano
LF Granderson
DH Soriano
1B Lyle Overbay
RF Ichiro or Wells
Third Base
Catcher
That splits up the lefties a bit, rather than batting Soriano cleanup and having three straight lefty bats from the five through seven slots whenever Ichiro plays. It's not perfect, but that suddenly looks like a competitive big league lineup. Four guys you can expect to be above-average, two you can expect to be about average, and three that range from below-average to awful. It's not a classic Yankees lineup, but it's far better than what they've trotted out there for most of the season.
So, this is it. The Yankees are at full strength now. With the exception of Alex Rodriguez, who is facing a Biogenesis-related suspension, all of the injured position players will be back as soon as Granderson is activated. Frankie Cervelli is heading to see Dr. Andrews and is unlikely to play again this year, and the trio of Cruz, Almonte, and Travis Hafner are largely inconsequential. This is it barring an August waiver trade. With Curtis back, the Yankees are as close to full strength as they're going to get, and now is the time to make a run at that second wildcard spot.