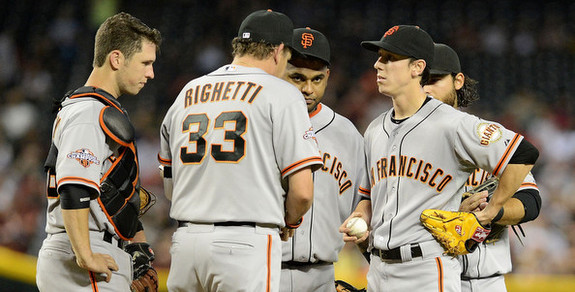 According to Baseball Prospectus, the Yankees have a 1% chance to make the postseason following their loss to the Blue Jays last night. They're four games back in the loss column with only nine to play, meaning even if they go a perfect 9-0, either the Rangers or Rays would need to go 5-4 just to force a tiebreaker game. That doesn't even factor in the Orioles, Royals, and Indians, all of whom are sandwiched between the Yankees and a wildcard spot. The postseason outlook is indeed grim, but the Yankees have not yet been mathematically eliminated. Until that happens, there will still be some shred of hope. Here's the lineup Joe Girardi will send out there against two-time Cy Young Award winner Tim Lincecum:
RF Ichiro Suzuki
DH Alex Rodriguez
2B Robinson Cano
LF Alfonso Soriano
CF Curtis Granderson
3B Eduardo Nunez
1B Lyle Overbay
SS Brendan Ryan
C J.R. Murphy
And on the mound is another former Cy Young Award winner, CC Sabathia. Two or three years ago, a Sabathia-Lincecum pitching matchup would have been one of the best and most exciting in baseball. They were two of the five or ten best pitchers in the world as recently as 2011.
It's a lovely day in New York, perfect for baseball. First pitch is scheduled for 7:05pm ET and can be seen on YES. Enjoy.
Injury Update: Boone Logan (elbow) is available for tonight's game. He's missed about two weeks with a bone spur.