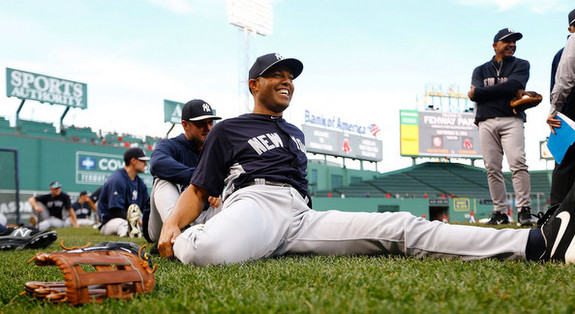 Despite getting manhandled by the Red Sox this weekend, the Yankees wake up this morning with a small chance — a 4.5% chance according to Baseball Prospectus — of qualifying for the postseason this year. Last night's loss eliminated them from the AL East race, so it is officially wildcard or bust for this team. New York needs a ton of help these next two weeks but they do have a favorable schedule, including nine of their final dozen games against the lowly Blue Jays, Giants, and Astros.
Getting to the playoffs this season doesn't mean much in the grand scheme of things for the Yankees. If anything, sneaking into the postseason would (further) mask some severe organizational flaws, whether they be outdated policies (no contract extensions? really?), an over-reliance on old players (two years for Ichiro Suzuki? really?!?), an unproductive farm system, or a medical staff that can't seem to keep anyone on the field. The list of problems goes on and on and explains why no matter what the Yankees do these next two weeks, it's impossible to look forward and feel good about where the club is heading.
The Yankees have spent the last few seasons doing what? Holding onto the last remnants of the dynasty years because they are either unwilling to move on or simply don't know how to do it. Their plan doesn't seem to be much of a plan at all. They aren't trading veterans for prospects, they aren't trading prospects for veterans, and they aren't giving prospects opportunities. What they are doing is picking up discarded players to plug whatever hole arises. Seriously, look at the roster: Ichiro, Chris Stewart, Mark Reynolds, Lyle Overbay, Brendan Ryan, David Huff … these guys were all available because their former teams dumped them and now they're playing significant roles for the Yankees. What kind of plan is that?
I get that injuries really decimated the team. Really, really decimated them. Some were unpredictable (Curtis Granderson, Mark Teixeira) while others were in no way surprising (Derek Jeter, Alex Rodriguez, Kevin Youkilis, Michael Pineda). Either way, there were a lot of injuries and the club was wholly unprepared for them because the farm system has produced so very little beyond a handful of relievers and emergency call-up types in recent years. The Yankees force Phil Hughes and Eduardo Nunez types down our throats because they so desperately want to prove they can draft and develop competent big leaguers, but they can't. I feel we've beyond the point of saying "they haven't" and should now say "they can't."
Between the unproductive minor league system and the slashing of payroll at the big league level — which ownership will happy remind you of every chance they get, by the way — there's almost no way for the Yankees to turn around and build a team that can have sustained long-term success this winter. They aren't a Shin-Soo Choo or a Brian McCann or a Matt Garza away from contention. They're three starting pitchers, two outfielders, a left side of the infield, a catcher, half a bullpen, and a farm system away from having a club that can have sustained success over a number of years. Their best building blocks going forward are a 30-year-old second baseman and a 30-year-old center fielder. Think about that.
"We have the most money, no secret about that. If we combine that with the best decision-making process on a consistent basis, God help the rest of baseball," said Brian Cashman to Bryan Hoch when he signed his new three-year contract following the 2005 season. Yes, the 2005 season. That's almost seven years ago and what has happened since then? The Yankees won the World Series, which was pretty awesome, but have they combined their ability to spend with the "best decision-making process on a consistent basis?" I find that very hard to believe and not just because the ability to spend has been willfully marginalized.
Joe wrote about the team's need to adapt and improve their minor league development last month, but the Yankees need more change than that. I think the easiest way to put it is that they're behind the times. Teams have more money to spend that ever before, which means the best young players are not hitting free agency or becoming available in trades as their salaries grow. The talent pool available to New York has become diluted and they can't wave their magic pinstriped wand bank account to make it all better. The rest of baseball has gotten progressive but the Yankees have remained the same.
Everything from the team's policies to their decision making at the MLB level to their player development needs an overhaul and that starts right at the top. Does that mean replacing Cashman is step one? I don't really know. I can't say I have much confidence in ownership hiring the right replacement if they do fire him. The last thing I want to happen is Cashman being replaced by a figurehead GM while Randy Levine & Co. call all the shots. Ownership dips their toes into the baseball operations too much as it is. Change has to happen though. The Yankees run an outdated organization and the rest of baseball is leaving them behind. These last few months couldn't have made it any more obvious.