A lot of goodbyes were said on Sunday. The Yankees celebrated Mariano Rivera's career with a pre-game ceremony that lasted a good 50 minutes, Andy Pettitte made the final start of his career at home in Yankee Stadium, and the Yankees waved goodbye to their already tiny playoff chances with a 2-1 loss to the Giants. What a day.
Goodbye, Andy
First the first five innings, it looked like we were in for a storybook day. Pettitte took a perfect game into the fifth inning and a no-hitter into the sixth inning before things came crashing down. Someone named Ehire Adrianza hit a poorly located 2-2 pitch out to left field for a solo homer that broke up the no-hitter and the shutout in one fell swoop. Adrianza's first career homer erased the 1-0 lead New York was nursing since the third inning. Ehire Adrianza. Seriously.
Aside from the homer, Pettitte was marvelous in the penultimate start of his career. He held the Giants to a single, a double, and a walk in seven innings plus one batter. He struck out six, got nine ground ball outs compared to six in the air, and recorded all but two of his 21 outs on the infield. After Angel Pagan flew out to left field to start the game, none of the next eleven San Francisco batters hit the ball out of the infield. Andy has been spectacular of late and was at his best on Sunday. He walked off the Yankee Stadium mound to a thunderous ovation and came back out for a curtain call for the final time in his career. What a stud.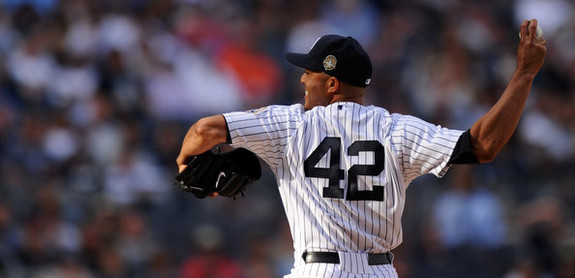 Goodbye, Mo
Prior to the game, the Yankees honored Rivera by retiring his number (and re-retiring #42 for Jackie Robinson) and having Metallica play a live rendition of Enter Sandman. They also gave him a bevy of gifts, including a $100k donation to his charity. A few hours later, they handed him a one-run deficit and asked him to keep them in the game. Mo did just that.
Doubles by Pablo Sandoval (off Pettitte) and Tony Abreu (off David Robertson) gave the Giants a 2-1 lead in the eighth inning. They also had a man on second with one out. Joe Girardi brought on Rivera for the five-out appearance, and he pitched out of the jam with a strikeout and a ground out. A single to center and  rare error by Robinson Cano — his shuffle pass to Brendan Ryan on a potential double play ball was in the dirt — put men at first and second with no outs in the ninth, but a pop-up to second (Buster Posey) and a double play (Hunter Pence) ended the threat. Rivera cut right through San Francisco's two best hitters to escape the jam.
It's disappointing the Yankees didn't hand Mo a save opportunity on his special day, but no one will remember that anyway. Seriously, you'll forget about that in about a month. We'll all remember the pre-game ceremony though, the pre-game ceremony and the nearly two-decades of dominance. The Yankees aren't going to the playoffs, so Rivera's career is ending in exactly one week. No more Enter Sandman, no more cutter, no more understated handshake with the catcher following a job well done. An era is coming to an end, folks. The Yankees will never be the same.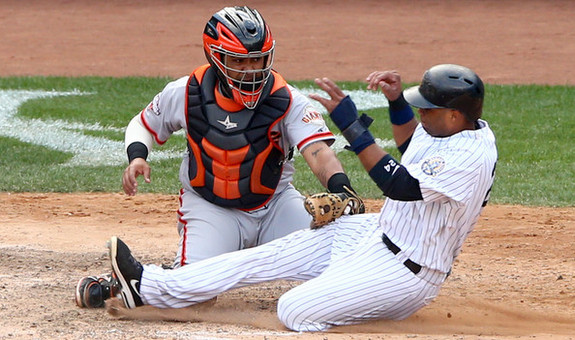 Hate You, Offense
The Bombers scored their only run of the game on a Mark Reynolds solo homer. I thought it was a pop-up off the end of the bat — he might have missed the sweet spot, I didn't see a replay — but the ball kept carrying and carrying and carrying into the visitor's bullpen. It was definitely a welcome but unexpected outcome based on my read off the bat. Unfortunately, the Yankees didn't score after that. They did have their chances though.
Eduardo Nunez led off the seventh inning with a single, and he moved up to second on Ryan's single one batter later. With Yusmeiro Petit nearing the end of his effectiveness, Girardi lifted Chris Stewart for pinch-hitter Lyle Overbay against the tiring right-hander. Giants manager Bruce Bochy responded by bringing in lefty specialist extraordinaire Javier Lopez, prompting Girardi to pinch-hit for the pinch-hitter. Out went Overbay, in came Vernon Wells. The result really didn't change though. Wells struck out and Ichiro Suzuki followed with a strikeout of his own. Inning over.
In the eighth, the Yankees put runners at second and third with no outs thanks to an Alex Rodriguez single and a Cano double. Pinch-runner Zoilo Almonte probably would have been able to score from first on the double had the ball not hit the sidewall and deflect out to Pence in right field. Alfonso Soriano followed with a hard-hit grounder to third that Nick Noonan bobbled but recovered quick enough to throw out Almonte at home. The rookie froze on the play and broke for home late. It was obvious he should have stayed at third, but alas. Nunez followed with a single to shallow left and Cano was thrown out at the plate to end the inning. Two runners thrown out at the plate in the eighth inning of a one-run game. Don't deserve to win if you do that.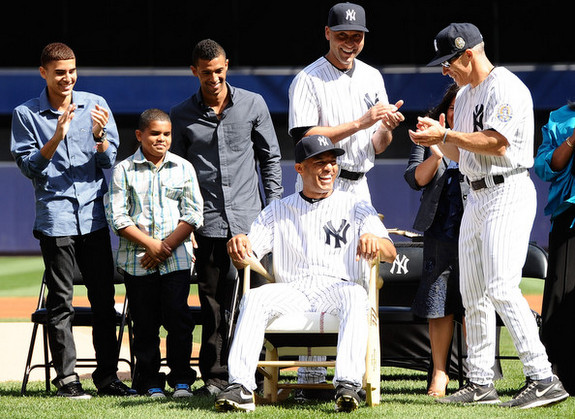 Leftovers
Cano (three), Nunez (two), and Ryan (two) all had multiple hits while A-Rod and Reynolds chipped in one apiece. Ichiro and Soriano drew walks. The Yankees struck out eleven time as a team, including two by Ichiro, two by A-Rod, and three by Curtis Granderson. Yusmeiro Petit? Really?
Robertson got a ground ball out before allowing what amounted to the game-winning double by Abreu, but I'm not sure why Girardi bothered to go to him if he was willing to use Rivera for multiple innings. Just seems kinda weird. Mo can get five outs down a run with a man on second but not six outs in a tie game with a man on second? Weird.
Pettitte took the undeserved loss and fell to 10-11 on the season, so if he doesn't win his final start against the Astros next weekend, Andy will finish with a losing record for the first time in his career. He went 14-14 in 2008, the only time he finished with even a .500 record.
Box Score, WPA Graph & Standings
MLB.com has the box score and video highlights, FanGraphs some other stats, and ESPN the updated standings. The Yankees are now four games back of the second wildcard spot with six games left to play. Cool Standings gives them a 1.3% chance to make the postseason and the tragic number is down to just three. They're done with a capital DONE.

Source: FanGraphs
Up Next
The Yankees are off on Monday and will open the final home series of the season on Tuesday night against the Rays. Maybe the Bombers can play spoiler and make Tampa a little miserable in the final week of the year. It'll be Hiroki Kuroda and Matt Moore in the first game. Check out RAB Tickets if you want to catch the game live. It's Mariano Rivera bobblehead day, you know.