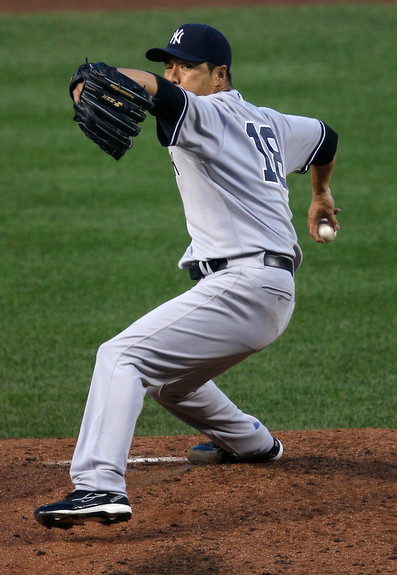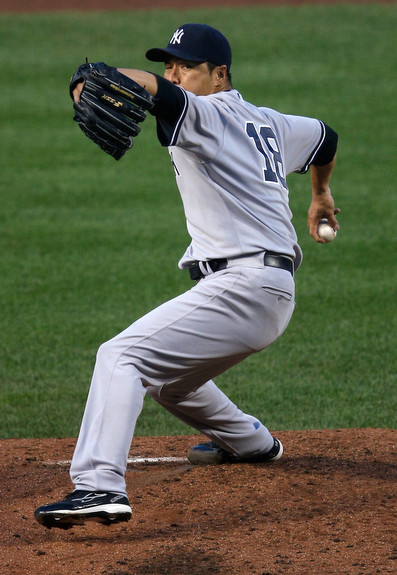 One way or another, the 2013 baseball season will be over within the next 48 hours. It could end as soon as tonight. Once it does, a couple hundred players will become free agents and the offseason officially gets underway. There is a five-day waiting period before players can negotiate and sign with new teams, but a lot happens in those five days. Specifically, teams must decide whether to tender qualifying offers to their top free agents.
The qualifying offer system is rather simple. This winter it is a one-year contract worth $14.1M, and if you make the offer to an impending free agent, you are entitled to a supplemental first round draft pick if he rejects and signs elsewhere. If he accepts, then he's back on your team at that price. The Yankees will surely make Robinson Cano and Hiroki Kuroda qualifying offers — the $14.1M actually represents a pay cut for both — but not others like Joba Chamberlain and Boone Logan. Only super-elite relievers get paid that much.
Guys like Kevin Youkilis, Travis Hafner, Mark Reynolds, Lyle Overbay and Brendan Ryan won't receive a qualifying offer for obvious reasons. There's also no need to extend an offer to either Mariano Rivera or Andy Pettitte since both are retiring. Even if they do have a sudden change of heart and decide to pitch next year, the $14.1M price would be a bit steep. As much as the Yankees would love Pettitte and/or Rivera to return, they also don't want either accepting the offer and blowing up their plan to get under the $189M luxury tax threshold.
Two players are on the qualifying offer fence: Curtis Granderson and Phil Hughes. They're on the fence for different reasons, obviously. There's a case to be made for extending the $14.1M tender to both guys and a case to me made for not making the offer at all, so let's make them.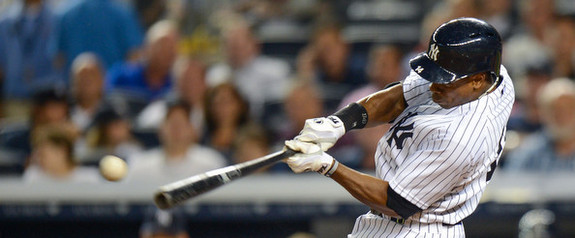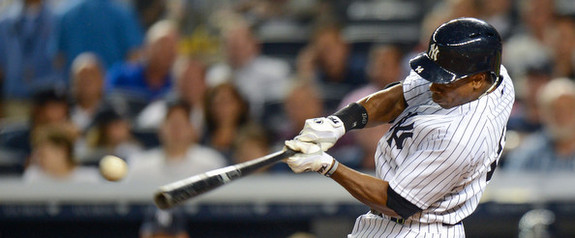 Curtis Granderson
The Case For: Before an injury-plagued 2013 season, Granderson was one of the game's premier power hitters. His 84 homers between 2011 and 2012 were the most in baseball, and during those two seasons he hit .247/.342/.522 (131 wRC+) while playing in 316 of 324 possible games. Granderson is still only 32 (he'll turn 33 in March), so he's not yet at an age when you'd expect him to start a significant decline. The Yankees were power-starved last season so even if Granderson accepts, he would go a long way towards correcting that problem.
The Case Against: Curtis was limited to only 61 games this past season due to a pair of fluky hit-by-pitch injuries, pitches that broke bones in his right forearm and left hand. When he was healthy late in the year, he only managed a .229/.317/.407 (97 wRC+) batting line and only seven homers, so he didn't show his usual power. It could have been the result of the hand/arm injuries or it could have been signs of decline. Granderson has always struck out a ton (26.5% even during 2011-2012) and he doesn't have a ton of defensive value, even in a corner spot. I think we can all agree the one-year aspect would be great, but the $14.1M price might be a tad pricey.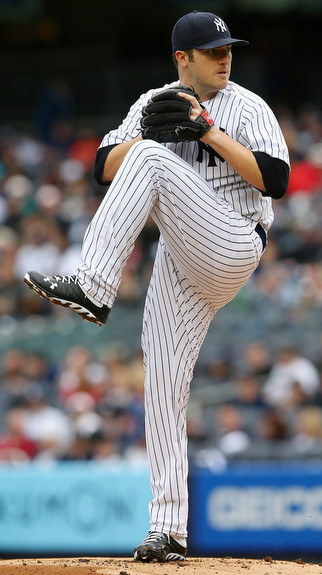 Phil Hughes
The Case For: Pitching is hard to find, man. Tim Lincecum landed a two-year deal worth $17.5M annually despite pitching to a 4.76 ERA (3.95 FIP) over the last two years. Hughes, who is two full years younger than Lincecum, had a 4.65 ERA (4.53 FIP) over the last two years in a much tougher ballpark and division. That isn't to say he's worth the same annual salary (or more) than Lincecum, just that Timmy's deal might encourage him to explore the open market. Hughes will be the youngest free agent starting pitcher by far and his ability to get ahead in the count — only Cliff Lee has thrown a higher percentage of first pitch strikes these last two years — could have a pitching savvy team thinking he's a new grip or some tinkering away from being a frontline starter with his (theoretical) prime years still to come. Even if he were willing to take a one-year contract in an effort to improve his stock before going back out in the market next year, Yankee Stadium and the AL East is not the place he'd do it. At his age, there are plenty of reasons for Phil to want to explore the free agency.
The Case Against: Hughes has been pretty terrible these last two years, especially in 2013. He had a 5.19 ERA (4.50 FIP) overall and a 6.65 ERA (4.57 FIP) in the second half. Phil only threw 145.2 innings across 29 starts (and one relief appearance) because he led baseball with 14 starts of fewer than five full innings. Barry Zito was a distant second with ten. His fly ball tendencies are an awful fit for Yankee Stadium and even if you think he's ready to turn the corner and break out, $14.1M is a very steep price to pay. That kind of salary is reserved for sure thing starters, not projects. Even if Hughes were to find a multi-year contract offer this winter, it's possible he wouldn't be guaranteed that much money total. Phil could take the money, hope to either rebound or get traded to a team with a ballpark that better suits his skillset, then go back out on the market next year, when he'll still only be 28. A pitcher coming off this kind of season could very easily decide to take the money, which would severely impact the team's payroll situation heading into 2014.
* * *
If Granderson and Hughes had typical Granderson and Hughes seasons — for Phil I think that means repeating 2012 (4.23 ERA and 4.56 FIP in 191.1 innings) — then making both guys the qualifying offer would be a no-brainer. Especially Granderson. That isn't the case through, and now the Yankees are left with a difficult decision to make for both guys. How much do they value potential compensation draft picks compared to financial flexibility and having a better chance to stay under the luxury tax? That's the question they have to answer within five days of the end of the World Series.
Should the Yankees make Granderson or Hughes a qualifying offer?