The 2013 season is over and now it's time to review all aspects of the year that was, continuing today with a young-ish player who couldn't take advantage of the opportunity of a lifetime.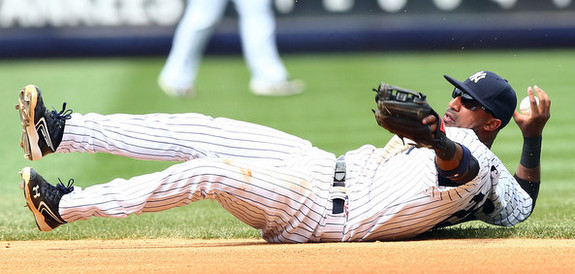 Despite all the optimism about an Opening Day return, Father Time remained undefeated as Derek Jeter was slow to recover from his offseason ankle surgery and unable to start the season with the Yankees. That gave the team the opportunity to do something they've seemed eager to do for a long time: play Eduardo Nunez everyday. Jeter's injury was the perfect chance to play the kid without him having to look over his shoulder.
For about three games, everything went fine. The 26-year-old Nunez went 4-for-10 with a walk in the season-opening series against the Red Sox, but then he took a pitch to biceps in the fourth game and went into a deep 7-for-55 (.127) slump through the end of the month. The bat wasn't working, but Nunez actually showed off some improved throwing mechanics and went from disaster to merely shaky in the field. Errors aren't the best way to measure defense, but he did go from 30.1 innings per error from 2010-2012 to 62.3 innings per error in April 2013. Like I said, shaky instead of a disaster.
With his batting line sitting at a weak .200/.290/.275 through 95 plate appearances on May 5th, Nunez was pulled from a game after hurting his ribcage, apparently on a swing. An MRI came back clean but rest and treatment didn't work, so a few days later the Yankees placed their backup shortstop on the DL. On the DL is where he stayed for two months and 57 team games. In typical Yankees fashion, his rehab moved very slowly.
Nunez returned on July 6th and five days later, Derek Jeter came off the DL (for the first time). Luckily for Nunez, the Cap'n hurt himself in his first game back and the shortstop position remained open. Eduardo went 16-for-62 (.258) with three doubles and a triple (.611 OPS) in between his return from the DL and Jeter's second return from the DL. Nunez sat on the bench for a few games while Jeter played short, but on August 3rd, the shortstop job was his once again.
During the Cap'n's third DL stint, Nunez went a respectable 23-for-80 (.288) with seven walks (.341 OBP), three doubles, one triple, and one homer (.728 OPS) with four steals in four attempts. Jeter returned for about two weeks in late-August and early-September, but the combination of his need to DH and Alex Rodriguez's hamstring and calf problems kept Nunez in the lineup, either at shortstop or third base. Nunez had a very nice .295/.321/.487 batting line in September as the season wound down.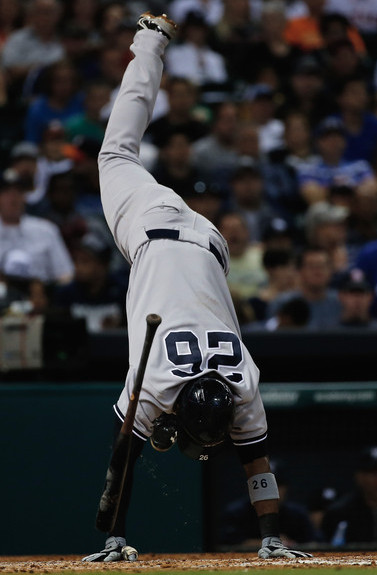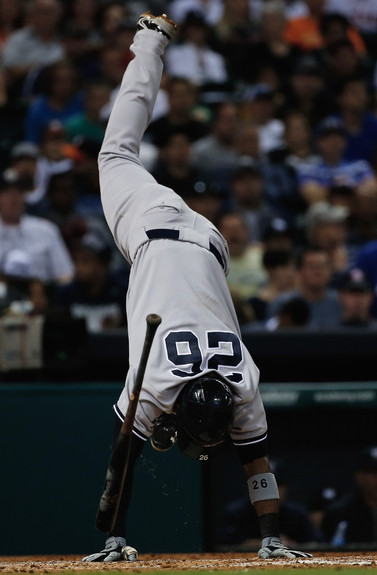 Despite that strong late-season performance, Eduardo's season batting line sat at an ugly .260/.307/.372 (83 wRC+) with three homers and ten stolen bases (in 13 attempts) in 336 plate appearances. The league average shortstop hit .254/.308/.367 (85 wRC+), so Nunez wasn't far off the mark with the bat. The problem was, as always, his defense. That improvement he showed in April was not evident late in the season, when he was back to booting grounders and airmailing throws.
The various defensive stats — -20.6 UZR, -28 DRS, -12.1 FRAA, and -18 TotalZone — absolutely crush him at shortstop, like worst defensive player in baseball bad, but defensive stats don't really work in small samples. Nunez only managed 608.1 innings at shortstop this summer, only about 40% of a full season. Going back to silly ol' errors, he made eight in the final month and a half of the season, roughly one for every 35.3 innings in the field. Right in line with his pre-2013 work.
Both fWAR (-1.4) and bWAR (-1.5) agree Nunez was one of the ten worst position players in baseball this season. That's out of the 955 players who had at least one plate appearance. If you don't want to use WAR — I actually don't, I prefer it for multi-year stuff but not single seasons — then all you need to know is that Nunez was (at best) a league average hitter relative to position this season while being well-below-average defensively. That adds up to a below-average player.
This was Nunez's Big Chance. Capital letters. Jeter was going to be out for a while and even if he came back at some point, A-Rod and Kevin Youkilis were sure to miss a bunch of time as well. Instead, Nunez did nothing to stand out in regular playing time. He didn't hit all that much — not even show a sign that there was something more to come, really — and his defense was bad. Nunez seems to have some serious backers in the organization though, so much like Phil Hughes The Starter, I get the sense he will continue to get chances to show he is something he probably isn't, which in this case is a depth infielder best used in an emergency.