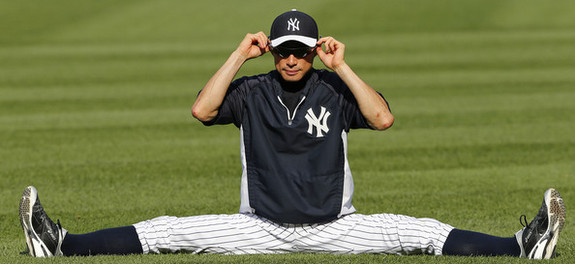 Mason asks: Why is Ichiro Suzuki an auto-cut? Wouldn't that be Vernon Wells or is it both? I would rather cut Wells and use Ichiro as the 4th OF. Maybe I'm being a bit too sentimental but I wouldn't want to do that to Ichiro even if he is below league average in multiple ways.
I don't think Ichiro is an auto-cut at this point, but I wouldn't call his roster spot safe either. The Yankees are reportedly shopping him and it's not a bad idea to see if they can unload part of his contract. It's not like he's irreplaceable. Someone like Zoilo Almonte could do the same job for a fraction of the cost.
I definitely agree Wells is first in line to get the axe should the Yankees need a 40-man roster spot, which they inevitably will the next few weeks. Brian Roberts and Matt Thornton still need to be added to the roster, so that's two spots right there. Wells brings pretty much nothing to the table (it's remarkable, really) and he absolutely should go first.
As for Ichiro, his role right now is something of a glorified fifth outfielder. He is fifth on the outfield depth chart but because Carlos Beltran and Alfonso Soriano will split right field and DH duties, Ichiro will be the first outfielder off the bench in most games. His primary job will be pinch-running and late-inning defense in right (regardless of whether Beltran or Soriano starts in the field).
The various projection systems crush Ichiro and expect him to be replacement level-ish next year, which is not unfair. He hasn't hit at all these last three seasons and his defense slipped last year, particularly in the second half. Ichiro started only ten of the team's final 17 games in 2013 and Joe Girardi was right to marginalize him. His name value far, far exceeds his on-field value at this point.
The Yankees won so much in the late-1990s thanks in part to their veteran-laden bench, which was filled with former stars like Tim Raines and Darryl Strawberry. Those guys accepted reduced roles and thrived in limited time. I don't know if Ichiro can be that kind of player next year — he doesn't have Stawberry's power or either guy's on-base ability — but that's the best case scenario. For now, he's a bench player the team should look to unload if possible.