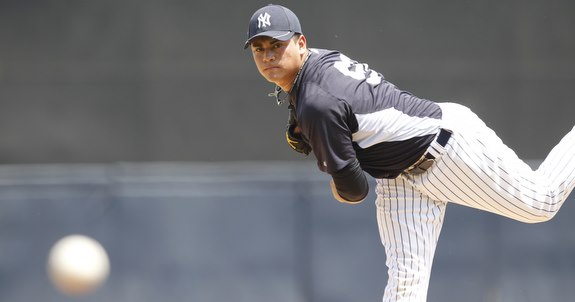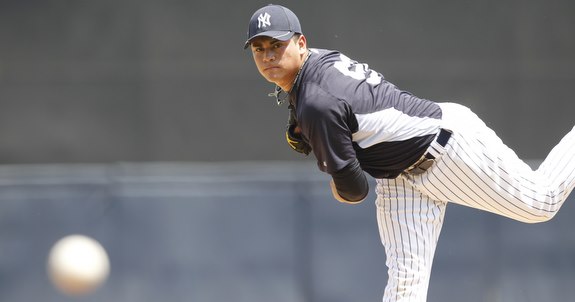 Frank asks: Can you give a rundown of what's going on with Manny Banuelos? I know losing two years of development to injury has a way halting conversation, but he was our very best pitching prospect in the not-too-distant past, and he didn't really do anything on the mound to dash all hope. Is there any chance he contributes to the big club in some capacity next season?
Banuelos, who is still only 22, has not pitched in a game since May 2012 due to a series of elbow problems, first a bone bruise and then Tommy John surgery. He reportedly tore the ligament while rehabbing from the bone bruise, which is why the surgery didn't happen until October even though his season ended in May. Before the elbow problems, Banuelos missed about three weeks with a minor back issue. An appendetomy in 2010 rounds out his injury history.
Joel Sherman reported Banuelos was pitching in simulated games back in September and, a month later, VP of Baseball Ops Mark Newman confirmed to Chad Jennings the southpaw will be ready for Spring Training. They opted not to send him to winter ball just to give him a rest after rehabbing for what amounts to 15 straight months. "Newman said he was reaching 92-94 mph with a good changeup and getting breaking balls over the plate," wrote Jennings back in October.
If we take Newman's word for it, Banuelos is healthy and his stuff has returned following the two elbow injuries. I know Tommy John surgery has a very good track record but there's always that small chance the guy is never the same again. It happened to J.B. Cox back in the day and Ryan Madson sure seems to be having a devil of a time following the procedure as well. Here is what Baseball America (subs. req'd) wrote about Banuelos before the 2013 season, when they ranked him the team's eighth best prospect:
Before he got hurt, his fastball sat at 91-94 mph and touched 96, with good tailing life at the lower end of that velocity range. He also threw a sharp curveball in the upper 70s and a tumbling changeup, giving him two above-average secondary pitches at his best. He had trouble harnessing his livelier stuff and was unable to make adjustments to throw quality strikes prior to his injury.
Brian Cashman confirmed at the Winter Meetings that Banuelos is ticketed for Triple-A Scranton to start 2014 and that makes sense. He has not pitched in competitive games for a long time and he'll get a chance to get back in the groove in an environment where results don't matter. David Phelps, Adam Warren, and Vidal Nuno give the team enough back of the rotation depth to start the year, so they'll be able to bring Banuelos back slowly. As Baseball America indicated, he wasn't exactly a finished product before the injury. The command (once his trademark) needs work.
Now, that said, I definitely think Banuelos could wind up helping the team at some point next season, probably in the second half. I thought he was in position to help them in the second half a year ago, before the elbow problems. The Yankees shouldn't count on him for anything though, whatever he gives them is a bonus. Banuelos has lost enough development time these last two years. Next season has to be about getting back on track and ironing out the command first and foremost. If that leads to a big league audition — Banuelos is already on the 40-man roster — at some point, great. If not, there's always 2015. He's still so young.