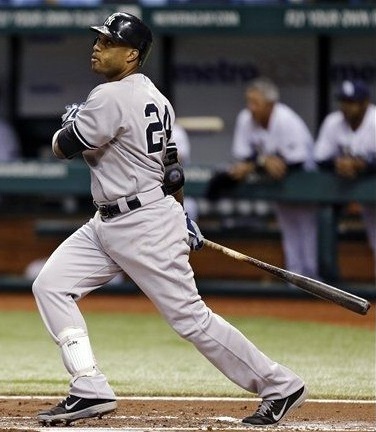 I couldn't help but laugh at the Mariners after their ten-year, $240M offer to Robinson Cano.  That's such an obscene amount of money for a guy already in his thirties – granted, he is the best at what he does and is arguably one of the top five players currently playing in the game.  Plus, according to pundits, the Mariners organization felt that it was necessary to make a huge splash this offseason as their team has been idling in irrelevancy for several years now.  Well, they certainly accomplished their goal of making a big splash.
Still, I can't help but wonder whether the Mariners overestimated what would it would take to sign Cano.  If the best Yankees offer was locked in at $175M as it evidently was — not to mention the fact that Cano was apparently feeling a bit snubbed due the team taking a hard stance with him after the Jacoby Ellsbury signing– I wonder if the Mariners could have stood their ground with a $200M deal and overcome whatever shortcomings their location presumably has.  After all, that'd still be a $25M dollar difference between their offer and that of New York's.  Maybe Cano prefers playing in NY so much that he is willing to dismiss twenty-five million reasons not to go to Seattle.  Then again, that's a lot of money so maybe he wouldn't have been able to resist.
In any event, if the Mariners honestly got the vibe that $200M wouldn't get it done for them, they probably could have upped the ante to $225 and locked in there.  By that point, there'd be a $50M gap between them and New York, assuming the Yanks didn't change their mind and offer more which it seems like they were unwilling to do.  I'm not sure how many folks would be able to turn down an offer that was that much more lucrative than another.  The Yanks did Seattle a huge favor by stalling out around $175M and never really giving a super strong impression to Cano's camp that they'd be willing to bridge the gap between what they were offering and what Cano was asking for.  Maybe it's an incorrect impression, but it never appeared as though the Mariners were willing to let Cano consider just how much better their initial offer already was to NY's.  It was as if their great offer was immediately not good enough despite the fact that there wasn't another offer even remotely close.  If $50M additional dollars doesn't blow Cano away, maybe that would have been a strong indication that the cost isn't worth the reward.
Instead, Seattle basically caved in overnight from what was already an excellent offer, and was content to bid against themselves even further. The Mariners increased their offer to ten years, $240M.  Well, congrats, to them.  They obtained Robbie's services by outbidding the next highest bid by $65M!  Not only does this strike me as a severe overpay, but it was probably an unnecessary one.  Regardless of how Cano's camp values his abilities, the fact is, at the end of the day he's only worth as much as teams are willing to pay.  Hypothetically, if the Mariners offered nine years, $225M, they'd still be showing a really strong interest him.  They'd still be blowing New York's offer out of the water, and I imagine they'd still have a strong chance of winning the bidding with a $50M dollar difference.
To Seattle's credit, they now employ the best free agent available.  The problem for them now is that their team, as it currently stands, still stinks.  Even if Cano adds ten wins to their record single handedly, which is a stretch of the imagination, I don't think that's enough to make them a contender.  They still have a lot of work to do to become relevant again, especially if they want to try and compete during Cano's prime years.  Along the same lines, as much as I would have loved to see Cano in pinstripes for the remainder of his career, I don't regret for a second the Yankees not making a counter offer that extreme.  Letting him go was a no brainer at that point.