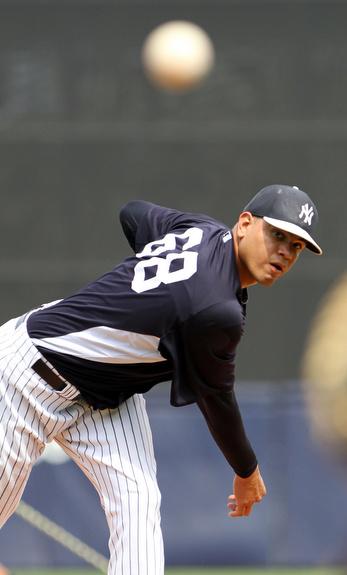 I swear, it still feels like the 2006 draft was just yesterday, but the 2014 season will be Dellin Betances' eighth (!) full season in the organization. The Yankees gave the towering right-hander from Washington Heights a $1M bonus as their eighth round pick back in '06 and hoped he would develop into a frontline starter. That has not happened but the team has not given up on his enormous potential.
Last May, following six ugly starts with Triple-A Scranton, the Yankees moved the soon-to-be 26-year-old Betances to the bullpen full-time and the improvement was immediate. He struck out 43 of the next 136 batters he faced (31.6%) while allowing only eight runs and 12 walks in 34 innings. The Yankees called him up briefly in mid-August and then again as an extra arm when rosters expanded in September. Betances finished the year with a 2.06 ERA and 93 strikeouts (35.3%) in 65.2  total relief innings.
"I just feel like, confidence wise, I feel good," said Betances to Anthony McCarron last August when asked about moving into a relief role. "I get to pitch more often, instead of going every five days. I get to go two or three times in that span, so I think the more time I get on the mound has helped me be more consistent … I think it's just being more aggressive, attack the strike zone right away, where if you're a starter, you kind gradually get aggressive as the game goes on."
Repeating his delivery and keeping his long limbs in check has always been a struggle for the 6-foot-8 Betances, but apparently working more often out of the bullpen helped him stay in control even though he threw fewer total pitches. There's nothing particularly impressive about a 10.6% walk rate (his walk rate as a reliever in 2013), but it's substantially better than the 14.3% walk rate he posted from the start of 2011 through the conversion last May, when he looked close to a lost cause.
Betances struck out eight and walked one in 4.1 innings last September and barring some last minute additions, he'll head to Spring Training as part of a wide open bullpen competition. The only relievers guaranteed to be on the roster come Opening Day are David Robertson, Shawn Kelley, and Matt Thornton, so that is potentially four open spots. I count as many as ten guys competing for those four spots, including potential fifth starters like David Phelps and Adam Warren and minor league free agents like Robert Coello and Brian Gordon.
Brian Cashman confirmed that, for whatever reason, Betances qualifies for a fourth option and can be sent to the minors this season without having to pass through waivers. Had he not qualified for the fourth option and instead required waivers to go to back to Triple-A, he might have won a bullpen spot almost by default. Now Betances will have to not only earn a big league job in camp, but he'll have to continue to pitch well in the regular season to keep it. Spring Training competitions don't end on Opening Day.
For the first time in his nearly nine full years as a pro, there is a clear path for Betances to make the Yankees out of camp and play a rather significant role this coming season. Nothing in the bullpen is set aside from Robertson being the closer and Thornton being the lefty specialist, so if Betances shows last summer's success was a true indication of his ability and not just a fluke, he could assume an important late-inning role rather quickly. This is his chance to justify that seven-figure signing bonus and more than a half-decade's worth of patience.
"I'm thrilled to just come out here and whatever situation I need to be used in," added Betances while talking to McCarron. "I'm ready for that."