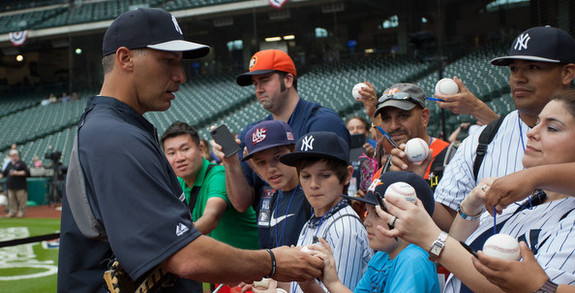 The Astros have been baseball's worst team for three straight years and there's little reason to think they will be substantially better in 2014. And yet, they are on the verge of sweeping the big bad Yankees. Everyone outside New York is loving this. The Yankees can't worry about any of that though. They just need to grab a win tonight to avoid the sweep and a disappointing post-game flight up to Toronto.
The lineup has a new look tonight, though nothing crazy and it's not a response to the last two games. Brian McCann is sitting against the lefty Brett Oberholtzer, and so are Kelly Johnson and Jacoby Ellsbury. Ellsbury is fine, it's just a scheduled day off as they look to keep him healthy following his little calf problem late in camp. With three games on the Rogers Centre turf coming up, sitting him tonight isn't a bad idea. It's too early in the season to push guys physically. Here is the Astros' lineup and here is Joe Girardi's starting lineup:
CF Brett Gardner
SS Derek Jeter
DH Carlos Beltran
1B Mark Teixeira
LF Alfonso Soriano
C Frankie Cervelli
2B Brian Roberts
RF Ichiro Suzuki
3B Yangervis Solarte
RHP Ivan Nova
It's hot and humid in Houston, though not as hot as the last few days. It's also been raining on and off for most of the day, but again, Minute Maid Park has a retractable roof. They're playing tonight no matter what. First pitch is scheduled for 8:10pm ET (/shakes fist) and you can watch the game on YES. Try to enjoy.