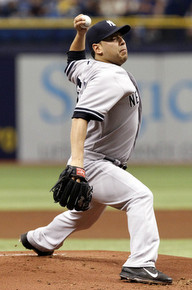 Through the first three weeks of the season, the starting rotation has been the clear strength of the Yankees' roster. The lineup and bullpen have been solid overall too, don't get me wrong, but the starting staff has really stood out to me. That rotation took a hit yesterday when it became all but official that Ivan Nova will have Tommy John surgery, ending his season. He was not particularly good before getting hurt but those are still some big shoes to fill. Nova has shown he can be excellent for weeks at a time.
The first opportunity to fill those shoes is going to Vidal Nuno, almost by default. The southpaw made a rainout/doubleheader necessitated spot start on Sunday and he lines up perfectly to fill Nova's spot thanks to Monday's off-day. Nuno pitched well on Sunday (five shutout innings against the Rays) and I'm sure the rotation outlook would look much different if he got bombed. It might be David Phelps or heck, even Al Aceves making the start if Sunday didn't go well.
Nuno was part of the four-headed fifth starter competition in Spring Training but I felt he was the long shot. That he pitched so well in camp and was still the first one eliminated from the competition makes me think I wasn't wrong. And yet, he somehow he is the first loser of that competition to land in the rotation during the regular season. Things just fell into place for him. Adam Warren has taken over as a key setup man and Phelps was needed in middle relief, leaving Nuno for the spot start. He took advantage on Sunday.
Joe Girardi didn't mince words when announcing the 26-year-old Nuno would remain in the rotation — "He is our fifth starter now," he said to reporters prior to last night's game — and we all know Nova isn't coming back anytime soon. That rotation spot is wide open and it'll go to whoever performs the best. Nuno gets a head start on the in-house competition and that's big. He has a chance to not give the other guys chances. If he pitches well, he'll keep the job no questions asked. It's the opportunity of a baseball lifetime.
Remember, Nuno is a former 48th round pick who was toiling away in an independent league before hooking on with New York a few years ago. He's had to overcome some seriously long odds to get where he is — starting pitcher for the New York frickin' Yankees! — and I doubt the magnitude of this opportunity is lost on him. Can his soft-ish tossing ways allow him to turn over a lineup multiple times every fifth day in the AL East? Maybe, maybe not. He's going to get a chance to show everyone if it does despite looking like little more than the team's eighth starter just three weeks ago.