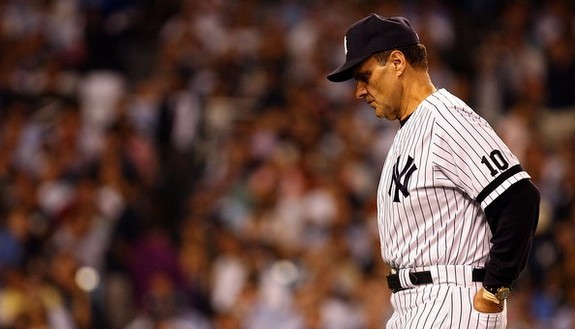 The Yankees will be making some additions to Monument Park this summer. The team announced they will retire Joe Torre's uniform No. 6 later this year, as well as honor Goose Gossage, Paul O'Neill, and Tino Martinez with plaques. Bernie Williams will be honored in some way next year. Here is the ceremony schedule:
Martinez – Saturday, June 21st
Gossage – Sunday, June 22nd (Old Timers' Day)
O'Neill – Saturday, August 9th
Torre – Saturday, August 23rd
No date has been set for Bernie's ceremony next year, and there is no indication whether he will have his number retired or simply receive a plaque. No. 51 has been out of circulation since Williams left and it should be retired, in my opinion.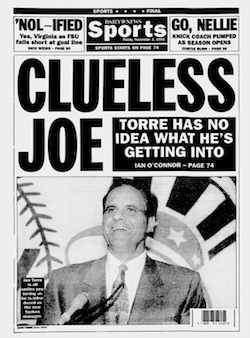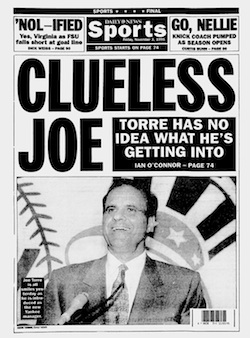 Torre, now 73, was unanimously elected to the Hall of Fame by the Expansion Era Committee over the winter. He had one heck of a playing career and did manage four other clubs, but he is going to Cooperstown for his success leading the Yankees through their most recent dynasty.
Torre managed the club from 1996-2007, and during that time the Yankees won ten AL East titles, six AL pennants and four World Series championships. They went 1,173-767 (.605) under his watch. Torre is second on the franchise's all-time wins and games managed (1,943) list behind Joe McCarthy.
The divorce was ugly, especially once Torre's book The Yankee Years was published. The two sides have repaired their relationship over the last few years and Torre is now a regular at Old Timers' Day and other team events. I'm glad they worked it out. Torre is very deserving of having his number retired.
With No. 6 being retired and Derek Jeter's No. 2 certain to be retired at some point in the future, the Yankees are officially out of single digit numbers. They are all retired. Here's the list:
Billy Martin
Jeter (eventually)
Babe Ruth
Lou Gehrig
Joe DiMaggio
Torre
Mickey Mantle
Yogi Berra and Bill Dickey
Roger Maris
The numbers 10 (Phil Rizzuto), 15 (Thurman Munson), 16 (Whitey Ford), 23 (Don Mattingly), 32 (Elston Howard), 37 (Casey Stengel), 42 (Mariano Rivera and Jackie Robinson), 44 (Reggie Jackson), and 49 (Ron Guidry) are also retired. Williams, Andy Pettitte, and Jorge Posada are strong candidates to have their numbers retired. Add in Torre and Jeter and maybe it'll be one number retirement per year from 2014-18? We'll see.
Martinez spent seven years in pinstripes and had more than his fair share of huge moments, particularly in the postseason, but giving him a plaque seems like a stretch to me. They re-issued his No. 24 almost instantly. O'Neill played nine years with the Yankees and won a batting title while with the team (.359 in 1994), though his No. 21 has been mostly out of circulation since his retirement, outside of the LaTroy Hawkins fiasco. Gossage played seven years in New York and is wearing a Yankees hat on his Hall of Fame plaque. Giving him and O'Neill plaques works for me.
The Yankees, particularly Hal Steinbrenner and Brian Cashman, indicated over the winter that the team is planning to beginning honoring its recent history. Rivera's number retirement last September was the first big ceremony and we now know there will be several more over the next two years.