The following is a guest post from long-time reader Sung-Min Kim, who you can follow on Twitter at @SungMinKim116.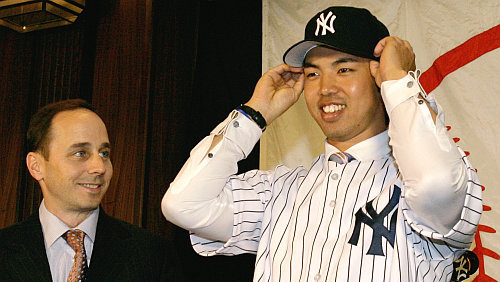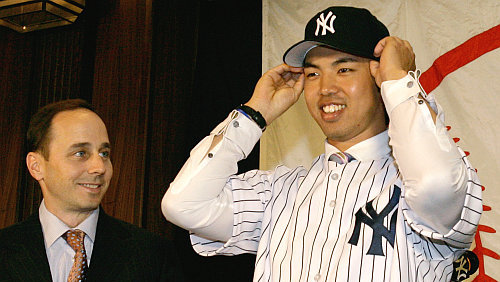 I don't know about you, but whenever I think of the offseason of 2006~07, I always think "what if?" the Yankees had signed Ted Lilly. Theodore Roosevelt Lilly, as you may recall, was a Yankee long time ago until the trade that brought Jeff Weaver to Bronx ("Lilly had cried the day in 2002 when Cashman traded him.") The lefty went on to have few solid seasons with the Athletics and the Jays – 9.7 cumulative fWAR from 2003-06 – until he hit free agency for the first time after the '06 season. Lilly strongly wanted to be a Yankee again but the team let him take the Cubs' offer. Actually, they had someone else in mind by the time Lilly agreed with the Cubs – on November 29, 2006, the Yankees had won the bidding to talk with the Japanese lefty, Kei Igawa. Lilly signed for a four-year, $40 million contract and the Yankees spent a total of $46 million dollars ($26 million in bidding, and $20 million in 5-year contract) for Igawa.
Safe to say, the Bronx Bombers probably should have gone the other way. During the four-year contract with the Cubs, and later the Dodgers, Lilly compiled 12.8 cumulative fWAR — a top 30 figure among the starters who pitched between 2007-10. Igawa, on the other hand, made only 16 total appearances during the five-year contract while compiling an abysmal -0.2 fWAR. Looking at it any shape or form, the Yankees lost out pretty big on this one. While in the Yankee organization, Igawa became the laughingstock of the fans, toiling in the minors for the most of his contract. But before the ill-advised decision by the Yankees front office, what got Igawa the Yankee attention? Who was he?
Igawa was never the phenom that peer prospect Daisuke Matsuzaka turned out to be. Legend has it that, he originally wanted to play soccer for his junior high team, but his school did not have a soccer team, so instead, he joined the baseball team. In high school, he developed into a one of the more well-regarded lefties of the nation. Here's video of him pitching for the Ibaraki Prefectural Mito Commercial High School. He earned the nickname "Doctor K of the East" and once struck out 18 in seven innings for an unofficial perfect game. Though his team did not make it to the Koshien tournament before he was drafted, he was seen highly enough to be a 2nd-round pick by the Hanshin Tigers in the 1997 NPB Draft.
Igawa cracked into the ichi-gun (the top level of NPB) as a 19-year-old with the Hanshin Tigers in 1999. In his first year, he managed a 6.46 ERA in 15.1 IP. He didn't make a mark in NPB until 2001, when he went 9-13 with 2.67 ERA with 171 K's in 192.0 IP as a 21-year old, setting himself as one of the young aces of the league. (Here's video of him facing his future teammate, Hideki Matsui, a few times.) The following year, he led the league in strikeouts with 206. In 2003, as a 23-year old, he had his best season, which included a 12-game winning streak that lasted for three months and a league MVP for June and July. In the end, he ended with a sparkling 20-5, 2.80 ERA with 179 K's in 206.0 IP while leading the Tigers to the Central League championship for the first time in 18 years. He also garnered a Sawamura Award (Japanese equivalent of the Cy Young Award) and the MVP Award. (Fun fact: The Sawamura award for the previous year was then-Yomiuri Giant RHP Koji Uehara.)
Igawa followed up the MVP-winning season by regressing a bit in 2004 and 2005 — ERAs in high-3.00s in both seasons while allowing more hits and homers (though in October 4, 2004, he pitched a no-hitter versus the Hiroshima Carp). But, in 2006, he had another great year — 14-9 record with 2.97 ERA with 197 K's — earning a third strikeout title in five season, which was a very reassuring season after slipping a bit from 2003.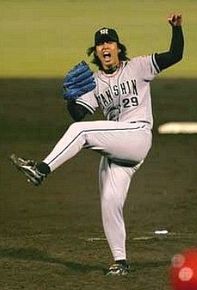 What Igawa was known for, besides his pitching prowess in NPB, were stories about his odd acts and personality. He was known to be a big fan of toy helicopters, the anime shows "Detective Conan" (also known as "Cased Closed" in U.S.), "Inuyasha," soccer, video games, etc. Here's a list (in Japanese) of various things that made up the legend of Igawa's oddities. Here's some of the funnier ones…
A virgin when he became a professional baseball player; his manager gave him some money to lose his virginity.
Stayed in a dormitory instead of seeking other housing options because he felt very comfortable. He was forced out of the place by his landlord during the 2003 offseason.
Once saw a fake signed ball of himself at Yahoo! Auctions so he reported it to the police.
Once swore he would not cut his hair during a winning streak. When he had a 12-win streak for three months in 2003, his hair got so long that his manager couldn't take it and ordered him to get a haircut.
Was yelled constantly by a coach for the first two years of being professional but remarked "It's not like I'm going to spend my lifetime with this person" and stayed indifferent.
Once purchased the game "Dragon Quest 8" and reached Level 99, which, apparently, is very high. The game's publishers released a statement saying "it's an accomplishment hard to get to even in 100 hours. What an ace-like performance."
As stated, Igawa is a big fan of anime. He once missed the end-of-the-year team celebration to catch an episode of a show. Also, after the Yankees posted the bid for him, he was seen carrying his "Detective Conan" bag in his car.
Was once asked where he'd like to travel. His answer: Dubai. Because he wants to see "the place where they are digging oil."
And, so on. But anyway, point is Igawa is an interesting guy.
At this point, we all know that his assets did not translate well into MLB at all. But what is it that made Igawa so successful back in Japan? He wasn't just putting up low ERAs and eating innings — he was also striking out a lot of hitters. Unlike Masahiro Tanaka or Hisashi Iwakuma, he did not have pinpoint control or command to keep the ball low or hit the corners consistently. Unlike Yu Darvish, he did not have an array of nasty stuff to generate swings and misses from ML hitters. In fact, he stayed around the 88-90 mph range while occasionally touching 92 mph without a great sinking or cutting movement. However, the velocity is workable in NPB level and he used his changeup pretty well against the Japanese hitters. Igawa mixed pitches pretty well with velocity and command that's passable in NPB. However, the ML hitters are not as forgiving towards a pitcher with an average or below-average command of a straight fastball in the high-80s/low-90s.
Before he was posted by the Tigers, Igawa got to face the MLB All Stars in November 2006. David Wright, who hit a homer off the lefty, remarked that he wasn't sure if Igawa was cut out to be a ML-quality pitcher. "I just don't know … But as far as a lefty goes, he has a sneaky fastball. I thought he threw, for a lefty, an average to above- average fastball, an above-average changeup, and his slider was a little flat. But with a month off, who knows? Could be any number of reasons." Not really what you want to hear about an about-to-be-expensive import. Even though he was a No. 1 starter in Japan, the ML scouts didn't think he was going to replicate that success in the states. "He's down the list a ways as far as his stuff and his ability to make pitches. But he's left-handed, and he could fit in on a club that needs someone in the fourth or fifth slot," said a scout.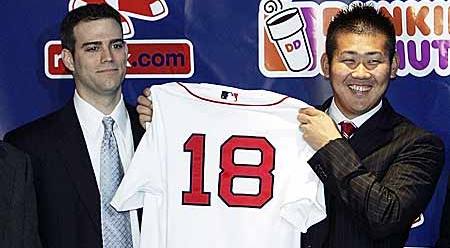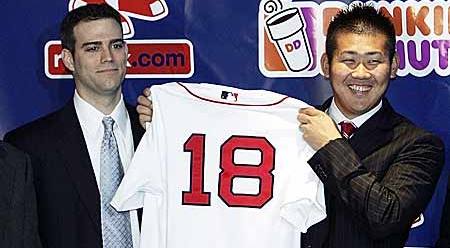 Regardless, the Yankees made a decision to bid a good amount of money on Igawa. After missing out on Daisuke Matsuzaka thanks to a $51 million posting fee by the Boston Red Sox, the Yanks still needed to fill in the holes of the pitching rotation that then consisted of Chien-Ming Wang, Mike Mussina, Randy Johnson (who was traded back to the D'Backs later in the offseason) and Carl Pavano (no explanation needed) — a group with a bunch of question marks. The 2006-07 free agent market offered the Yanks some options that they could consider to bolster the rotation, like Barry Zito, Andy Pettitte (who ended up signing with the Bombers), Gil Meche, Lilly, and Jason Schmidt. However, the team decided to roll the dice by bringing in the foreign talent and hoping he delivered. Considering that the Yankees bid $26 million just to be able to negotiate (which, mind you, was the amount that was initially believed to be enough to win the Matsuzaka bidding), it looks like the team really believed in Igawa's skills.
According to Joe Torre and Tom Verducci's book The Yankee Years, Brian Cashman was convinced Igawa was as good as Lilly and wouldn't cost as much. The Yankees stuck to Cashman's words and signed Igawa to a five-year, $20 million deal. Even though the scouting reports on Igawa weren't as sexy as Matsuzaka's, Igawa had posted a very solid track as the Hanshin Tiger ace and the kind of disaster that followed seemed to be totally unprecedented. A lefty with fastball around 90 who mixes changeups and sliders well? Sounds like he could be a solid no. 4, right? A NL Central scout likened him to Here's video of the press conference. I remember thinking fondly of him introducing himself in English. "I will give you my best as a Yankee. I will do my best to win the championship for this great city of New York. Thank you," he said. Those were some promising words from an untested pitcher to the fans that were thirsty for a World Championship. The Yankees had consistently made playoffs, but in both 2005 and 2006, the team failed to make it out of ALDS. A very bold statement then, but something good to hear nonetheless.
Going into the Spring Training, there were a lot of focus on how Igawa would perform on his first season as a MLBer. Alex Rodriguez, who went on to win the AL MVP that year, was quite impressed by the lefty. He felt Igawa had the stuff to pick up "15 wins, if not more" in the majors. "He throws harder than most lefties … ??harder than Moyer and Glavine. His uniqueness will help him." If only Igawa had the same type of command as the other lefties.
Going back The Yankee Years, at least one other person was not impressed by the Japanese lefty. Then-bullpen catcher Mike Borzello was assigned to catch Igawa's first bullpen session in camp and was very underwhelmed. "He threw three strikes the whole time. His changeup goes about 40 feet. His slider is not a big league pitch. His command was terrible," said Borzello. "I hope he's hurt, so there's an explanation for throwing like that." Definitely not an encouraging set of words from someone who's caught a lot of pitchers.
Looking back from now, Igawa's first Spring Training numbers are solid: 3.13 ERA in 23.0 IP with 22 strikeouts with only 1 HR allowed. He did show signs of shaky command by walking 12 but the other numbers were pretty encouraging. After a spring start in which he walked four in 3.0 IP (but with only one hit allowed and five strikeouts), Jorge Posada described him to be "effectively wild." On a then-positive note, Igawa was allowed only 2 walks in his last two starts in the 2007 Spring Training but there were still concerns about how he would fare with his 89~91mph fastball that he doesn't command low well. That fear was confirmed once the season rolled around.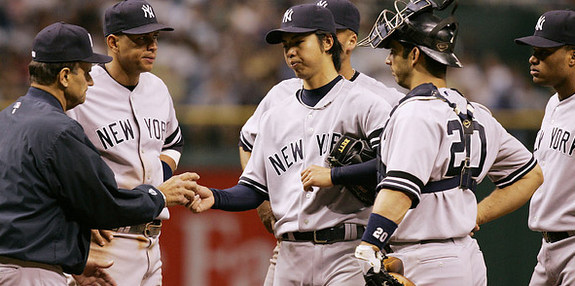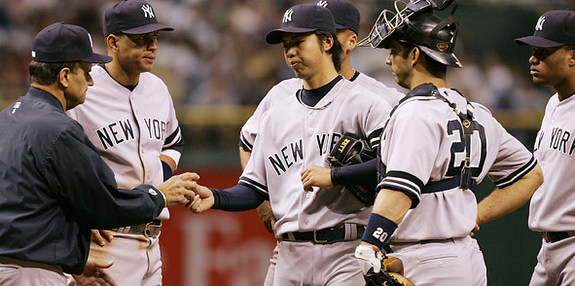 On April 7, Igawa took the mound at the Yankee Stadium against the Baltimore Orioles. I remember that game fondly, but not because of Igawa's pitching prowess, but because of A-Rod's dramatic, walk-off grand slam. Igawa, on the other hand, got shelled, allowing seven earned runs in five innings while giving up three walks and two homers. Through his first four starts of the year, Igawa's ERA sat at 7.84 while allowing a .879 OPS against. On April 28, however, he tossed a six scoreless innings while allowing only two hits and striking out six (he did walk four). What made the appearance more memorable was that he was not the starter — Jeff Karstens was, but he was removed from the game after a Julio Lugo line drive struck his leg, breaking his fibula. Pitching a gem against the Red Sox was probably the peak moment of Igawa's Yankee career. Here's video of the outing.
Unfortunately, that exhilaration did not last long — in his next appearance, the Mariners torched Igawa for eight earned runs in four innings thanks to three homers. After that outing, the team sent Igawa to Class-A to deconstruct and fix his delivery under pitching gurus Nardi Contreras and Gil Patterson. "We're going to start out with his balance point," said Contreras. "He's got the stuff to pitch here in the big leagues." The idea was to get him to get "on top of the ball" so he wouldn't get under it to elevate the fastball. Safe to say, the instruction didn't help much.
Igawa was given six more starts in the big leagues before he was demoted again. In those starts, he went 0-2 with a 5.97 ERA and 18 walks in 31.2 IP with seven homers allowed and a .959 OPS against. He did strike out 30, but besides that, everything indicated he was getting hit hard. Simply said, Igawa was not the ML-caliber pitcher that the Yankees brass believed he would be. After his 5 ER in 5.2 IP outing against the Royals in July 26, the lefty was sent down to Triple-A to work on things. That effectively ended his career as a New York Yankee and started his career as a Scranton/Wilkes-Barre Yankee. Igawa did make two big league appearances in 2008 but the overall record was ugly: 6.25 ERA in 67.2 IP with 15 HR's allowed (2.00 HR/9 !) with 37 walks (4.92 BB/9) and 53 Ks. Unexpected numbers based on his track record in NPB but maybe a bit foreseen by few, including Borzello.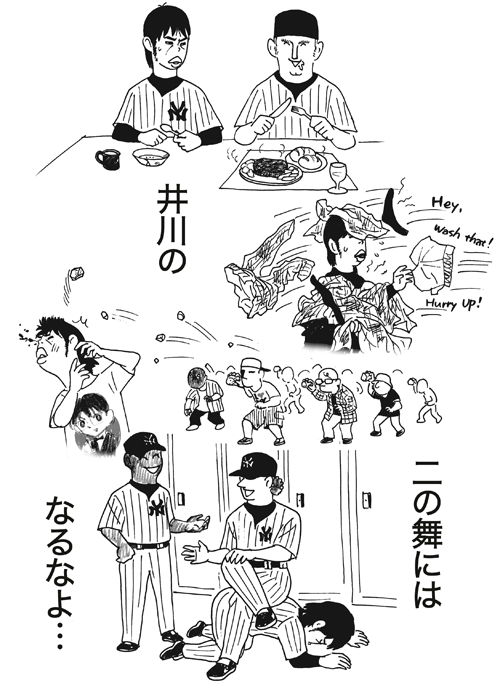 The Yankees had a chance to ship Igawa elsewhere in August. The Padres claimed him off trade waivers — moving to a pitcher-friendly Petco Park could've made some difference to a homer-prone lefty — but they never reached a deal and the Yankees pulled Igawa back in hopes of rebuilding the lefty for the 2008 season. Whether they received an offer they liked or legitimately thought they could change him for the 2008 season, we'll never know. But, looking back, maybe shipping him to a big-stadium environment might have been beneficial for both sides.
In 2008, the Yankees failed to make the playoffs. Darrell Rasner (5.40 ERA/4.72 FIP) and Sidney Ponson (5.04 ERA/4.83 FIP) were active members of a rotation decimated by injuries to Wang, Phil Hughes, Joba Chamberlain, and Ian Kennedy. Igawa, who stayed healthy the entire season, was only given one start and one relief appearance. In his sole start, he allowed 11 hits and six earned runs without a strikeout in three innings against the Tigers. Moreover, in what was described to be a "delusional" quote, Igawa actually "(praised) his command of the changeup and slider, saying his only problem was the inability to strike anybody out." The other appearance was a scoreless 14-pitch relief outing in the second game of the doubleheader on June 27 against the Mets. About a month later, on July 27, he was removed from the 40-man roster for good. Organizational fodder status: achieved.
"I will give you my best as a Yankee. I will do my best to win the championship for this great city of New York. Thank you."
I listen to this again and feel pretty bad for all involved, including Igawa himself. Obviously he didn't want things to turn out like they did with the Yankees. Being a starting pitcher for a storied franchise is pretty much the ultimate dream for any aspiring baseball player and Igawa at least made it to the team after dominating NPB for years. But, of course, he got paid an amount of money that did not speak for his lackadaisical performance. Along with other names like Carl Pavano and Hideki Irabu, Igawa became one of the poster boys for expensive organizational mistakes, one of the dark spots that worsened the Yankees' reputation as an organization. Even though the Bombers won the World Championship during his contract, he was nowhere near being a part of the roster at the time.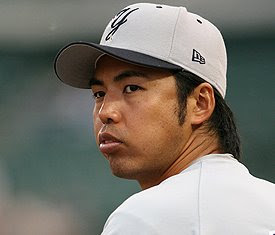 Igawa became the all-time wins leader for the Scranton/Wilkes-Barre team, with 33 in five seasons. This excellent 2011 New York Times feature describes the futility of being in an unfamiliar culture and not good enough to be in Majors. Cashman is quoted in the article saying the signing was "a disaster. We failed" — an obvious yet telling statement. What is even more telling to me is that Igawa, at least in his quotes, had no regrets about coming over to the states. "Yankee fans may always think of me as not being successful," the lefty said, "but I've grown as a pitcher and as a person … I do not regret coming here."
At the end of the 2011 season, the contract expired. On March 28, 2012, Igawa made his return to NPB. Not to his old team, the Hanshin Tigers, but to the Orix Buffaloes (a team that had another former Yankee, Chan Ho Park, just a season prior) for a two-year contract. He was 27 when he left Japan and 32 when he returned. In the first season back, Igawa went 2-7 with a 4.65 ERA in 12 starts and 62 innings with 31 walks and 36 strikeouts.
According to NPB Tracker's velocity chart, he averaged 84.66 mph with his fastball that season, much lower than 89.68 mph that he averaged from 2007-08 while with the Yanks. It was clear he was not the same dominant NPB pitcher that once won both Sawamura and MVP awards in a season. He was better in 2013: 3-3, 2.59 ERA in 48.2 IP, with 41 strikeouts with 15 walks but only made 9 starts due to injuries. But in 2013 offseason, the Buffaloes liked him enough to re-sign him. Igawa has only made eight appearances due to a left forearm problem this year and is currently rehabbing.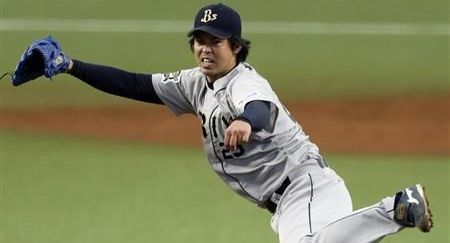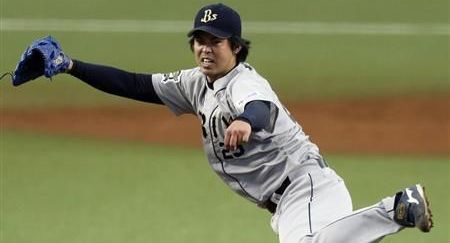 Back in the states, Igawa's name is now often thrown around as a cautionary tale of signing a not only a Japanese talent, but also, an East Asian talent. He is definitely not the only player who was a failed experiment (Tsuyoshi Nishioka, Hideki Irabu, Hiroyuki Nakajima, etc.) but the impact is bigger given that he was a Yankee signing while the Red Sox had two Japanese pitchers (Matsuzaka and Hideki Okajima) being an integral part of the staff. The speculation is that the Yankees shied away from East Asian talent after the Igawa saga. Had the team not been bitten, could they have been more aggressive on bidding for Darvish after the 2011 season? What about another successful Japanese starter Hisashi Iwakuma?
Luckily, in the 2013-14 offseason, the Yankees bid on the Tohoku Rakuten Golden Eagle ace Masahiro Tanaka and signed him to a massive contract. And, of course, inevitably, the detractors of the move feared that he would be the second coming of Irabu or Igawa. But this time, the Yankees front office know better. "Our scouting assessments are much better," Cashman said. "At that time, we used an independent scouting service to supplement our trips to Japan, which were much less then than they are now. I think our quantitative analysis is better equipped to translate the numbers that are being performed over there." Before Tuesday's start against the Cleveland Indians, Tanaka's ML record stands as 12-3, 2.27 ERA in 122.2 IP, leading the AL in bWAR (4.3) while being the early Rookie of the Year favorite and Cy Young Award candidate.
The Yankees do things differently now. Had they known better in the 2006-07 offseason, they might have given more efforts to sign another starter, like, Ted Lilly. Instead, they made another player's pinstripes dream come true. I would imagine, at this moment, all three parties are content. The Yankees experiencing success with their newest Japanese signee, Lilly is (presumably) enjoying his special assistant job for the Cubs after his retirement from baseball in December 2013, and Igawa is continuing his baseball career back home in Japan, waiting for the next time he'll be on mound in the Osaka Dome.