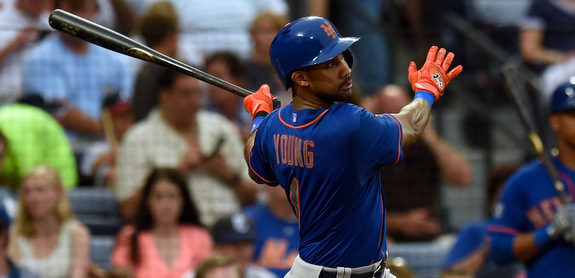 The Yankees have signed outfielder Chris Young to a minor league contract, reports Jon Heyman. I assume he'll head to Triple-A Scranton for a few days and be called up when rosters expand on Monday. The Yankees will need to make room on the 40-man roster to accommodate him when the time comes, but that won't be much of a problem.
Young, 30, hit .205/.283/.346 (80 wRC+) with eight homers and seven steals in 287 plate appearances for the Mets this year before being released earlier this month. That includes a weak .136/.277/.227 (50 wRC+) line in 83 plate appearances against lefties. Young hit .200/.280/.379 (82 wRC+) overall and .209/.320/.392 (99 wRC) against southpaws while with the Athletics last year. He has consistently graded out as a strong outfield defender in his career.
At his best, Young hit .243/.331/.436 (104 wRC+) overall and .272/.377/.482 (131 wRC+) against lefties while with the Diamondbacks from 2010-12. His best year came in 2010, when he put up a .257/.341/.452 (109 wRC+) line with 27 homers and 28 stolen bases. Obviously that was a long time ago and he's not the same player now. Vernon Wells managed to be the best hitter in the AL for a few weeks last year, maybe Young can do the same. Baseball is weird sometimes.
The Yankees clearly need another right-handed bat — Zelous Wheeler has started four of the last six games — and Young might be able to fill that role for a few weeks. They only have to pay him the pro-rated portion of the league minimum — the Mets are on the hook for his $7.2M salary — and if he stinks, they can keep him glued to the bench. There's no such thing as wasting a roster spot in September. Minor move. Maybe he'll hit a random big homer or something.