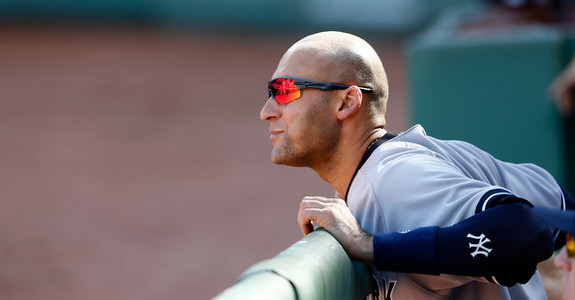 So this is it. The final game of the season. The last six months have mostly sucked but there were plenty of awesome moments mixed in, none better than Derek Jeter's walk-off single in his Yankee Stadium farewell three days ago. That was just amazing. All-time great moment I'll remember forever.
The Yankees wrap up the 2014 regular season this afternoon before heading into what I am sure will be an eventful offseason. Eventful good or eventful bad? That's the question. I really have no idea what's in store this winter. We can worry about all of that starting tomorrow. For now, just enjoy the last few innings of Yankees baseball until the spring. Here is the Red Sox lineup and here is the Yankees lineup:
RF Ichiro Suzuki
DH Derek Jeter
CF Brett Gardner
1B Mark Teixeira
3B Chase Headley
SS Stephen Drew
C Frankie Cervelli
LF Chris Young
2B Jose Pirela
RHP Michael Pineda
Another nice and sunny day in Boston. The weather has been pretty awesome this weekend. This afternoon's game will begin at 1:35pm ET, but the Red Sox are having a pre-game ceremony for Jeter that is scheduled to begin around 1pm ET. You'll be able to watch on YES locally and both TBS and MLB.tv nationally. MLB.tv is free for the weekend. Enjoy the game, folks.