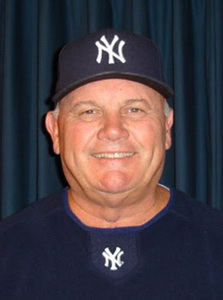 The Yankees will likely have a new voice running the farm system next year. Vice president of baseball operations Mark Newman is believed to be retiring after the season, reports George King. The team has not made an official announcement and both Newman and Brian Cashman declined to comment on the matter, so this isn't final just yet.
Newman has been with the Yankees since 1988 and has been running the farm system for the last 15 years. He came under some scrutiny last season when Hal Steinbrenner was unhappy with the team's player development system. King says there is some belief the Yankees would decline to renew Newman's contract after the season even if he doesn't decide to retire. Sounds like he's a goner either way.
The Yankees tend to promote from within, so it's no surprise that King says special assistant Trey Hillman is expected to replace Newman. Hillman, who managed the Royals from 2008-10, rejoined the Yankees this past offseason. He managed in the team's farm system from 1990-2001 and has also spent time managing in Japan. Hillman spent this season working with minor leaguers, I believe.
In addition to Newman, the Yankees are also likely to cut ties with director of player development Pat Roessler after the season, according to King. He has been in that role for quite a while now. King says former Yankees hitting coach Gary Denbo will likely replace Roessler. Denbo has been with the team as a scouting and player development consultant since 2009.
The Yankees only made what they called "procedural" changes late last year after reviewing their farm system, and many fans (myself included) weren't thrilled about that. Procedural changes are boring because we can't actually see them at work. Replacing Newman and Roessler would be substantial changes to the player development system though. I have no idea how qualified Hillman and Denbo are for those positions, but they will bring new voices, and hopefully that leads to some production from the system. The Yankees definitely need it.
Update: Newman has already informed Hal Steinbrenner that he intends to retire, according to Mark Feinsand. Steinbrenner plans to conduct a "total evaluation" of the player development system that could result in a "complete overhaul" after the season. Feinsand says Denbo, Roessler, amateur scouting director Damon Oppenheimer, and player development staffer Jody Reed could all be replaced. Furthermore, Feinsand hears any replacements are expected to come from outside the organization "as the Yankee brass believes that new ideas and a new direction are needed."