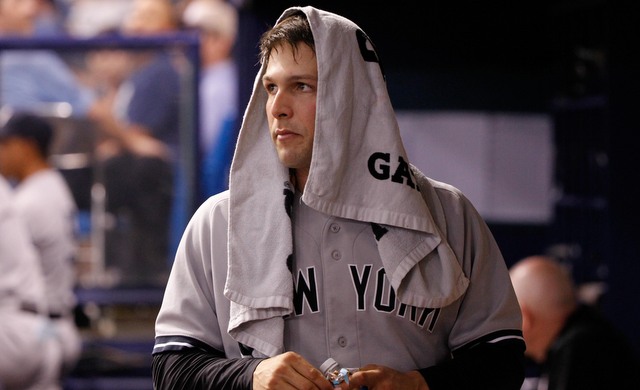 At the GM Meetings last week, the Yankees swung a trade sending long-time backup catcher Frankie Cervelli to the Pirates for hard-throwing lefty reliever Justin Wilson. It's the third straight offseason in which a Yankees catcher has gone to the Pittsburgh — Russell Martin signed with the Pirates as a free agent during the 2012-13 offseason and the two clubs got together for the Chris Stewart trade last winter. Maybe they like the same catchers because their internal metrics are similar.
Anyway, the Yankees made the trade because they almost had to move a catcher this winter. It had gotten to the point where they simply had too many catchers for too few spots at the upper levels. Brian McCann is locked into the starting MLB job and Cervelli had a leg up on the backup spot, leaving John Ryan Murphy, Austin Romine, and Gary Sanchez for Triple-A Scranton. That's not really feasible. Playing time is a zero sum game — the more at-bats Sanchez gets, the fewer there are for Murphy and Romine.
Something had to give and it turned out to be Cervelli, who is two years from free agency and projected to earn $1.1M through arbitration next year. Why pay seven figures for a backup catcher — an injury prone backup catcher at that — when you have several players who can do the job for close to the league minimum? The Yankees dealt from a position of depth and added an interesting arm to the bullpen mix while shedding some salary. It's not the type of move that will win a team a title but it helps balance the roster.
As soon as Cervelli was traded, I and I think many others considered Murphy the favorite to take over as McCann's backup. That makes sense — Murphy was the one who got the call when Cervelli got hurt last year and Romine didn't even get a September call-up at first. (He was called up after Cervelli got hurt in mid-September). Romine has stalled out the last year or two and Murphy has played well, especially when he first came up last April and May. He's ready for a big league job.
There are other factors to consider, however. First and foremost, the Yankees might not be done dealing. Murphy isn't a top trade chip but he's a desirable piece because, again, he's basically MLB ready. Catching is hard to find and plenty of teams will try to pry six years of Murphy away from New York if given the chance. I both would and wouldn't be surprised if he gets traded at some point, perhaps for a shortstop. I don't think it will happen but it wouldn't come out left field either. Trading Murphy seems completely plausible.
Trading Murphy would free up the backup catcher's job for Romine, though I would expect the Yankees to sign a veteran backup catcher type to compete for the job in Spring Training. Someone on a minor league contract who can fight for the job in camp then go to Triple-A Scranton to back up and mentor Sanchez (and also serve as the third catcher). The same applies to trading Romine, though he isn't as tradeable as Murphy. Romine is likely to be out of options though — Chad Jennings heard it "does not appear" Romine will qualify for a fourth option — which opens another can of worms.
If Romine is in fact out of minor league options, he won't be able to go to Triple-A without first clearing waivers. It's easy to say he will be claimed because he's a young and cheap catcher who once had some nice prospect shine, but I looked through the MLBTR Transaction Tracker, and not many catchers get claimed off waivers. In fact, there have only been nine waiver claims involving a catcher since May 2008, and three of them featured the perpetually available George Kottaras. That guy always seems to be on waivers.
Maybe the means Romine will clear waivers, or maybe it means catchers like Romine rarely hit waivers and aren't able to be claimed in the first place. The latter seems more likely to me. The Yankees have more upper level catching depth than most teams and could be the rare club who waives someone like Romine, but the easy solution would be sending Murphy to Triple-A and letting Romine back up McCann. They have that option as well, as unlikely as it seems. Options are good though and the Yankees don't need to make a decision now.
"We'll see how the winter continues to shake out," said Cashman to Brendan Kuty following the Cervelli trade. "We have guys with Major League service in Romine and Murphy. So we'll see how it all shakes out still. I'm still open to any possibilities to assist in improving our club."
Backup catcher is very low on the offseason priority list because it is a position of depth, even after the Cervelli trade. The Yankees can roll into next season with what they have right now and be perfectly fine behind the plate. I do think Murphy has a leg up on the backup job with Romine likely to be exposed to waivers, but that's just me. A lot can and will change in the coming months. The Cervelli trade helped clear up an organization logjam but it didn't guarantee anyone a job either.