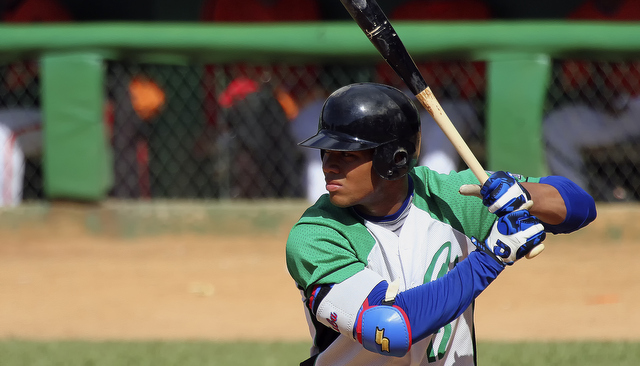 Update (12:23pm): Moncada has been declared a free agent by MLB, according to Jesse Sanchez. He must still be unblocked by the Office of Foreign Assets Control before he can sign, however. No word on when that may happen. The important thing is that it appears Moncada will be cleared to sign well before June 15th and count towards the 2014-15 international signing period, putting the Yankees in great position to sign him, as explained below.
10:00am: Highly touted Cuban infielder Yoan Moncada held a showcase event for scouts in Guatemala on Wednesday, and the Yankees had a "significant" presence of at least four scouts in attendance, according to Ben Badler and Jonathan Mayo. Every club was there but apparently some were are serious than others. Badler says Moncada took several rounds of batting practice and fielded balls at different positions. "After a long day and a lot of swings so scouts could see him from both sides of the plate, he did seem to wear down," added Badler.
Moncada still has to be unblocked by the Office of Foreign Assets Control and declared a free agent by MLB before he is eligible to sign, which could still be months away. Because he is only 19 and has limited experience in the Cuban leagues, Moncada will be subject to the international spending restrictions. The Yankees exceeded their 2014-15 spending pool and will not be able to sign a player for more than $300k during the 2015-16 and 2016-17 signing periods, but if Moncada is declared a free agent by June 15th, he would count towards the 2014-15 signing period and the Yankees would be able to sign him for any amount. Here are some more notes:
"Moncada had a great workout, showing his five-tool potential. He is in great shape. Unfortunately, he was not able to hit off live game pitching. We will need to see him off of live pitching to command the top dollars they are looking for," said one scout to Mayo. On the 20-80 scouting scale, Moncada received 60s for his hit, power, and arm tools, a 70 for speed, and 50 for fielding. That's five average or better tools.
Moncada is expected to receive a bonus in the $30M to $40M range, according to Jeff Passan. Badler notes Moncada can only sign a minor league contract. Every team would exceed their spending pool with a bonus that size, so when you add in the 100% tax, it's really a $60M to $80M total investment.
In another piece, Badler says the Yankees have an advantage over other clubs because they've already exceeded their pool and are subject to bonus restrictions in the future. Other clubs have verbal agreements in place for the 2015-16 signing period worth seven figures, but if they sign Moncada, they would have to renege on those deals because they wouldn't be allowed to hand out bonuses of more than $300k. Make sense?
And finally, Kiley McDaniel has some more information on the showcase and Moncada's background. Apparently the Cuban government gave him a visa and a passport and allowed him to leave the island, so there's no crazy defection story. Also, Moncada's agent is just some random public accountant from Florida, not one of the usual suspects. Make sure you check it out.
Moncada will hold more showcase events in the coming weeks and months — teams want to see him face live pitching — and I'm sure the Yankees will continue to have a "significant" presence at these events. The 100% tax is tough to swallow, but every team is facing that. The playing field in level in that regard. The Yankees are at an advantage because this is a simply bidding war — whoever is willing to spend the most will win, and the Bombers have more money than everyone.
Obviously Moncada presents a very special case, both in terms of his talent and signing situation. This isn't someone like, say, Rusney Castillo or Yasmany Tomas, a toolsy player who is expected to be more of a solid regular than anything. Moncada is incredibly young and everyone agrees he has star potential. If you're going to step out of your comfort zone and spend huge money on a Cuban player — something the Yankees have been very hesitant to do since Jose Contreras flopped — this is the type of player you do it for. Everything is lined up for the Yankees to spend big for Moncada and land a potential star. If they're not going to do it now, then when?