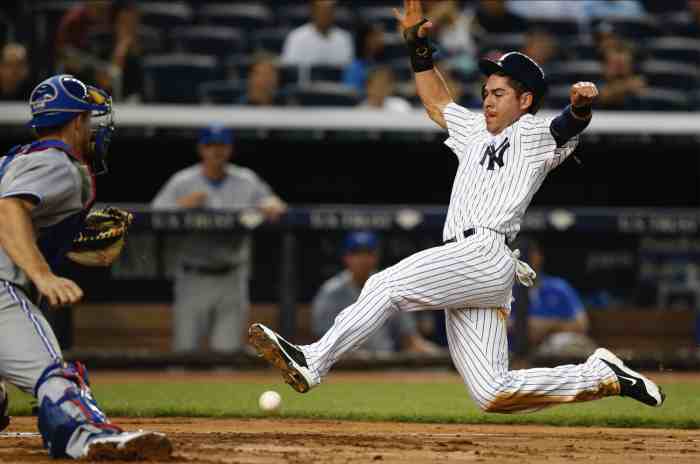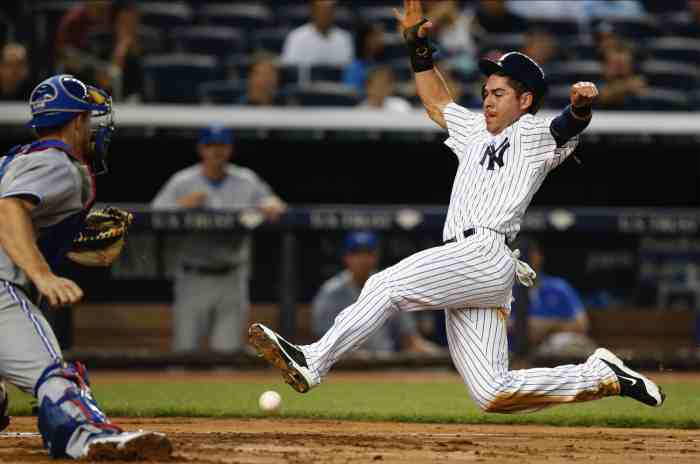 The Yankees absolutely needed to add at least one outfielder last offseason, but Jacoby Ellsbury didn't seem to fit the bill. Brett Gardner had just finished his first full season as center fielder, and it was the best of his career. Why add a player with a similar skill set when other players could have added a different dynamic?
Specifically, Shin-Soo Choo made the most sense. While he and Ellsbury were both atop the outfielder free agent market, Choo hit for power. Outside of 2011, Ellsbury never had. Since the 2013 Yankees hit the second fewest home runs in the AL, 101 fewer than they hit in 2012, it seemed as though they'd have benefited from a player with a career .177 ISO over one with a .142 ISO (and much lower outside of 2011's fluke .231 ISO).
While the Yankees did consider both players, they preferred Ellsbury and landed him with an aggressive offer. That didn't end their pursuit of Choo, though, as they did make him a seven-year, $140 million offer. But he rebuffed them. And that was a good thing.
After signing with the Rangers, Choo got off to a scorching start, producing a 1.054 OPS in his first 120 PA. Way to go, Yanks, right? But then he started to experience ankle problems. From that 1.054 apex he fell precipitously, producing a .621 OPS in his next 409 PA, his season ultimately ending because of bone spurs in his elbow. He had surgery to remove them, and then surgery to repair his ankle.
It almost seems as though the Yankees dodged a bullet. In his very first season after signing a huge contract, Choo produced the worst full season of his career.
Ellsbury, for his part, produced decently in line with expectations. What he lacked in batting average he made up for with power. Everything else, from walks to stolen bases, is pretty much what we expected from him given his career numbers. It's difficult to find someone disappointed with Ellsbury's first season in pinstripes.
At the same time, he certainly didn't produce to the level you expect from a guy who signs that big a contract. According to FanGraphs's offensive runs above average, Ellsbury produced 10.6 runs, which ranked 60th in the majors — right next to Marcell Ozuna, if you're among the 10 percent of our readership who even recognizes the name. Only 4.9 of those runs came from the plate (the other 5.7 were on the bases). Those 4.9 batting runs above average ranked 77th in MLB.
Ellsbury does provide value on defense, and I'm not sure any reasonable eyeball test could have rated him negatively in 2014. The fielding stats with bias* were a bit scattered on his performance. Total Zone credited him with 5 runs above average, 15th in MLB (4th in the AL) among center fielders. Defensive Runs Saved goes in the opposite direction, -5 runs, 12th in MLB. UZR credits him with a half run above average, 9th in the majors. Baseball Prospectus's Fielding Runs Above Average, which does not use biased data, credited him with 12 runs above average (though I'm not sure where that ranks).
*Fielding stats with bias, meaning that they are influenced by a human stringer. These stringers judge the type of batted ball, among other factors. Colin Wyers wrote a neat little article explaining the flaws with current metrics.
If you give Ellsbury the benefit of the best defensive statistic, his season does look a bit better, about 4.6 WAR. With average defense he had 3.6 WAR. The difference is pretty stark: 3.6 WAR ranked 48th, while 4.6 would have ranked in the top 30.
So depending on how you view defense, Ellsbury had anywhere from a pretty good season to a damn fine one. Yet his shortcomings on offense, even compared to last year, were certainly disappointing. The hope was that he'd maintain his ~.350 OBP while adding a bit of power thanks to Yankee Stadium. While the latter happened, the former didn't. Had they come together with elite defense, Ellsbury at $21.1 million would have been a steal.
I have to admit, when starting this I expected to describe a damn good season, a success in the first year of a long-term deal. Yet when looking a bit more closely at Ellsbury's production, it really wasn't up to expectations. Perhaps the common view of Ellsbury's season has more to do with the failings of everyone else on offense rather than the expectations for him heading into this season and contract.