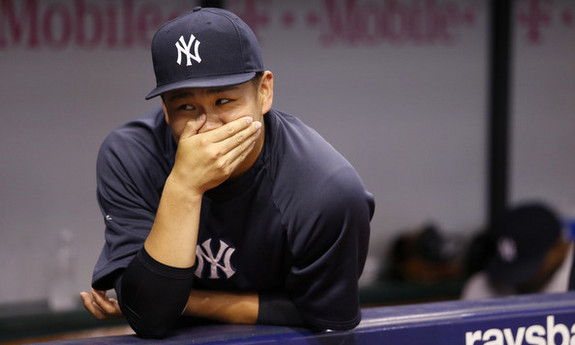 While talking with reporters late last week, Brian Cashman confirmed there is nothing new to report on the status of Masahiro Tanaka and his partially torn elbow ligament. "He is a healthy player so there's nothing to report on him other than you keep your fingers crossed that problem doesn't rear its ugly head again,'' said the GM to George King.
Keeping your fingers crossed that Tanaka's elbow holds up next year is not exactly an ideal strategy, but there's really not much more the Yankees can do at this point. The rehab treatment was complete and the doctors cleared him to pitch, then he made it through two late-season starts healthy, which was encouraging. Adam Wainwright and Ervin Santana pitched with small tears in their UCL for years.
Tanaka's health might the biggest x-factor for the 2015 Yankees. If he stays on the mound, he's an impact pitcher who greatly improves the team's chances to contend. If he gets hurt, especially early in the season, it's a huge loss because the drop-off from Tanaka to whoever replaces him in the rotation is substantial. I like Bryan Mitchell and Manny Banuelos, but c'mon, they're not Tanaka.
The Yankees came into the offseason needing at least one starter and now they need multiple starters after using Shane Greene to get Didi Gregorius. They have to protect themselves against not only Tanaka's elbow, but also CC Sabathia's knee and Michael Pineda's shoulder. The good news is that there is still quite a bit of pitching available in free agency. All shapes and sizes too. Aces, mid-rotation guys, reclamation projects, you name it.