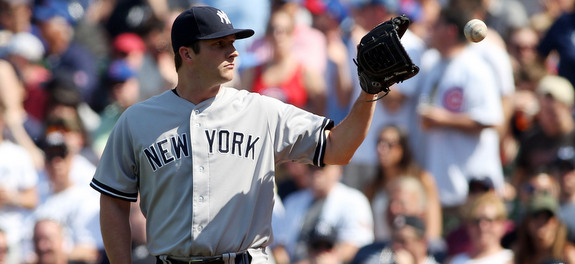 It's no secret the Yankees came into the offseason needing rotation help. So, after the end of the regular season, the team told both David Phelps and Adam Warren to report to Spring Training next year ready to compete for a spot in the starting rotation. "We could always collapse them back into the (bullpen), but they were told to be physically ready to take a shot at a rotation spot," said Brian Cashman to Brendan Kuty last week.
Phelps, 28, has been a true swingman the last three years, bouncing back and forth between the rotation and bullpen on numerous occasions. He's performed a bit better as a reliever but not overwhelmingly so. It makes perfect sense to bring Phelps to camp ready to start. The 27-year-old Warren did a nice job in long relief in 2013 but really seemed to find a niche in short relief this past season. His velocity ticked up a bit and so did his strikeout rate. I understand bringing him to camp as a starter but I think he's much more valuable as a one-inning reliever.
Despite their inactivity at the Winter Meetings, I definitely expect the Yankees to add a starter this offseason and probably two starters. They need the depth given the injury concerns in the rotation. It makes perfect sense to have Phelps and Warren prepare for a possible starting role, and while starting Phelps every fifth day is a fine fallback plan, I think putting Warren in the rotation should be a last resort. Hopefully he's an emergency option and nothing more.