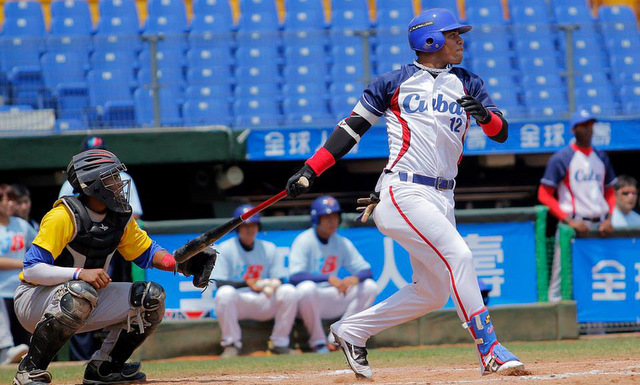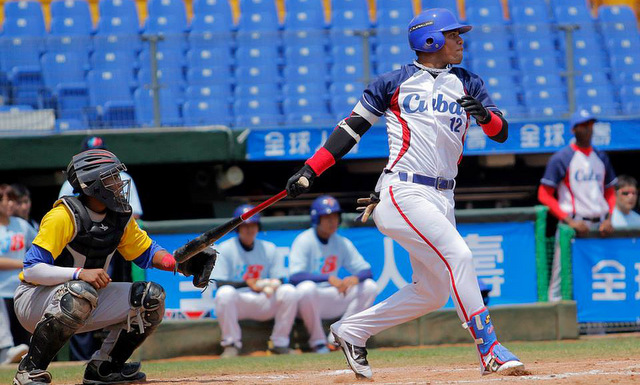 According to Ben Balder, the Yankees recently held a private workout for free agent Cuban infielder Yoan Moncada. It's unclear when the workout was held, but it has already happened. Moncada is in the process of showcasing himself for teams and Badler says he's already had a private workout for the Giants as well.
Moncada, 19, is the latest prized free agent to come out of Cuba, and all reports indicate he is a potential star with five-tool ability. The Yankees have brought several other Cuban players in for private workouts, including Rusney Castillo and Aledmys Diaz last year, so this isn't unusual at all. Getting an up close look at the player is pretty standard.
Badler recently wrote that, once signed, Moncada would slot in as one of the top 20 prospects in all of baseball with a good chance of being considered a top 15 or even top ten prospect. Here's more on the situation from Badler:
From conversations with several industry sources, the Yankees are one of the frontrunners to sign Moncada, who has residency in Guatemala and is a free agent, though Major League Baseball won't let him sign until he receives a specific unblocking license from the Office of Foreign Assets Control (OFAC). While the young Latin American talent in the organization is promising, the Yankees are light on young, impact position players. Moncada, a 19-year-old switch-hitter who would likely slot it at second or third base, would immediately change that, and slot in as the Yankees' top prospect if he ended up signing with them.
Since the Yankees blew their international spending pool out of the water last summer, they will not be able to sign a player for more than $300,000 during the 2015-16 and 2016-17 signing periods. That won't be enough to sign Moncada, who is expected to command a $30M to $40M bonus. (Whichever team signs him would then be taxed 100% for exceeding their pool).
For the Yankees to have a shot at landing Moncada, he needs to be unblocked by the OFAC before the end of the current signing period of June 15th. Actually, he needs to sign by that date, so he needs to be unblocked well before that so the two sides have time to negotiate. MLB has already declared Moncada a free agent, so they've done their part. This is all out of the Yankees' hands. They're waiting on the government to give him the okay.
The hype around these Cuban players has gotten out of control these last few years, though, by all accounts, Moncada is a future cornerstone player along the lines of Yasiel Puig and Jose Abreu, not a complementary player (Yoenis Cespedes or Alexei Ramirez) or worse (Dayan Viciedo). Given his age and potential, the Yankees should clearly be serious about signing him. It's just a question of whether he'll be cleared by the OFAC in time.