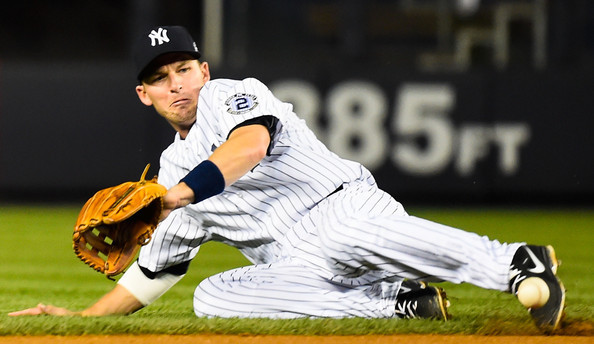 Wednesday, 10:28am ET by Mike: Drew will receive $500,000 for his 450th, 500th, and 550th plate appearances, according to Buster Olney. So the only way Drew will come close to reaching the $1.5M in incentives is if he actually plays well enough to stay in the lineup regularly.
Tuesday, 9:41pm ET by Joe: The Yankees have signed Stephen Drew to a one-year, $5 million deal, reports Jon Heyman of CBS News. Incentives could increase the deal to $6 or $7 million.
It was but a few hours ago that Drew's name last appeared on this site, citing a Heyman report that the Yankees were "peeking" at Drew as an option for second base. It now appears he'll start there, barring a horrible Spring Training or injury.
It might appear signing Drew blocks Rob Refsnyder, but that's simply not the case. If Refsnyder forces the issue, it will be hard for the Yankees to hold him back for the sake of Drew. The $5 million Drew earns accounts for about 2 percent of the payroll. He's not a make-or-break player. He's a guy who has performed well in the past — a 95 career OPS+ and 111 in 2013, both of which are pretty nice for a middle infielder this day in age — who gives the Yankees some depth.
If Refsnyder wows everyone in Spring Training, they'll find a spot for him. It might not be on the Opening Day roster, but if he's hitting (and improves his defense at 2B) they're not just going to let him toil all season in AAA if he can outperform Drew or even Didi Gregorius.
Which brings up another point: Drew also provides some shortstop depth. If Gregorius flops, Drew can slide in. That opens a spot for Refsnyder. He could also cover Gregorius against left-handed pitching — he has a .668 career OPS against lefties, which is nothing great but at the same time much better than Gregorius.
Most importantly, if Drew is bad the Yankees will replace him. It might take a while, given how long it took them to cut ties with Alfonso Soriano and Brian Roberts last season. Hopefully they've learned from that and will take a more Randy Winn-like approach if Drew's performance resembles that of Winn in 2010. The deal is for just one year, so it's not as though he's blocking Refsnyder for three or four seasons.
The 40-man roster is currently full, so the Yankees will have to make a move before making the Drew signing official. My bet is that they DFA Brendan Ryan and go with Jose Pirela as the utility guy.