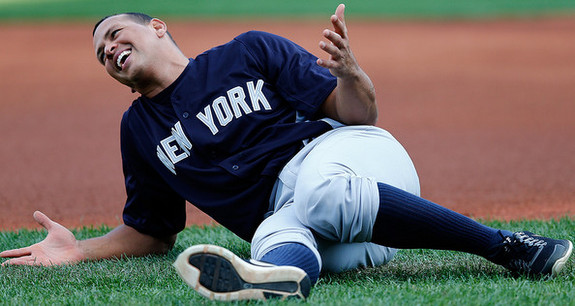 A few weeks ago, Alex Rodriguez met with new commissioner Rob Manfred to clear the air as he prepares to return from his 162-game suspension. At the time it was reported the Yankees had declined a meeting with A-Rod, but Brian Cashman shot that down today. The GM told Nick Cafardo the team will meet with Alex in the near future. "We're more than happy to meet with him," said Cashman.
So no one is surprised by this, right? Like it or not, the Yankees seem committed to giving A-Rod a chance to show he has something left this season, and there's no sense in holding any kind of grudge or making a bad situation worse. The two sides will meet, shake hands, force some smiles, and move on. There's really not much else they can do at this point. Feuding with Alex accomplishes nothing.
For what it's worth, ZiPS projects Rodriguez to hit .229/.312/.399 (96 OPS+) with 15 dingers in a little over 400 plate appearances this coming season, which stinks but isn't a total disaster. Then again, ZiPS doesn't know Alex has two bad hips and it doesn't know how to treat his missing an entire year. Point is, no one knows what he can do next season. I hope he mashes and creates total MSM chaos.