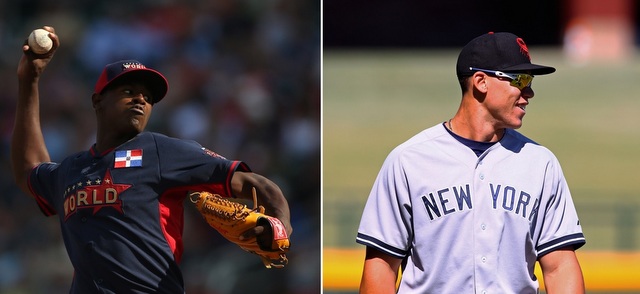 As part of their look at the best minor league prospects in each organization, the crew at MLB.com published their list of the top 30 Yankees prospects earlier this week. Jim Callis also compiled some notes and scouting grades in a supplemental piece. As always, MLB.com's info — the list, scouting reports, video, etc. — is all free. It's great.
Predictably, RHP Luis Severino and OF Aaron Judge claim the top two spots, in that order. Severino is No. 1 on MLB.com's and Baseball America's lists while Judge is atop Keith Law's, Baseball Prospectus', and my top Yankees prospects lists. I guess Judge wins. SS Jorge Mateo, 1B Greg Bird, and 2B Rob Refsnyder round out the top five on MLB.com's list.
You can click through to see the full top 30 for yourself. MLB.com included two of last year's international signings and ranked them pretty highly as well — OF Juan DeLeon and SS Dermis Garcia ranks 15th and 16th, respectively. They also ranked four other players who didn't make my top 30: RHP Rookie Davis (No. 24), UTIL Jose Pirela (No. 25), 2B Gosuke Katoh (No. 28), and RHP Domingo Acevedo (No. 30).
The 21-year-old Acevedo was one of my five prospects to watch heading into the 2014 season and the MLB.com scouting report is pretty glowing:
In his limited game action, Acevedo hit 100 mph and worked at 95-97 mph. He also has an advanced changeup and some feel for spinning the ball, though he's still trying to find a comfortable grip for his slider. His command is work in progress, though he does a decent job of throwing strikes.

Between his velocity and his size — he's 6-foot-7 and carries maybe 50 pounds more than his listed 190 — Acevedo presents an extremely intimidating figure on the mound. He'll have frontline starter stuff if he can develop a good breaking ball, and he's still a potential closer if he doesn't.
Acevedo is older than most international prospects — he signed as an 18-year-old in October 2012 — but they don't check IDs on the mound. If he continues to show big stuff and gets people out, the Yankees won't care if he makes his MLB debut at 23 or 26. The 2015 season will be an important one when it comes to determining if Acevedo is one of the team's top prospects going forward or just a tease.
MLB.com's list essentially wraps up prospect ranking season. The Yankees have a middle of the road farm system that is on the rise thanks mostly to last summer's international spending spree. Severino and Judge are high-end prospects while others like Bird and Jacob Lindgren look like high-probability big leaguers. The Yankees focused on youth this winter and that means we should expect to see a few of these guys get an opportunity at the MLB level in the next year or two. That's exciting.