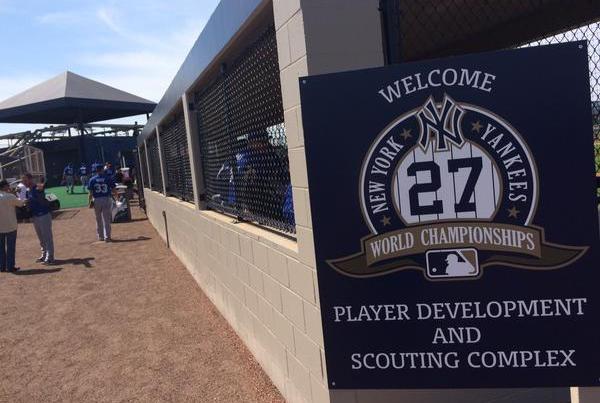 The Major League portion of Spring Training has been going on for weeks now, but things on the minor league side are just starting to ramp up. Chad Jennings has the Yankees' minor league workout groups, if you're interested. As a reminder, those are not regular season level assignments, only Spring Training workout groups. Many (most?) of the players will open the season at a different level than their workout group. Here are some more miscellaneous minor league notes.
Yankees made upgrades to Tampa complex
At the behest of new farm system head Gary Denbo, the Yankees have made a bunch of upgrades to their minor league complex in Tampa, according to Kevin Kernan. They're mostly very small changes — new dugouts were built, speakers were installed to play music during workouts, players are no longer required to wear high socks, visitors can now walk freely around the complex — but they do all add up.
"Adding a simple thing like speakers and music for the players it makes things more relaxed for the players and we know players perform better when they are relaxed," said Denbo to Kernan. "It's time to put them in the position where they have everything they need to have success. That's what we're doing. We're encouraging players families to come out and watch, too. It's nice having your family around and we are just trying to make it more comfortable for them."
The Yankees made more significant changes to the Tampa complex last year — the player development staff got its own dedicated statistical analyst and a new office building with a cafeteria for players was built — but these more recent changes are on a smaller scale designed to make players feel more comfortable and professional. Not coincidentally, Josh Norris says the atmosphere around minor league camp is greatly improved. Between these upgrades and Captain's Camp, Denbo's done a lot of good in his short time at the helm.
Notes from minor league camp
Minor league Spring Training games started not too long ago, and last week Norris roamed the back fields in Tampa and passed along some pitching notes. RHP Ty Hensley sat 89-92 and touched 93 in his outing with a hard curveball in the mid-to-upper-80s. The most important thing is he's back pitching after his offseason ordeal. Meanwhile, RHP Gabe Encinas topped out at 95 mph as he continues to work his way back from Tommy John surgery, RHP Domingo Acevedo was sitting 94-96 mph with a few 97s, and RHP Rookie Davis was 93-95 mph with some 97s and low-to-mid-70s curveball. Norris also posted video of Hensley, Acevedo, and Jorge Mateo. Acevedo is just massive. He's listed at 6-foot-7 and 190 lbs. but that looks like it shorts him about 50 pounds.
Yankees release 16 minor leaguers
According to Matt Eddy, the Yankees released 14 minor leaguers last week. Here's the list: IF Jake Anderson, RHP Cristofer Cabrera, RHP Dayton Dawe, UTIL Anderson Feliz, 1B Mat Gamel, 1B R.J. Johnson, 1B Bubba Jones, OF Daniel Lopez, LHP Hector Martinez, LHP Abel Mora, RHP Alex Polanco, RHP David Rodriguez, RHP Hayden Sharp, and UTIL Casey Stevenson. Also, RHP Jordan Cote and RHP Brett Gerritse announced they have been released on Twitter, and C Trent Garrison announced his retirement on Twitter. Garrison was in big league camp this year and Gamel was signed earlier this month. Cote is probably the most notable prospect among the released minor leaguers — he was New York's third round pick in 2011 and was a classic projectable high school pitcher who didn't develop as hoped.
Two Dominican Summer League prospects suspended for PEDs
RHP Brayan Alcantara and RH Moises Cedeno have each been suspended 72 games after testing positive for a performance-enhancing drug, report Bob Nightengale and Brendan Kuty. Alcantara tested positive for Stanozolol, whatever the hell that is. Both Alcantara and Cedeno pitched in the Dominican Summer League last year. The 21-year-old Alcantara had a 4.21 ERA with 28 strikeouts and nine walks in 25.2 innings, and the 19-year-old Cedeno had a 3.23 ERA with 59 strikeouts and 20 walks in 53 innings.
New pace of play rules implemented
As expected, new pace of play rules have been officially implemented in the minor leagues, MiLB announced. They mirror the new MLB pace of play rules — batters have to keep one foot in the box, strict two minutes and 25 second breaks between half-innings — plus a new 20-second pitch clock being installed at Double-A and Triple-A. The pitcher has to begin his windup within 20 seconds or an automatic ball will be called.
"Minor League Baseball is excited to implement the pace of game initiatives at the Triple-A and Double-A levels of our organization," said MiLB president Pat O'Conner in a statement. "We feel the emphasis on pace will lead to more fan enjoyment and better play on the field and is another example of the cooperative relationship between our leagues and Major League Baseball in the advancement of player development."
April will be used a grace period so players can adjust. The penalties start in May. The pitch clock in Double-A and Triple-A does not necessarily mean a pitch clock is coming to MLB next year. The league is testing it out at the highest level of the minors though, and if it works as intended and the players don't make too big of a stink, expect MLB to push to add them at the big league level. I'm not a fan of a big ugly clock on the field of play at all, but I guess it's inevitable.