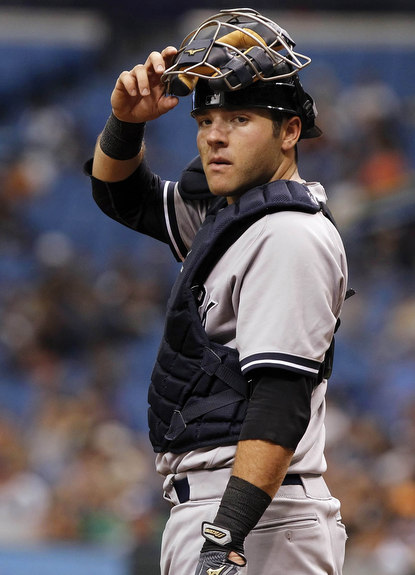 Here is some slightly surprising news. Catcher Austin Romine has cleared waivers and been outrighted to Triple-A Scranton, the Yankees announced. Romine was designated for assignment over the weekend after losing the backup catcher job to John Ryan Murphy. He is out of options and had to go through waivers before being assigned to Triple-A.
It appears the Yankees played the timing well. Romine was designated Saturday, giving the team ten days to trade, release, or waive him. They placed him on waivers Monday according to George King, a day after clubs had to set their Opening Day rosters. Teams had already selected their backup catcher and committed to that guy's contract before Romine hit waivers. Sneaky!
Because Romine has less than three years of service time and has never been outrighted before, he was unable to elect free agency after clearing waivers. He'll go to Triple-A and play regularly — the preliminary RailRiders roster lists Eddy Rodriguez and Kyle Higashioka at catcher, and I suspect Higashioka will now be bumped down a level — and be the de facto third catch in case of injury.
Romine, 26, is a career .204/.247/.281 (41 wRC+) hitter in 181 big league plate appearances and a .243/.303/.365 hitter in 445 career Triple-A plate appearances. The various stats say he's been a quality pitch framer and ultimately his value comes from his defense, not his bat. Glad to see Romine's still around. Catching depth is always a good thing, especially when they already know the pitching staff.