In the span of eight offensive innings Sunday night, the Yankees nearly doubled their season scoring output (17 runs to 31) and raised their team batting line from .193/.280/.342 to .233/.331/.404. A 16-hit attack carried the Bronx Bombers to a 14-4 win in their series finale against the Red Sox.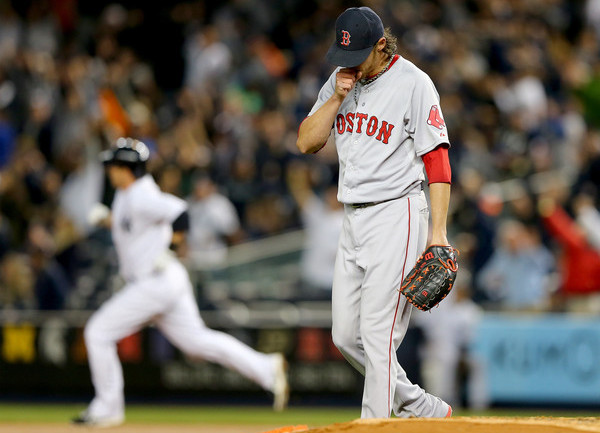 The Inning They Needed, Not The Inning We Deserved
If we were able to pick any way for the first inning of Sunday's game to play out, I'm pretty sure "seven runs with back-to-back homers for good measure" would have been near the top of the list. It was the kind of inning the Yankees desperately needed after those five ugly games to start the season. And Yankees fans needed that too. Tensions were running high, to put it lightly.
A whole lot happened in that seven-run first inning, so let's do this annotated box score style.

(1) After Clay Buchholz walked Jacoby Ellsbury to lead off the game, he threw over to first base to keep Ellsbury close. Except Ellsbury was literally standing on the base, not taking a lead. Then Buchholz did it again. Exact same thing. He really seemed to be focusing on Ellsbury, yet Ellsbury still took off for second base and Brett Gardner slapped a weak little ground ball through the left side of the infield for something short of a textbook hit and run. It wasn't pretty but it sure got the job done.
(2) I don't know if the Red Sox could have turned a double play on Brian McCann's weak ground ball to first base, but they definitely should have gotten one out on the play. Instead, Mike Napoli muffed the grounder and everyone was safe. The bases were loaded with one out. Napoli's error really helped open the flood gates.
(3) Alex Rodriguez wasted no time whatsoever with the bases loaded. Buchholz put a first pitch cutter on a tee and A-Rod laced it into the left-center field gap for a bases-clearing double. The ball couldn't have been more than 20 feet in the air at its highest point. Rocket. Alex was all over that pitch, so much so that I think he guessed fastball in that location and Buchholz served it up.
(4) Chase Headley's two-run homer was the big blow the inning. It went from "hey, four runs might be enough!" to "phew, six runs is much better." Buchholz actually got ahead of Headley with a quick 0-2 count, but Headley spit on some changeups in the dirt before Buchholz hung a curveball for the no-doubt two-run homer to right field.
(5) Stephen Drew! Unlike Headley's long homer, Drew's was a Yankee Stadium cheapie, hitting off the table top of the right-center field wall and hopping over. Hey, it counts. Drew needs all the help he can get. That solo homer was the exclamation point on a pretty awesome inning. Easily their best of the young season. When Drew gets in on the act, you know things are going your way.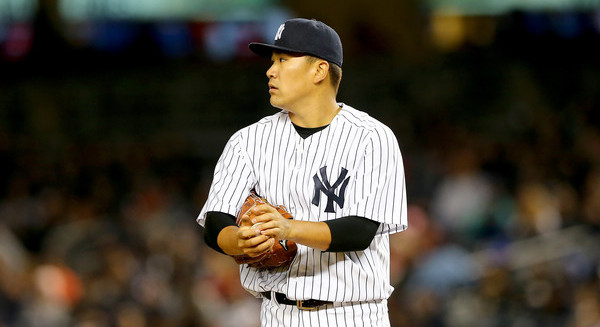 No Whiffs
Boston's first run was pretty dumb. David Ortiz walked in a 3-3 count — third base ump Mike Muchlinski said Ortiz checked his swing on what would have been strike three even though it was pretty clear he went around — then moved to third on two wild pitches and scored on Hanley Ramirez's sac fly. Ortiz should have struck out, McCann could have possibly kept one of those wild pitches in front of him, but nope. Blah. Ugly run.
The other two runs in the fourth weren't so cheap, though of course there was an error involved, New York's league-leading tenth of the season. And to think, defense was supposed to be a strength. Anyway, Pablo Sandoval singled and Napoli drew a walk after Hanley's sac fly, then Shane Victorino hit what could have been an inning-ending double play. It should have been at least one out. Instead Drew's flip to second was wide of the bag and Didi Gregorius couldn't reel it in.
Xander Bogaerts took advantage with a two-run double to left field to make it 7-3 before Tanaka struck out Ryan Hanigan and Mookie Betts to limit the damage. Hanigan helped Masahiro out by expanding the zone considerably to chase a slider. The running theme that inning was an utter lack of swings and misses. In the Ortiz through Bogaerts at-bats, Tanaka threw 30 pitches and got just one swing and miss, the second pitch to Ortiz. Red Sox hitters laid off his splitter like they knew it was coming.
Overall, Tanaka got just five whiffs out of 97 total pitches (5.2%) on Sunday. He got a dozen swings and misses out of 82 total pitches (14.6%) in his first start against a good hitting Blue Jays team, which was right in line with his 2014 rate (13.4%), yet Sunday night the empty swings weren't there for whatever reason. Maybe it was the elbow, maybe he was tipping his splitter, maybe the Red Sox are just that good, or maybe it was just one of those nights. No way to know.
Whatever it was, the inability to get whiffs was a clear issue for Tanaka on Sunday. He finished the night with four strikeouts and four runs allowed (three earned) on three hits and four walks in five innings. (The fourth run was a brute strength homer by Hanley on a good down and away slider.) Forty-nine of Tanaka's 97 pitches were either four-seamers or sinkers (50.5%), way more than what he threw against Toronto six days ago (32.9%) as well as last year's average (40.8%). He didn't shy away from the heater. That's for sure.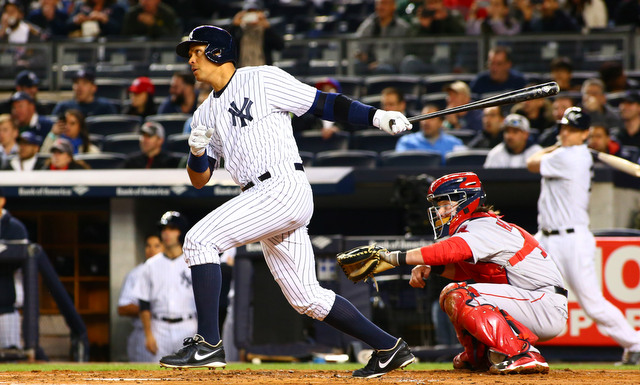 Insurance Runs
The Yankees answered the Red Sox's three-run top of the fourth with three runs in the bottom half. Gregorius, Ellsbury, and Gardner opened the inning with three identical ground ball singles back up the middle. It looked like ESPN kept playing the same replay over and over. Ellsbury stole second during Gardner's at-bat and was able to score along with Gregorius on Brett's single. Buchholz didn't bother to back up the base on either Ellsbury's or Gardner's single. His body language was … less than good.
Gardner took second base on the throw home and moved to third on Carlos Beltran's infield single. Yes, Beltran had an infield single. Pablo Sandoval fielded the ball fairly cleanly but couldn't get it out of his glove to make the throw. Beltran sliced a single to right later in the game and now has four hits on the season: a legit single, a legit double, one double most non-Hanley left fielders catch, and an infield single. Teixeira followed that with a deep sac fly to score Gardner from third. Answering those three Boston runs in the next half inning was huge.
The Yankees scored another three runs against lefty Tommy Layne in the sixth when the first five hitters of the inning reached base. Beltran lined a single to right, Teixeira pulled a ground ball single through the right side, McCann blooped a single to right, A-Rod drew a bases loaded walk, and Headley singled in another run. Drew drove in the third run of the inning with a sac fly. That made it 13-4. McCann's solo homer — the 200th dinger of his career — made it 14-4 in the eighth.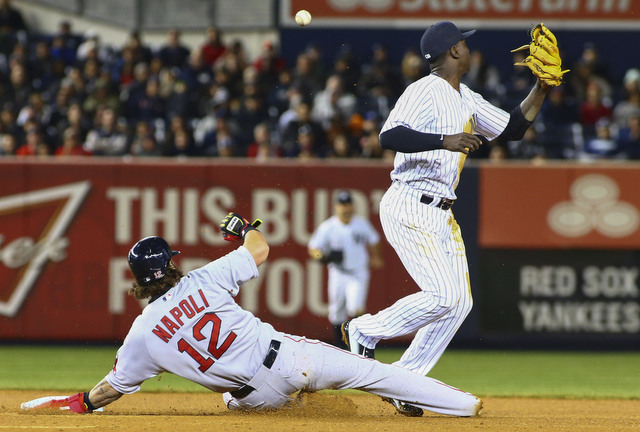 Leftovers
It was a blowout, but nice job by the bullpen to close the door and not make this one interesting. David Carpenter retired five of six batters faced and the just called up Kyle Davies chucked 2.1 scoreless frames. This was Davies' first MLB appearance since July 2011. He spent the last few years dealing with arm problems and bouncing around the minors. Long road back for him. Tonight must have been special.
Remember how Phil Hughes would always allow the #obligatoryhomer? These Yankees always make the #obligatoryerror and #obligatoryoutonthebases. Drew made both in this game. He made the error in the third inning and the out on the bases in the fifth, when he was thrown out stealing second. The Yankees have now made eight outs on the bases in six games this season: four caught stealings, three pickoffs, and Didi making that wide turn at first on a single.
The Yankees went 6-for-10 with runners in scoring position, so hooray for that. The seven-run first inning was the Yankees' biggest inning since they scored eight runs in an inning against the Tigers last August. That was the game when they had nine straight hit off David Price. Remember that? It was cool.
And finally, the Yankees scored at least ten runs against one pitcher (Buchholz!) for the first time since 2011, when they did it three times. Those were the good ol' days, eh? They hung ten spots on Gavin Floyd, Trevor Cahill, and Brett Anderson that year.
Box Score, WPA Graph & Standings
Here are the box score, video highlights, updated standings, and announcer standings. The video might not be up for a little while because the game was on ESPN, FYI. ESPN holds the broadcast rights and MLB can't put them up during the game. Here is the WPA graph, which is finally a laugher for the good guys.

Source: FanGraphs
Up Next
The season-opening homestand is over and the Yankees are heading out on a ten-game road trip. It starts tomorrow night in Baltimore. Wei-Yin Chen will be on the bump for the Orioles and the Yankees will counter with Big Mike Pineda.