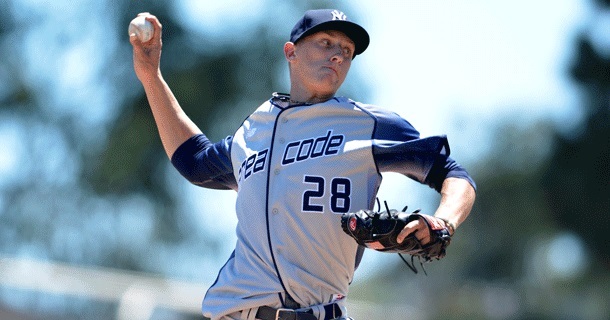 Late last night Keith Law posted his first mock draft of the season (subs. req'd), and he has the Diamondbacks taking Vanderbilt SS Dansby Swanson with the first overall pick. I believe that is the third different player (at least the third, might be more) tied to Arizona for the top pick these last few weeks. Law has the Astros taking LSU SS Alex Bregman second overall and the Rockies taking UC Santa Barbara RHP Dillon Tate third.
With their first of two first round picks, the 16th overall selection, Law has the Yankees taking California HS C Chris Betts. I wrote him up just yesterday. Betts is a left-handed hitting bat first catcher with good defensive tools who may not stick at the position long-term. He's not a lost cause behind the plate but not a lock to stay there either. Even if he does move to first base down the line, Betts' bat should play.
Law then has the Yankees selecting Pennsylvania RHP Mike Nikorak with their second first rounder, the 30th overall pick, which is the compensation pick for losing David Robertson. Nikorak was the consensus top high school pitching prospect in the draft not too long ago, but his stock has taken a bit of a hit lately due to some control issues. Here's a snippet of his free MLB.com scouting report:
Nikorak came out this spring sporting the same 94-97 mph fastball he showed early last summer, with a free and easy delivery. Even if he loses a tick or two, the heater is still effective because it features plenty of run and sink. He shows the makings of a plus curveball at times and also flashes at least a solid changeup.
Strike-throwing issues or not, getting an arm like Nikorak's would be a major coup for the Yankees with that 30th overall pick. Betts and Nikorak would be a crazy good haul with major upside, albeit a haul with the usual risk that comes with high school players. There are no safe bets.
Law says the Yankees are also in on New York HS OF Garrett Whitley, Tennessee HS RHP Donny Everett, California HS RHP Drew Finley, and Florida post-grad RHP Jacob Nix. Here are my profiles for Everett and Finley. Whitley has arguably the most offensive upside in the draft and seems likely to be off the board by time the Yankees pick. Nix, who got screwed over by the Astros last year, has looked marvelous this spring.
For what it's worth, Law has neither Duke RHP Mike Matuella nor Florida post-grad LHP Brady Aiken going in the first round in his mock draft. Both players were candidates to go first overall before blowing out their elbows and needing Tommy John surgery last month. Matuella and Aiken are probably unsignable outside the first round unless a team is willing to blow up their draft pool, which is unlikely.