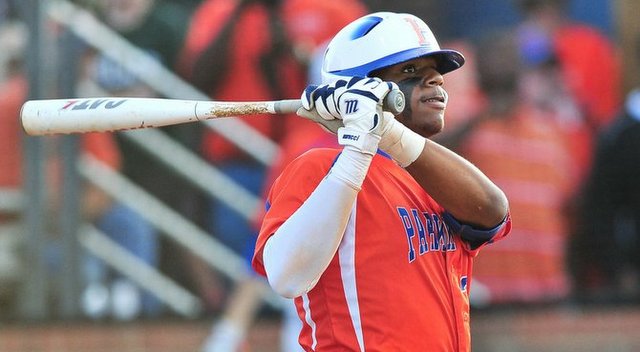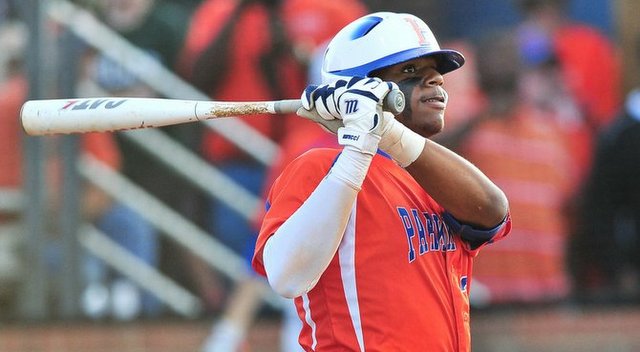 The Yankees have signed first baseman and 20th round draft pick Isiah Gilliam, according to his Twitter feed. Jim Callis confirmed the signing and says Gilliam received a way overslot $550,000 bonus. Slot money for all picks after the tenth round is $100,000, and the excess is applied to the draft pool, so Gilliam counts as $450,000 against New York's bonus pool.
Gilliam, 18, has a bit of an interesting backstory. He changed high schools three times and used up his four years of athletic eligibility by age 17, so he was a late addition to the 2014 draft player pool. Gilliam was strongly committed to JuCo powerhouse Chipola College and declined to sign with the Cubs as their 23rd round pick last summer. He hit .362/.421/.548 with 20 doubles and five homers in 52 games at Chipola this spring.
As the bonus suggests, Gilliam is no ordinary 20th round pick. Baseball America ranked him as the 151st best prospect in the draft class while Kiley McDaniel had him 120th. That puts him in the fourth or fifth round range on talent. (The $550,000 bonus is late-third/early-fourth round money.) Here's a snippet of Baseball America's scouting report:
He has above-average bat speed with an easy stroke and plus raw power to all fields. He puts on an impressive display in batting practice and has made solid contact in games. His approach has a ways to come … A below-average runner, he played third base until this season before moving to first, where he likely fits best in the long term. He moves well for the position and runs enough to try the corner outfield and has average arm strength.
Gilliam is a switch-hitter and Eric Longenhagen said he once saw him hit a ball over the Western Metal Supply building at Petco Park, which is a bomb. The Yankees announced Gilliam as a first baseman at the draft and that's where he'll likely remain long-term, though he did play some right field this spring. Either way, his bat is his calling card. Gilliam has legitimate pop from both sides of the plate. Here's some video.
As our 2015 Draft Pool Tracker shows, the Yankees now have only $193,900 in bonus pool savings left over, and there aren't many places to spend it. They've signed 31 of their 41 draft picks and only Idaho HS 1B Michael Hicks (27th round), New Jersey HS LHP Andrew Miller (34th), and Florida HS SS Deacon Liput (39th) remain as potential late-round overslot players, and the extra $193,900 might not be enough to convince those guys to turn pro. The extra money might get funneled to UCLA RHP James Kaprielian (1st) simply because there's nowhere else to spend it.