Well that was way too stressful. The Yankees barely hung on to a seven-run lead in Friday's series opening 8-7 win over the Angels. They were up 8-1 heading into the ninth. The bullpen melted down and the tying run was at third base when the final out was recorded. Goodness.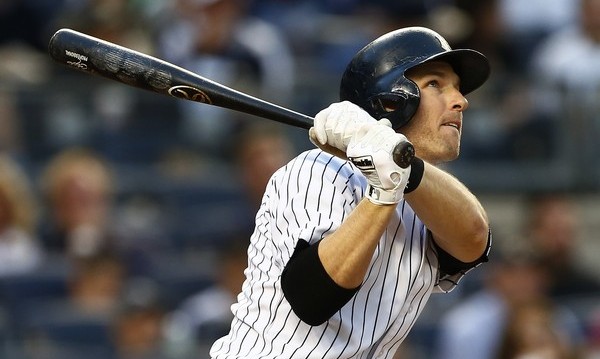 Two Runs Two Times
In theory, Jered Weaver is exactly the type of pitcher who would struggle at Yankee Stadium. He's a big time fly ball pitcher with a mid-80s fastball, and, sure enough, he came into Friday's start with an 8.17 ERA and seven homers allowed in four starts and 25.1 innings at the new ballpark in the Bronx. This is not the ballpark to live and die with the fly ball, that's for sure. Ask Phil Hughes.
The Yankees took advantage of Weaver's propensity for the air ball with a pair of two-run home runs juuust over the wall in right field. They were Yankee Stadium cheapies for sure. The first came from Stephen Drew in the second inning, who did a nice job staying back on a slow 60-something mph curveball after being fooled by one earlier in the at-bat. Mark Teixeira hit his two-run home run one inning later. That gave Nathan Eovaldi and the Yankees a nice early 4-0 lead.
Split
Eovaldi gave the Yankees 5.1 innings of one-run ball, and holy moly did he emphasize his relatively new splitter. PitchFX says Eovaldi threw 23 splitters in this game after throwing ten in his last start, seven in the start before that, and four in the start before that. Eovaldi got all four strikeouts on the splitter as well as a few other outs, including a pop-out and a soft line drive out by Mike Trout. This was definitely the most he's used the pitch this season.
Eovaldi cruised for most of the game — he did have to pitch out of some bad defense-aided jams early — but the wheels came off rather quickly in the sixth inning. Yeah, the strike zone did seem to shrink, but Eovaldi lost the plate and walked three batters to load the bases with one out. No bueno. The three walks ended his night, and Chasen Shreve was able to limit the damage, escaping the inning with just one of the three inherited runners scoring. That was on a ground out too. Shreve was the unsung hero of the night for that inning.
I'm curious to see how Eovaldi uses his splitter going forward. Was this a one-time blip, or will it be a point of emphasis going forward? It was pretty effective for him on Friday night, and a pitch like that can really help him take that next step. Eovaldi threw the splitter so much in this game that I have to think it was intentional and something he is trying to improve. We'll see.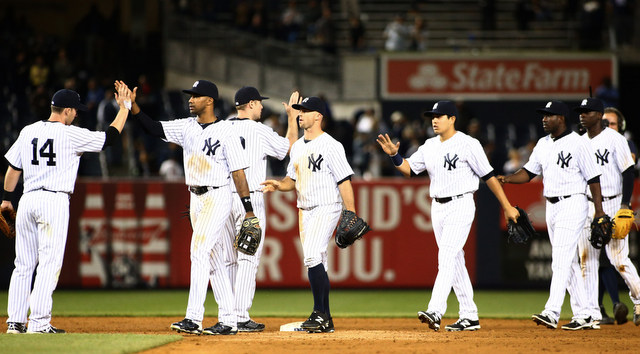 Messy Ninth
The Yankees scored four insurance runs late in the game and they ended up needing them. Alex Rodriguez singled in a run in the fifth, Didi Gregorius plated a run with a sac fly in the sixth, Drew hit another home run in the sixth (solo), and Chris Young dunked a single into right to score another run in the seventh. They scored with homers, they scored with hits, they scored with sac flies, they scored in five of eight offensive innings. Great night for the offense, up and down the lineup. The top, middle, and bottom of the order all contributed.
Unfortunately, the bullpen really fell apart in the ninth inning. Esmil Rogers came in to face the bottom of the order with a seven-run lead — the Angels subbed out some of their regulars! — and was unable to retire any of the five batters he faced. Ridiculous. Dellin Betances had to come in with the bases loaded and no outs in the inning to clean up the mess. He allowed a two-run single to David Freese, walked Matt Joyce, walked Chris Iannetta with the bases loaded, struck out Kirk Nieuwenhuis, got Johnny Giavotella to hit into a run-scoring fielder's choice, then struck out Carlos Perez with runners on the corners to end the game. Good grief.
The defense didn't help Rogers — Jose Pirela and Chase Headley let a pop-up fall when it should have been the first out — but it did save the game with Betances on the mound. Gregorius made a nice play going to his right to snag Giavotella's ground ball, keep it on the infield, and get the out at second. That ball was dangerously close to scooting into left field for a game-tying two-run single. Didi legitimately saved a run there. What a mess of an inning. Let us never talk about that again.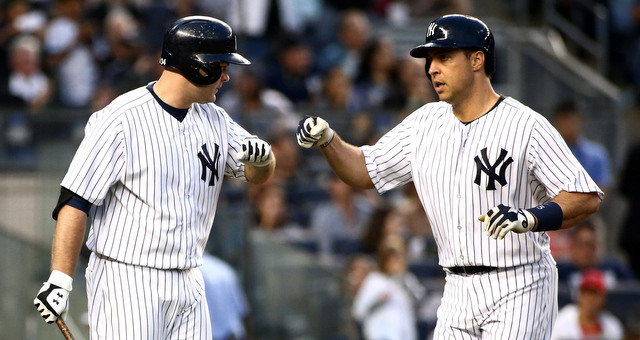 Leftovers
Every Yankee in the starting lineup had at least one hit except for Gregorius, who walked and had the sac fly. Brett Gardner had two hits, A-Rod had four hits (!), and Drew had his two homers. The Yankees tallied 14 hits total while striking out just three times.
A-Rod's fifth inning single gave him 1,997 career RBI, passing Barry Bonds and taking over sole possession of second place on the official all-time RBI list. Only Hank Aaron (2,297) has more. Alex is now only nine hits away from 3,000 as well.
And finally, Dellin Betances has an ERA now. It's 0.30, but still. That 0.00 ERA was fun while it lasted.
Box Score, WPA Graph & Standings
Here are the box score, video highlights, and updated standings. Also check out our Bullpen Workload and Announcer Standings pages. This is the team's 18th series of the season, and so far YES has used 13 different booth combinations. Crazy. Here's the win probability graph:

Source: FanGraphs
Up Next
The Yankees and Angels will continue this three-game series with the second game on Saturday night. (Grumble grumble.) Adam Warren and Garrett Richards will be the pitching matchup. Warren is three months younger than Richards. Wouldn't have guessed that. Anyway, head over to RAB Tickets if you want to catch that game or any other game on the homestand in person.